I had never bike packed before, but had had a glorious summer of getting into gravel riding and we had a week of annual leave needing filling with a good post-lockdown adventure. My partner, Jack and I had seen the Great North Trail (GNT) advertised through Cycling UK, It passed through some familiar places, and areas we'd love to explore so we set it as our project.
Our first trip of the GNT was in September 2020, my first ever time bike packing and we found ourselves at Corrour, the UK's most remote train station (Featured in the film Trainspotting). We rode to Cape Wrath, 4 days of INCREDIBLE riding, some of the finest gravel roads Scotland has to offer. We ventured over the infamous Corrieyairack pass, lots of old military roads, hydro scheme access tracks and ghylly roads. We made our way to Cape Wrath, got nibbled by a few midges and ate LOTS of food- I was hooked on bikepacking!
For our next week of holiday, we rode (distance) north from the starting point of the GNT to our home in Kendal. Fast flowing double track was replaced with steep and rocky packhorse trails and seemingly endless gates. The difficulty of riding the Pennine Bridleway is well reflected by our average speed of under 10kp/h for most of the trip. The blend of nature and old mill buildings provided a beauty of its own, and walking around Manchester in our crocs on the hunt for trendy food was a highlight. The Dales and familiar territory was a welcome sight, and riding home is always a brilliant incentive.
I bought my first gravel bike at the start of the first lockdown, just before the COVID bike boom. It had 2.2″ tyres squeezed into the frame and rattled down plenty of inappropriate trails. It did me well, but I was on the hunt for my dream bike, a true adventure machine.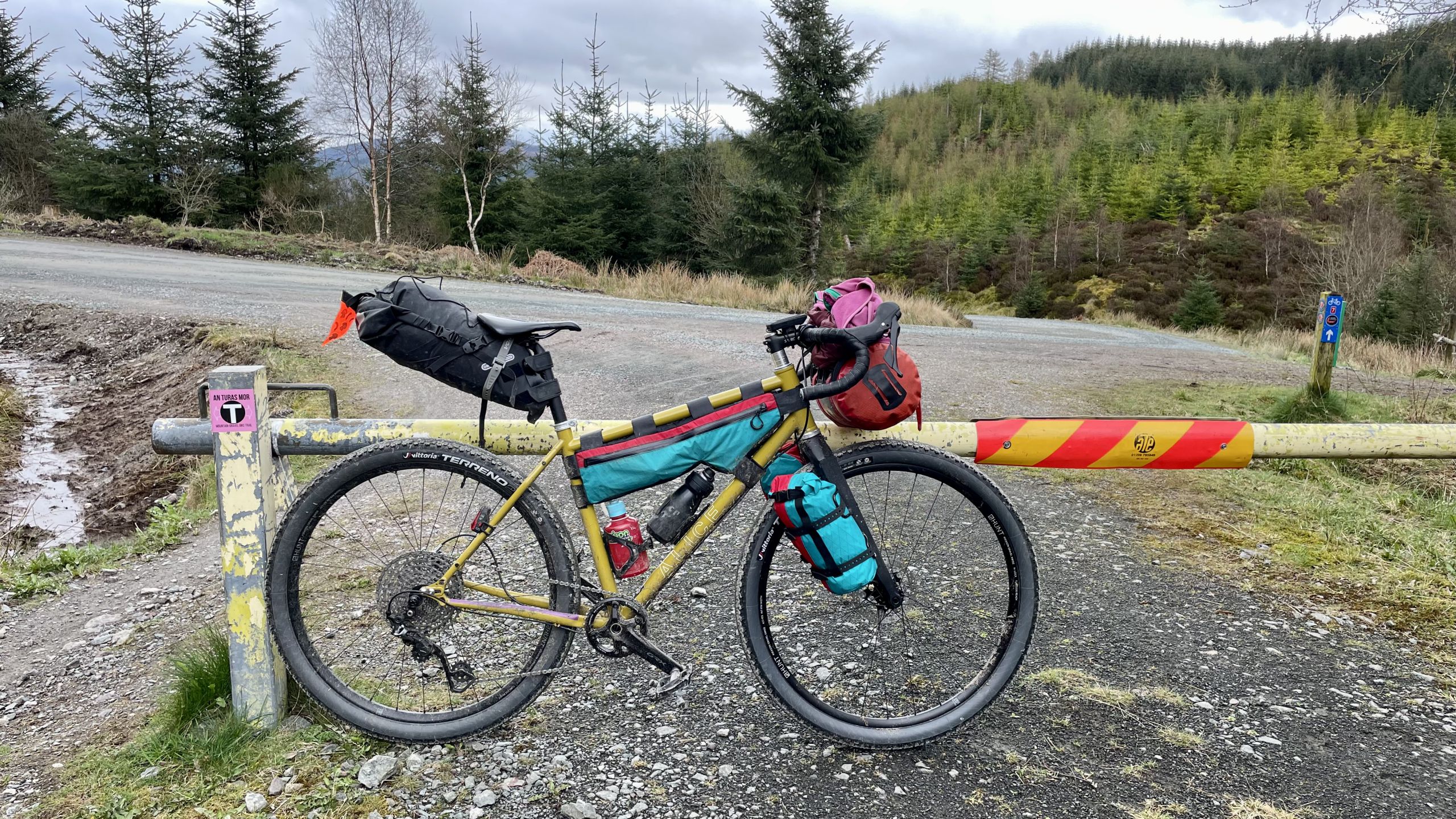 A.L.I.C.E. was ready, I'd ridden her a handful of times in the Lakes, and now it was her turn for the third section of the GNT, completing the middle section we'd yet to do. We got the train back up to Corrour and that feeling of getting off the train into the middle of nowhere was still incredible, but this time slightly less terrifying as I had bikepacked a few times and knew what I was letting myself in for!
We rode south, across Rannoch Moor, crossing through some wonderfully wild feeling areas. The terrain was so mixed, one minute we'd be on a double gravel track, the next a bog, then a beautiful Scottish road meandering up a valley. The landscape quickly changed, and by day two we were in the Trossachs, then the next in Glasgow. The smooth gravel tracks around Aberfoyle were welcomed after some of the bumper stuff further north, as was the bacon sandwich from the butchers!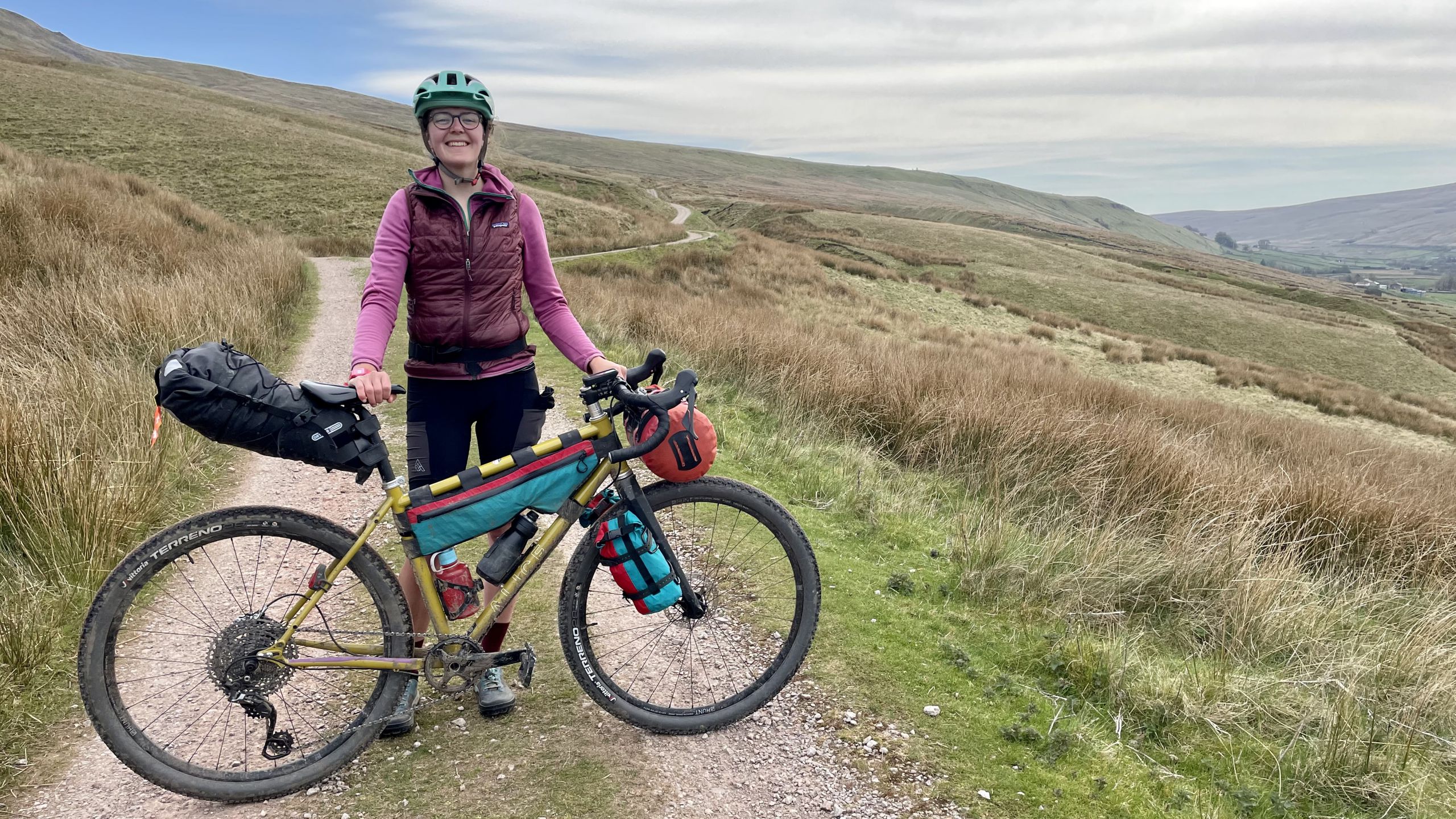 I don't do lightweight as I worry too much about getting cold. It was so handy to have the fork packs as an addition to my previous set up as they're so versatile and it's handy to have stuff – supermarket sweeps of random snacks or extra layers – easily accessible. Carrying everything but the kitchen sink, A.L.I.C.E. rode incredibly well, laden up.
Having big chunky tyres was also incredible: the extra volume eliminates the chatter and hammering commonly experienced with narrow tyres and it was very reassuring to know I wasn't one tiny knock from meaning my wheel won't spin around! They were perfect on the looser, more technical terrain and, incredibly for April, I didn't really need the clearance for mud but the frame has plenty anyway.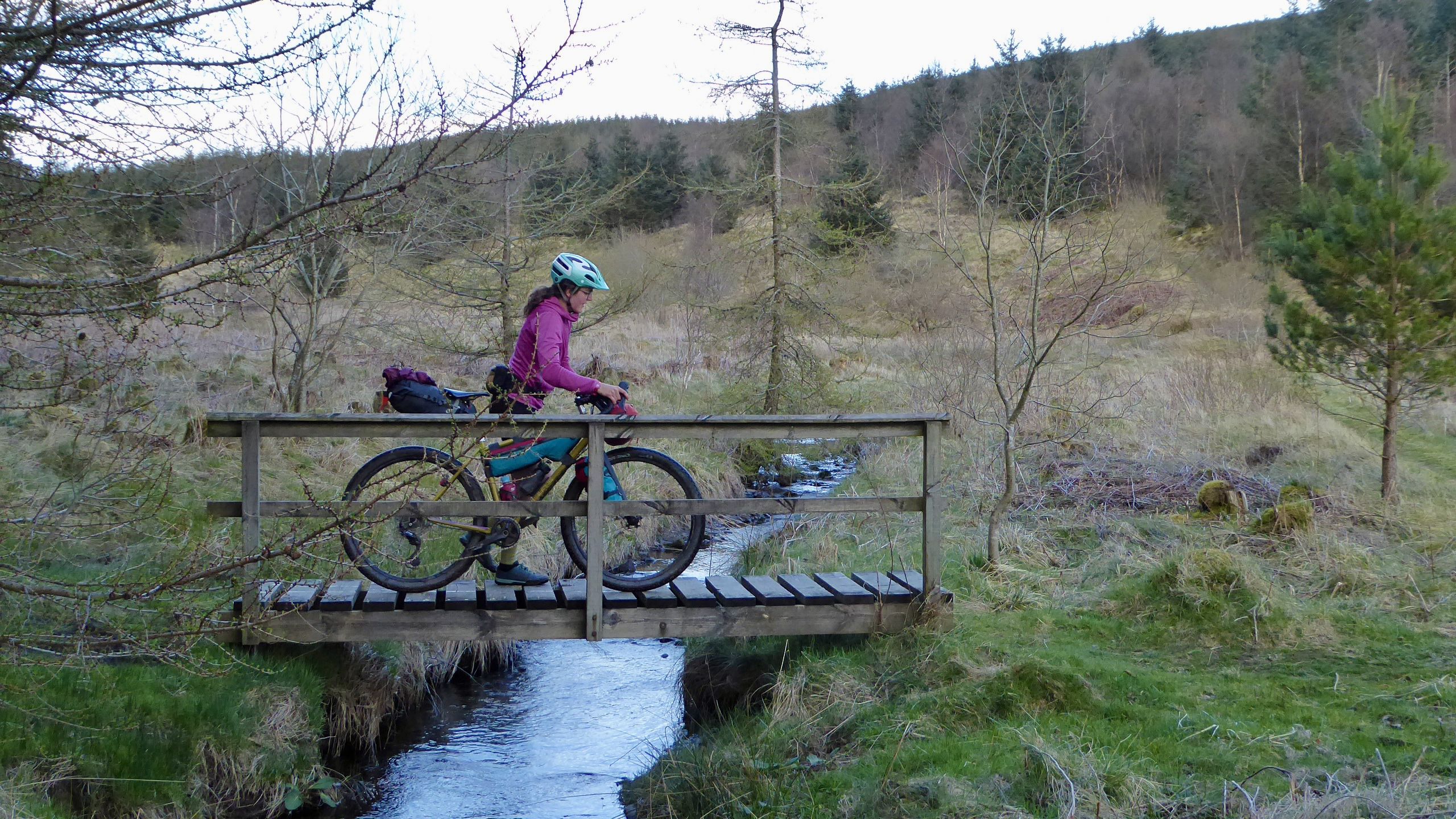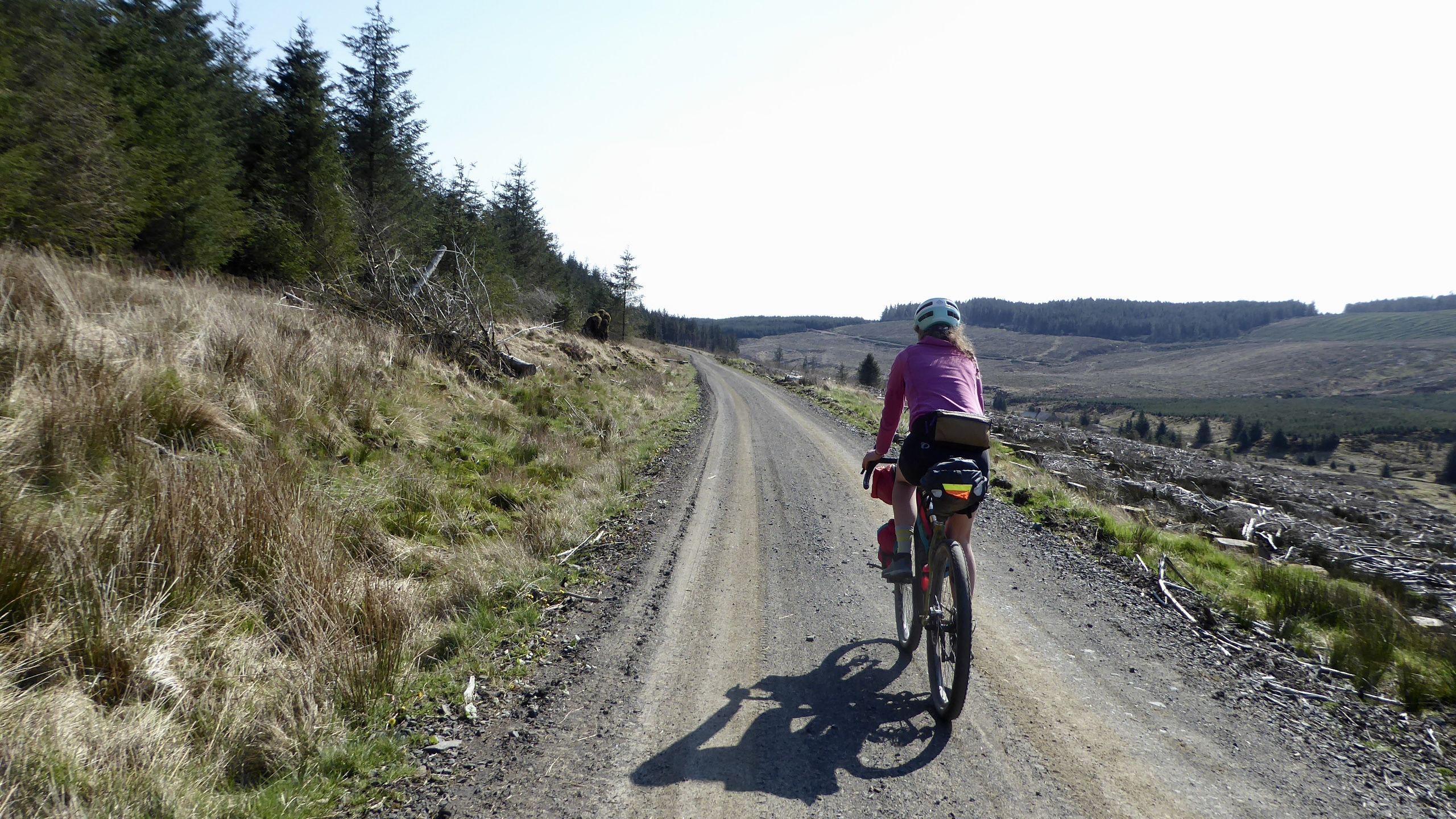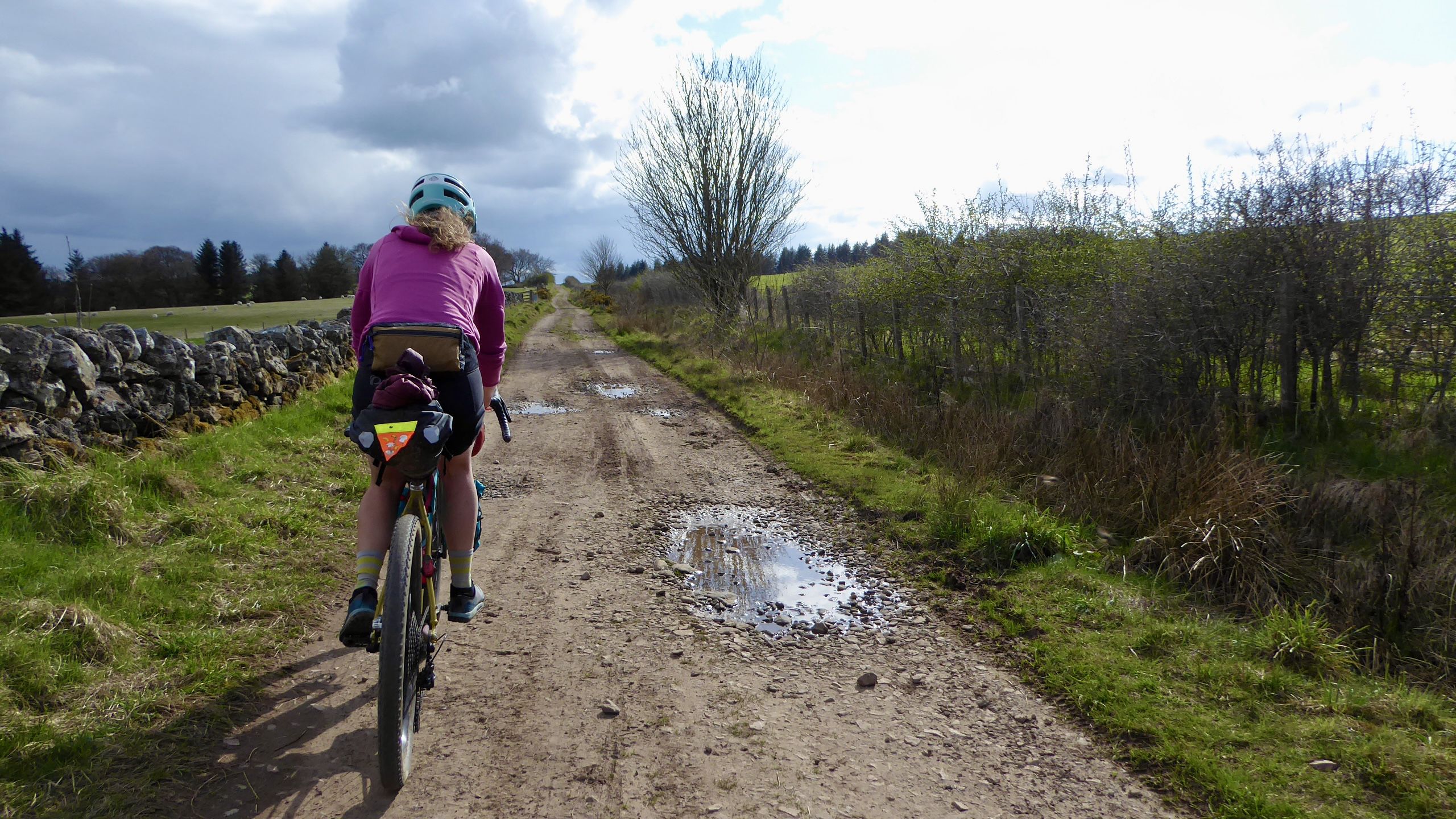 Day 4 was odd: 80km of riding along the canal between Glasgow and Edinburgh. A stark contrast to the previous days, and some seriously flat, monotonous riding. It was a headphones in, podcast on get it done day, celebrated by yummy food and coffee and a night in a hotel in Edinburgh.
The terrain changed again, the Pentland Hills outside of Edinburgh were contrast to the canal track, slow pushing uphill but wicked long swooping descents.
We'd had a slow morning mooching from coffee shop to coffee shop, so had to crack on if we were going to make it for dinner in Peebles – the bike packers favourite – Spoons!
We found a wonderful wild camp spot half way up the hill out of Peebles, full of spoons stodge, beautiful stars, it was another glorious evening.
We were absolutely spoilt with the weather, I'd packed for a classic Scottish Spring, expecting a bit of all weather, but other than a few hours on the first and second day, I didn't wear my waterproof for the rest of the 9 days – MADNESS! (We weren't complaining!!). We had warm wild camp evenings, but still just about early enough for no midges, we wish that we'd planned for more nights outside!
Day 6 started with a low point. Number 1 cafe in Innerleithen was closed, but a CoOp food stop was welcome and a pharmacy visit for a suspected UTI: the joys of bikepacking! It felt like the terrain was changing yet again, after Innerleithen forest we went into the borders territory, following old drove roads and train lines we were eventually popping into Kielder forest.
As we travelled through Kielder and across the border into England we had two glorious bothy nights, the trails were smooth and we realised what gravel riding truly was. We mooched around slowly in the sun, taking a shorter day to rest the legs and stock up on chips, burgers and cups of tea.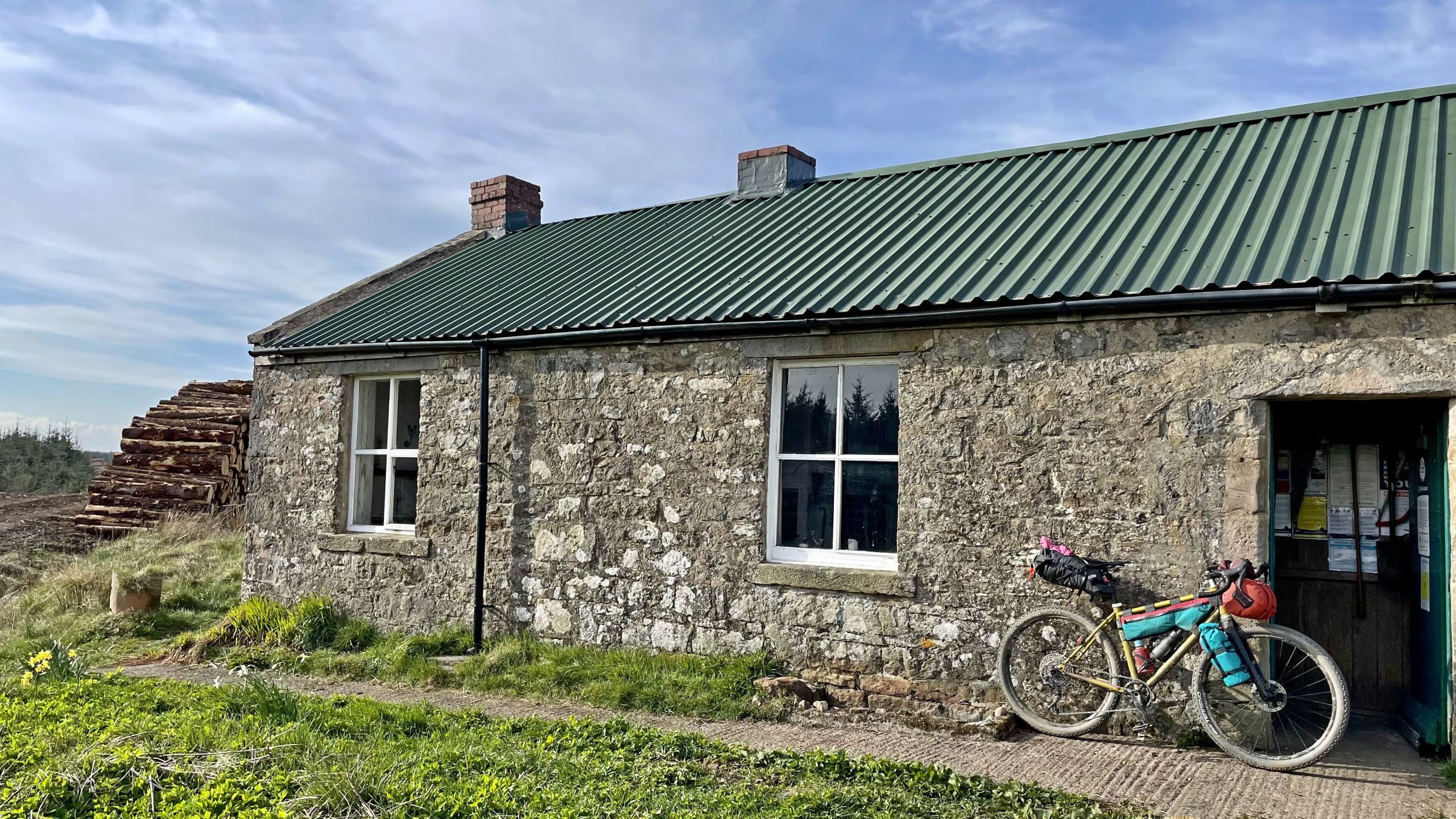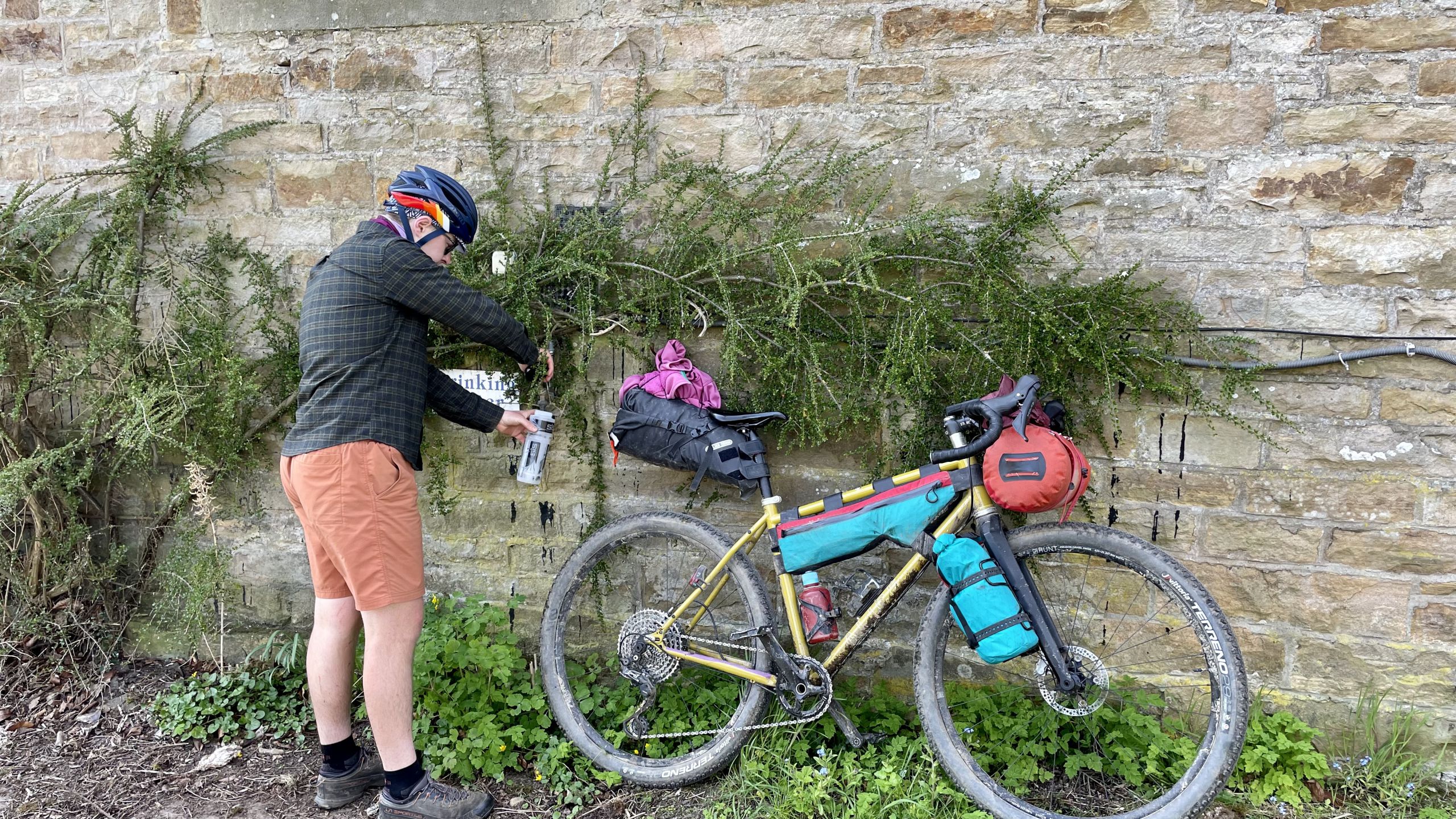 Before we knew it we were one night left, travelling towards very familiar territory and could almost see home. Riding home is an incredible feeling, to have gotten off the train and to know that unless something goes majorly wrong, its these legs and bike that will transport us back to familiar territory. I see Great Dunn Fell from my office window every day, and suddenly we found ourselves pushing up the bog up the back and eventually at the top – not my usual Thursday at 4.30! We stayed in the youth hostel at the bottom of the hill, learning from the previous trip on the GNT that once you were in the dales are that wild camping was much harder. I never sleep very well when I think a farmer is going to stumble upon us and move us on.
Our biggest mileage day was our last one, 70km of the GNT trail to finish and then 30km home from where we'd finished the trail at Garsdale Station. We popped in for coffee and cake with a friend – weird when you feel like you've been in the wilderness for 9 days – and slowly plodded away ticking off the miles. The terrain suddenly changed again, riding in the Dales is so different to Kielder, the borders or Trossachs.
The GNT was complete, over three trips we'd travelled half the length of the country. Each day the terrain changed, there were glorious roads, princess gravel and mountain bike single track: it truly was an incredible way to see the country.
So what's next?
I'm writing this as we drive north to have a go at the Cairngorm Loop and A.L.I.C.E. is loaded up and ready to go. It's traditionally a MTB route but we'll see how she does!