It's the Wednesday after Dales Divide, my brain still feels the fog of the weekends sleep deprivation, my hands have vibration numbness and my bum still won't consider sitting on a saddle for at least another day or two…or three or four.
This was my first experience of an event like this. I was a little nervous in the week running up to it but mainly excited. I'd read (and reread) lots of the blogs and spent months looking for new kit, not a bad focus to have after two hiatus years of covid: a real goal. My long-suffering husband eventually told me to stop talking about the event as he was beginning to feel like he was coming with me. Maybe he should've just come with me after all??!
I resist packing my bike too early: my friends are more organised, and photos keep pinging up on our group chat of admirably packed steeds. It makes me nervous: they have lots more experience and knowledge although they share it with me willingly. Every bike ride I bombard them with endless questions.
I've put bits and pieces of bags and kit on and off the bike for weeks, but finally pack everything on the day before. Yes, the day before….
Long suffering husband and 'World Cup Bike Mechanic' Davies watches reproachfully as I put things together on the bike. "You put it on, then you'll know how to fix it if it falls off halfway around." Good point. Worth noting nothing fell off that I noticed: maybe I wasn't going fast enough ?
My Wahoo mount has been placed in between my tri bars, a masterpiece of squeezing in I thought; until I realised I couldn't charge my Wahoo on the go as the charger won't fit by the stem. Davies gives me another one of those 'looks' and ends up using zip ties to attach it to my tri bars – not pretty but it works.
The rest is uneventful, the bike is fully loaded, all my kit is light weight but adding it all together, it's heavy.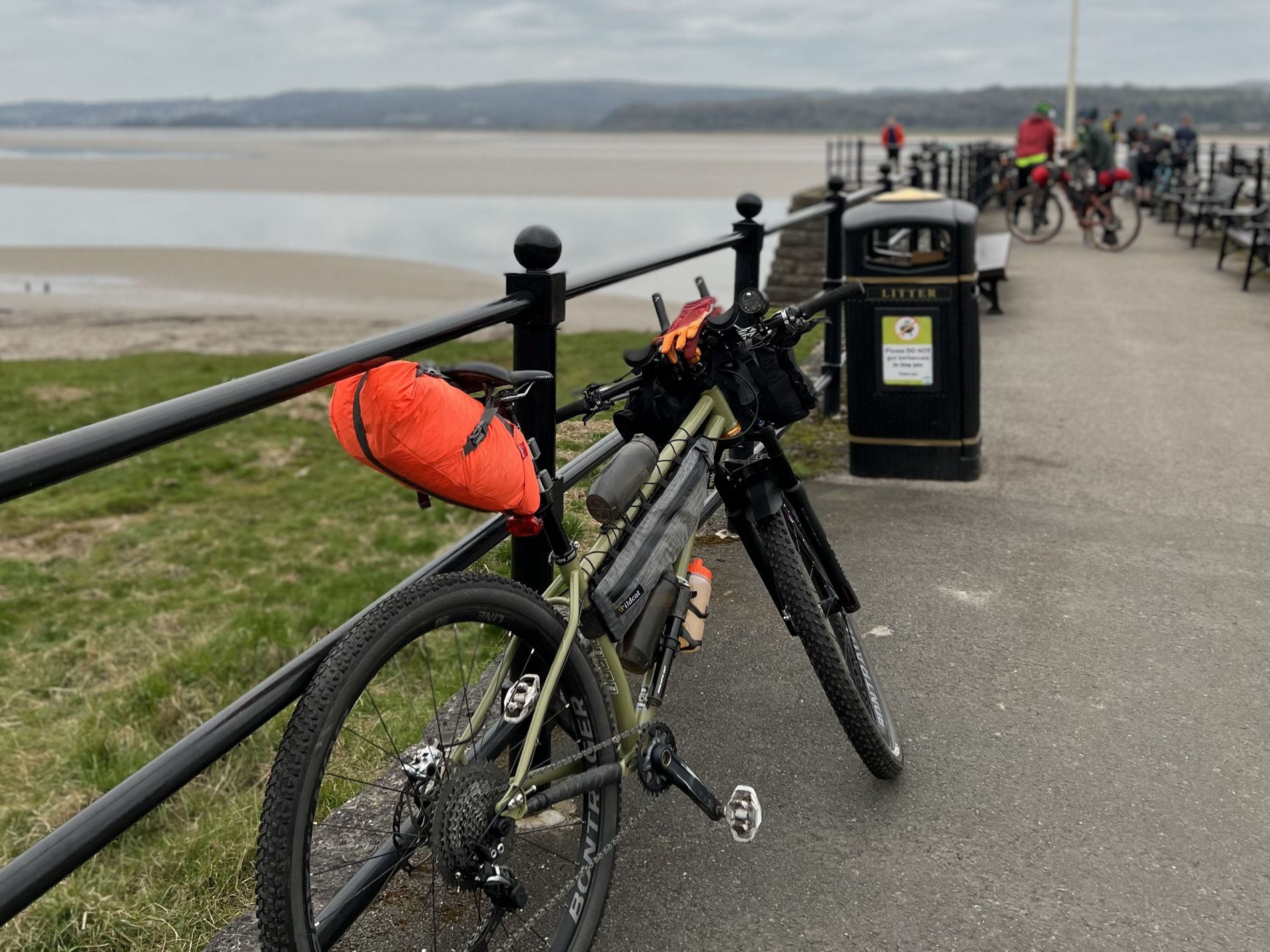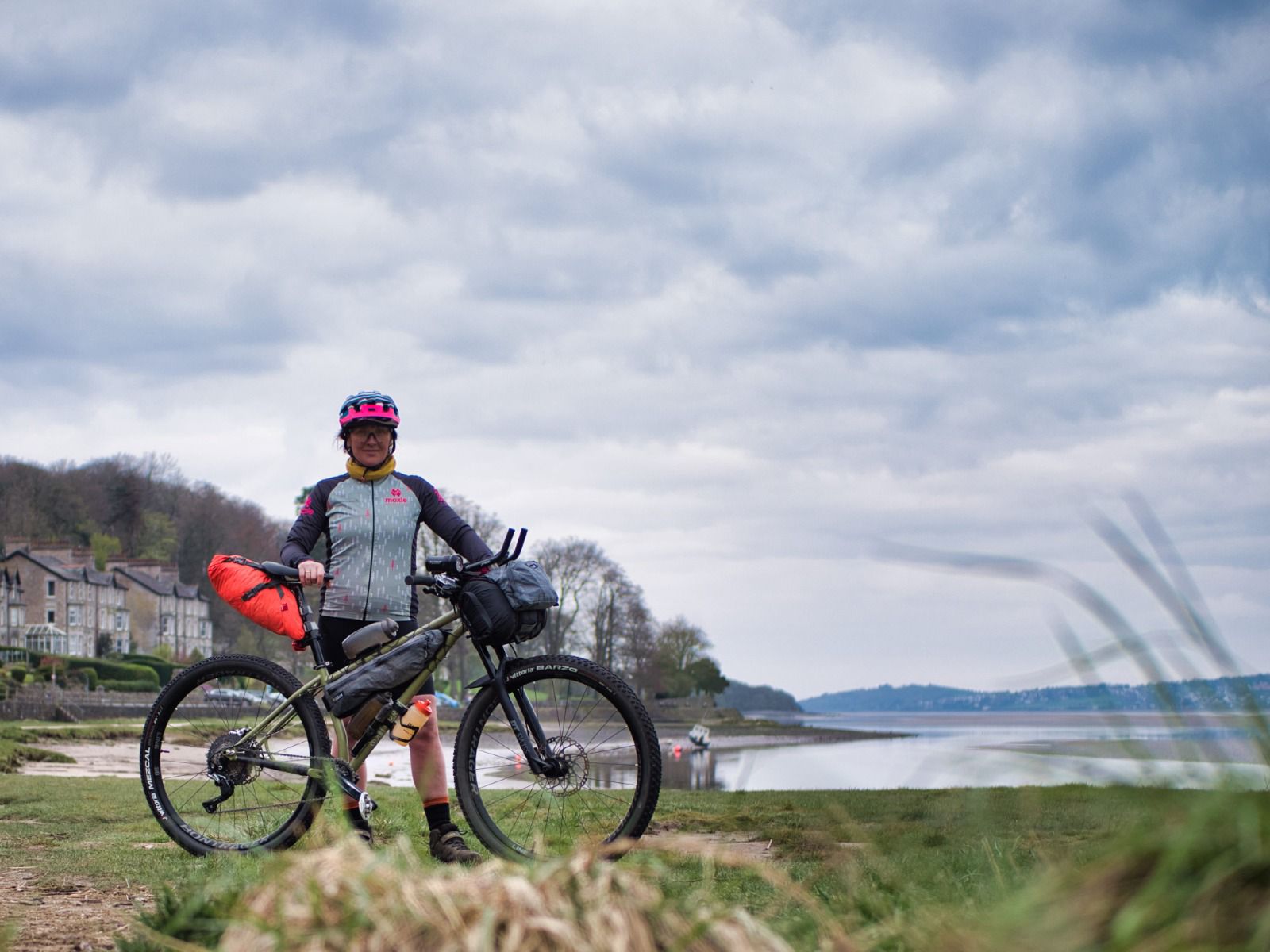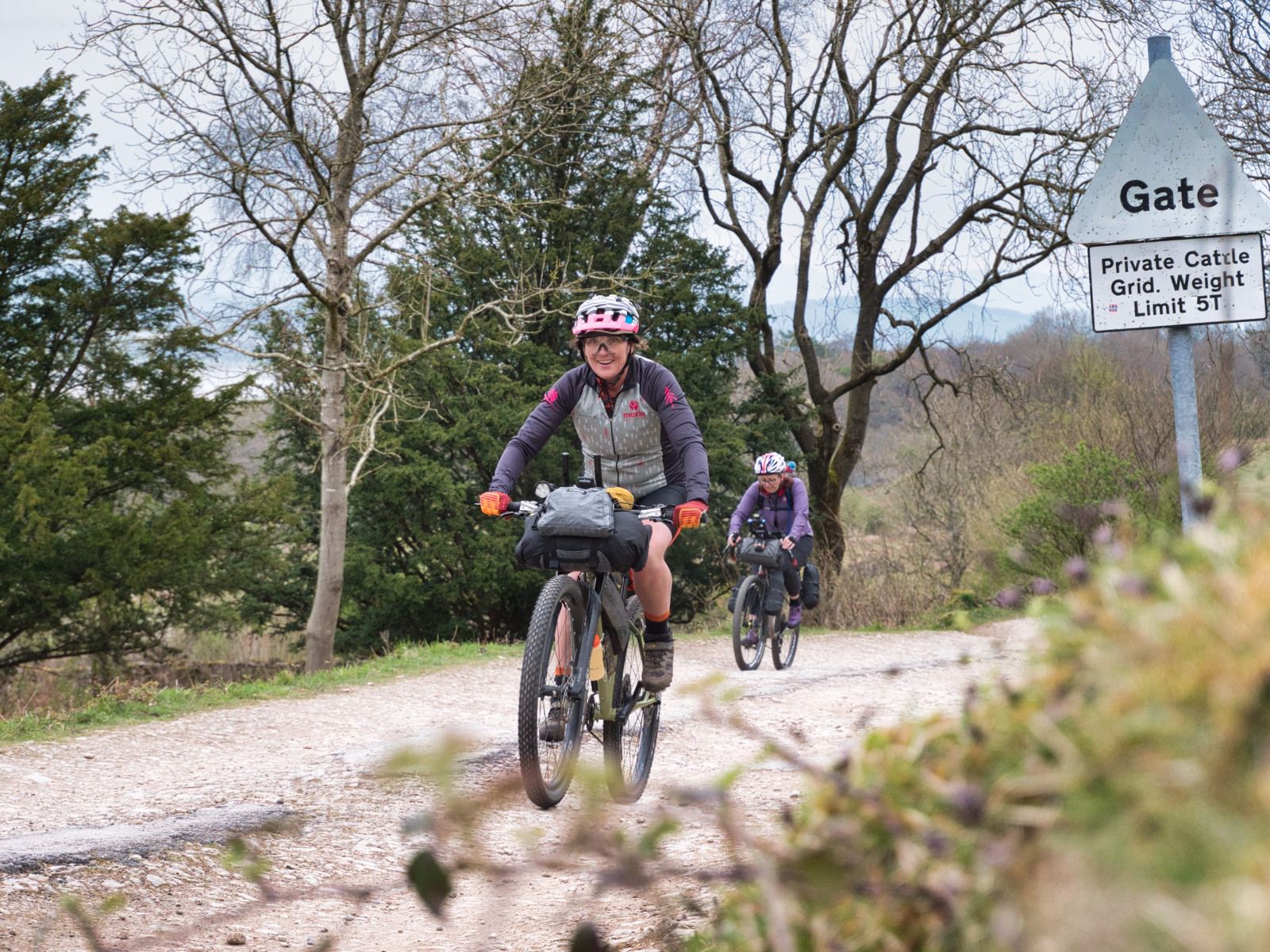 When we arrive early morning at Arnside, we are among the first on the pier, its beautifully bright but cool: we lucked out weather wise. Another few people start to arrive soon afterwards, and another guy beside me looks anxious and says he thinks he's over packed, mimicking my own thoughts. We both faff with kit nervously. Some folks look like they are packed for a good day out. Mainly mountain bikes, a few gravel bikes with dropped bars and even one classic salsa which looks like it's from the 80s, rocking a big holdall strapped to a rear luggage rack.
We have a quiet few moments on the end of the pier listening to Pat Hall, mum of the late great Mike Hall. It's very poignant indeed when Pat says she asked her son "What if you get lost?" … "Get unlost." he told her. These words would become very important to me later in this event….
We all set off steadily along the waterfront and gradually through streets and out of town, this first section is a blur in my memory, which means it was good riding and steady. As the day progresses it becomes a routine of ride, open and hand gates to other riders. Some of the terrain here reminded me of riding at home in the borders and I'm really enjoying it. I talk briefly to others, and everyone is in good spirits.
We steadily move on going by the Ribblehead Viaduct, down by Hawes, and on to a huge rocky bridleway. I see it coming and stop and put my headphones on. I love hill climbs but always listen to music, I zone out and use the tempo for climbing. I've just bought an Anker 20,000 battery pack so I'm confident it'll charge my phone and my Wahoo. I stick music on loud and climb the never-ending hill.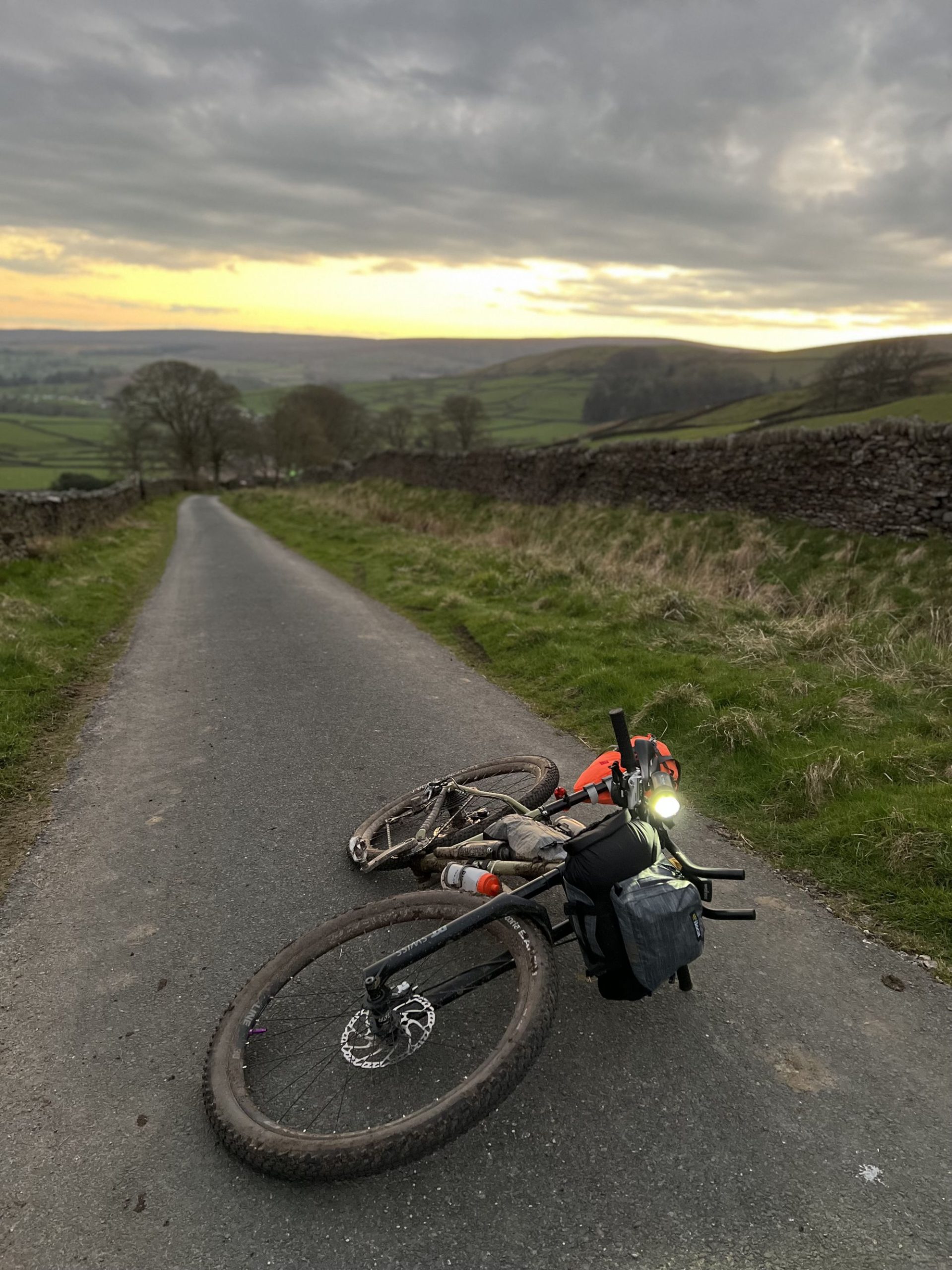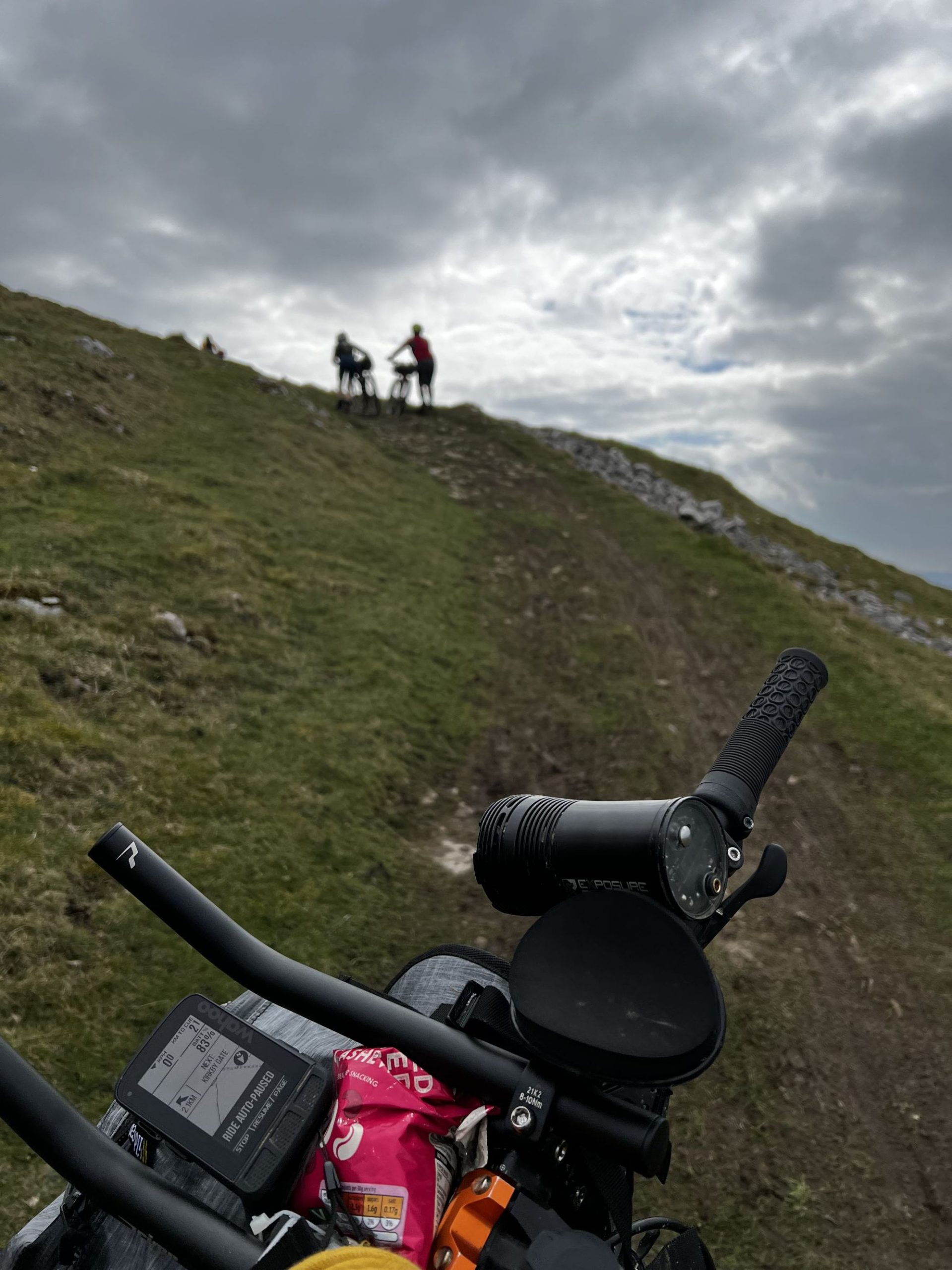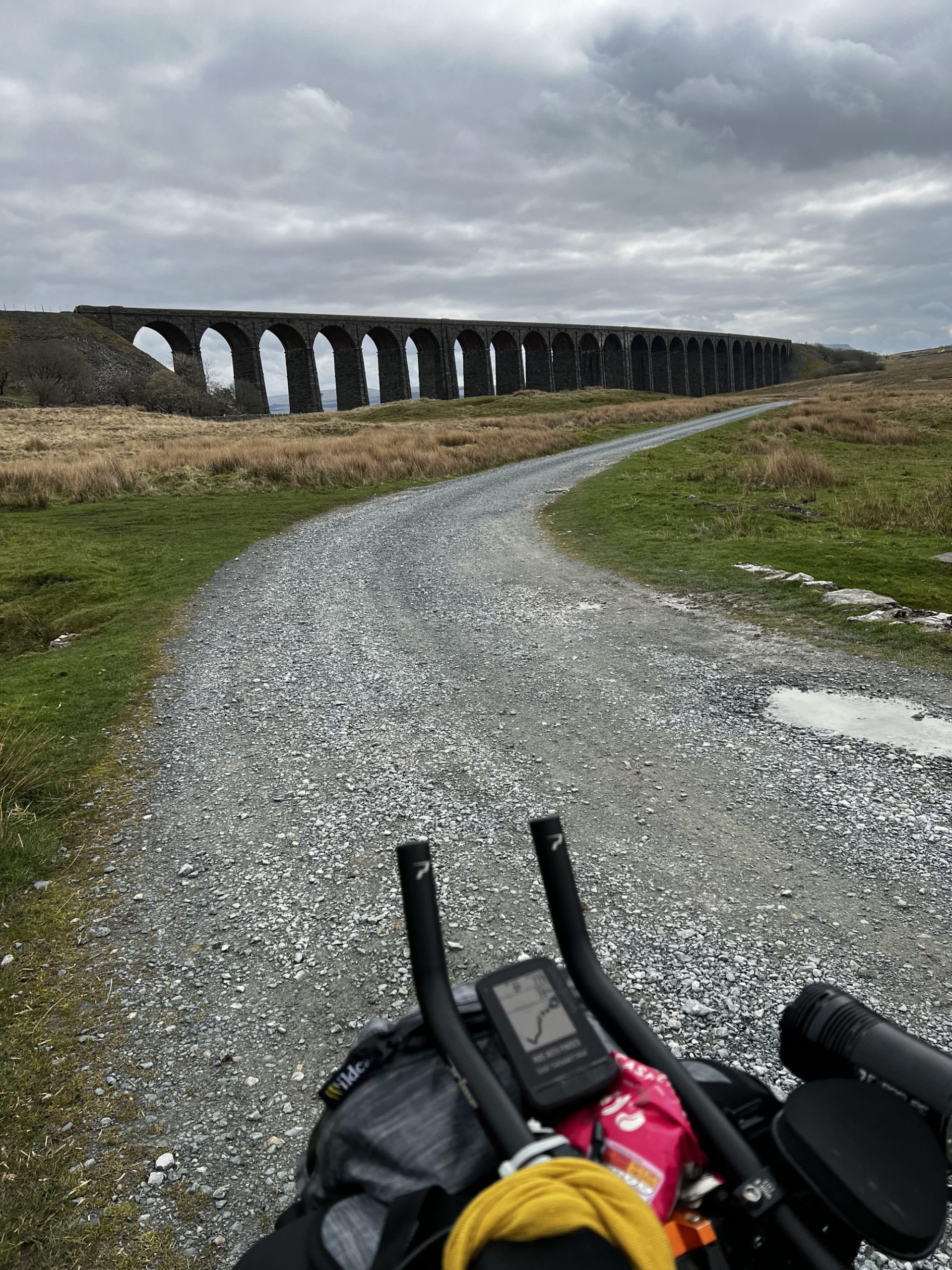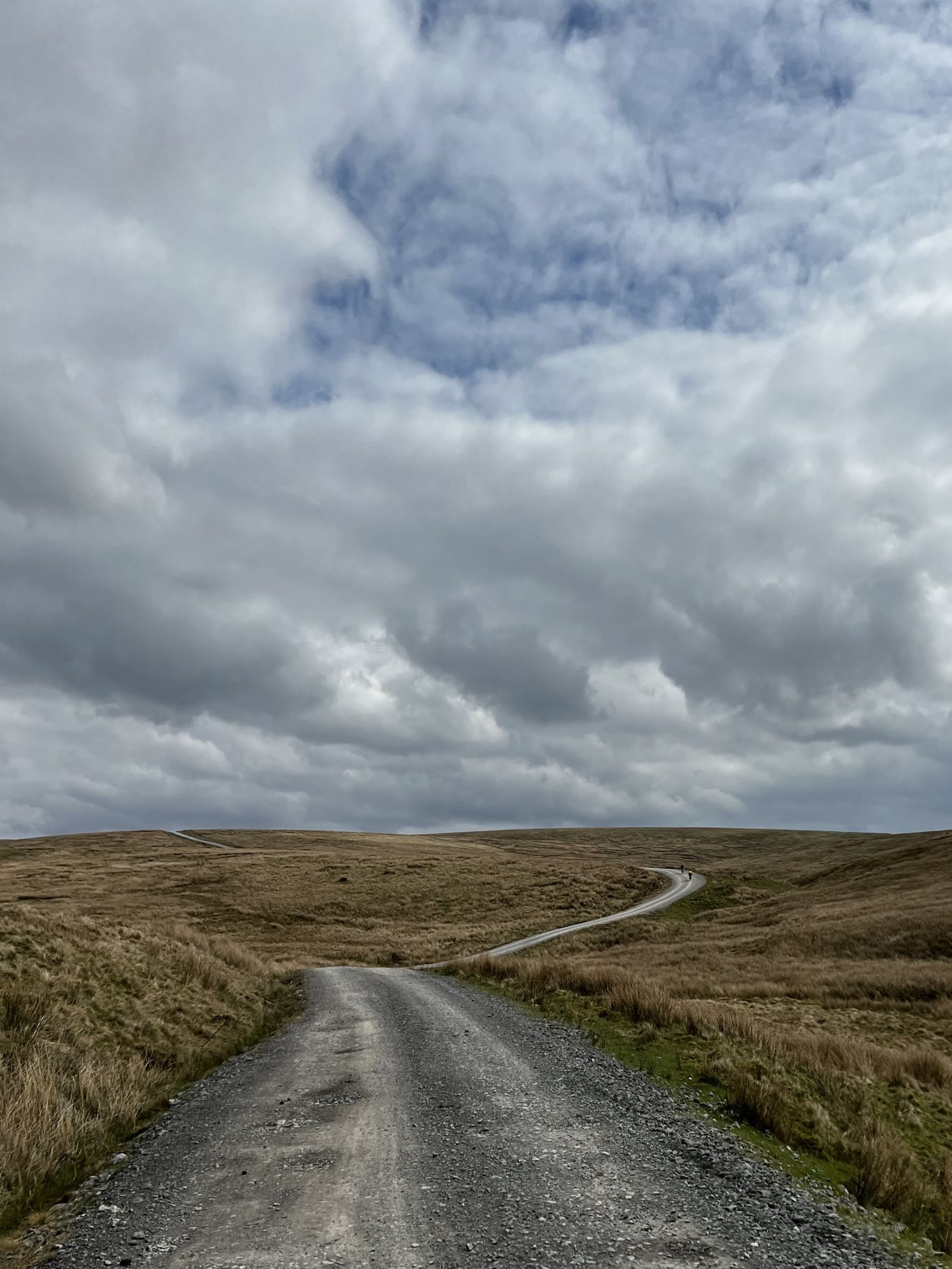 From here the climbing and the pushing up bridleways seems relentless: many hours of moving slowly forward. Darkness falls and eventually my phone needs charged. The music gets reluctantly switched off and I stop to plug it in to charge it . I've just upgraded my phone to an iPhone 13 and the battery has lasted all day. I pull out the battery pack and charging cable and look for the right port to plug it in. My heart stops when I realise the new iPhone charger doesn't fit my Anker battery pack. I feel the first blow of disappointment at my mistake: its a big one. "Ok think, I'll just have to stop and charge my phone somewhere." Bang goes the option of music now though and this thought makes my heart sink further. My first worry seeps in as I stand in the dark on my own.
I come over a field towards a farmyard around 1.30am, bright lights shine out of the farmyard, and I think the farmer has decided to come out and tell us all off for wandering through his farm, but no, the person coming out the gate has a full loaded bike.
We look at each other both confused "Are you doing the dales divide?" he asks. "You're going the wrong way." After a short stand-off I win, and he agrees to come back through the farmyard with me and we start pedalling along the farm road. He's distracted and frets telling me he pedalled in this way, and he's confused, he says his Garmin has been playing up and tells me he is worried he will be disqualified for going the wrong way. He stops and says he's going to ride back through the farm and down the field to retrace his steps.
I feel bad for him as he's clearly tired and disorientated but there's nothing more I can do, and I ride on. I look back and he's riding off into the dark, the wrong way, looking in my mind, like a casualty of war. It's very surreal.
There's a white, freezing fog rolling over the fields, and I watch it with wonder, like a beautiful scary movie, but I'm not afraid. I sense there's still a few folks behind and in front somewhere, and I have a mission forcing me onward.
I keep pedalling for maybe another hour before I look down as my Wahoo catches my eye the screen flashes white, pauses then goes completely dark. I stop and stare at it, but it comes back on almost immediately. I bought the Wahoo a couple of months ago in prep for DD and it's never done this before. I hold my breath as it says restoring ride 1% 2% 3%…. It seems to take a long time then springs back into life having saved my ride, hallelujah. I load the route back up and carefully choose 'no' when it asks if I want routed to the start (no thank you!). The route begins but it's frozen, no GPS. Nothing happens and I stand for a long time, I restart the route several times, but nothing works. I sit down in the dark beside a lane and look at my phone to find the backup route, my phone is at 10%….
I see lights coming along the bridleway in the darkness and a small group of riders cheerily say hi and go to zoom by, I have a moment of clarity and jump on their tail – at least they know where they are going! I pedal for a few miles casually behind them (as you do) before realising I can't do this for 500k. I stop and decide to completely switch the Wahoo off, it saves my ride and restarts. I load the ride and the route starts perfectly. Relief floods over me, I'm back in the game.
I get my head down and pedal with new hope, I don't get far and about 2.30am encounter the first bog of doom, peaty black mud which is impossible to ride. Push, ride, push, ride. I ride into a bog and my front wheel sinks and I'm thrown off, the weight of bags keeling me sideways, my feet sink deep into the bog. The mud edges into the top of my boots. Marvellous. I come off the bog finally and I'm a bit bedraggled.
As I push towards another gate there is a huge brown sheep stood beside the gate, it doesn't move in the darkness and as I go to move through the gate, I can tell she is clearly about to give birth and I wonder at nature while we are here pushing bikes through bogs in the dead of night, I apologise for disturbing her (yes I'm talking to sheep now) and keep moving.
I decide to find a bivvy spot. I'm inexperienced, confused about strategy for sleep/rest and my head tells me to bivvy because of the time but my legs want to keep going. I'm worried, if I keep going, I'll run out of steam and need rest at the wrong time of day. I can't check how far to York because my phone is nearly dead.
I roll into a village and see the village hall with a small park beside it, on wheeling into the park I can see bike lights twinkling from beside the kid's wooden castle in the play area. Someone has clearly beaten me to the best spot. I set up my bivvy on the grass nearby trying to stay discreetly behind a picnic table, off with my damp boots. My waterproof socks aren't wet through and I'm too cold to care about changing them. I climb into the bivvy get wrapped up and have a reasonably peaceful 4 hours, cold but glad to stretch out of the bike.
The next morning, I hear the other lads getting their kit packed up and I do the same, my sleeping bag is damp at the top with the dew has come into the bivvy, but I've survived night one. My main aim of this event was never to race it (I really didn't understand the concept of racing) but just to survive, to complete, to learn. So far, it's been a learning curve for sure.
It doesn't take long to get to York the terrain is kinder, lots of gates and more gates. I realised on the last day after opening and closing a thousand gate latches that I should have gotten off the bike on different sides, as by the end I ache down one side only with the effort. Another lesson learned.
York is lovely, it's about 8.30am, I see a sign for the YHA and head off en-route to it. Breakfast and phone charging are surely a must here. The breakfast is epic and I'm sure I eat my own body weight in toast, and more toast. Meanwhile I faff with bags and fret watching my phone charge at a snail's pace. Eventually it reaches 35% and I can't wait any longer….
I pass quickly through York heading for Scarborough, there's gates and fields and the going seems fast. However it seems to take a long time to get to Scarborough. On the final descent in I hear the dreaded sound of something wrong and stop to discover I've broken a spoke in the rear wheel. I do all I know, and stop and unscrew the broken spoke. The nipple disappears into the rim and the disconcerting sound of it tinkling round is to torture me for the next 290k.
It's early evening in Scarborough and the place is bouncing, lots of tourists, cars, bright lights and busy pubs and fairgrounds. I've not been here since I was a child and memories flow back: it doesn't even look like its changed much. It's overwhelming to feel like I've reached halfway. I pedal around the town and along down to the front by the fairground rides and arcades, stopping when the smell of fish and chips becomes too much. I sit outside eating fish and chips like I've never been fed before. It's cold on the front and I put on lots of layers while the pub-going tourists slope about with summer vests on.
I pedal up and out of town stopping a couple of times to try to find a resupply point which is open, cursing the bank holiday. Eventually I find a Co-op open near the end of Scarborough and ask a kindly chap to mind my bike as the place is swirling with bored teenagers and I'm scared to leave my bike outside. I feel less safe here than out in the darkness on the hills.
I strap a tuna sandwich to my top tube (there's a first time for everything). My poor dignified bike doesn't complain, and I set off out of Scarborough glad to leave the noise and bright lights behind.
I know the moors are coming and my phone is nearly dead again, I get out of civilization and see a small campfire and camper parked in a grassy field beside the cycle path. I hover and cycle over warily but it's a family of three from Guisborough: a mum, dad and young daughter. The dad puts the campervan lights on and cheerfully tells me to bivvy in front of his camper while he tells me of riding his bike at Mega Avalanche with a beer in his hand. He's keen to ask questions and they kindly charge my phone for ten minutes. It's not late, 10.30pm, and I see two bike lights pass just as I bivvy down. If I hadn't bivvied already, I'd have buddied up to ride onwards – darn – I feel very disappointed as I watch bike lights blink into the darkness and feel left behind.
It's a cold damp night and I wake late, 5.30am. I've slept longer than I wanted, and I'm annoyed, but with no alarm I've no choice. I've realised the best option for me is to keep going as late as possible but I learn this too late. I quickly pack up and get going. I leave the cycle path soon after and dismay sets in as the track takes you up a flight of steps and over a style. Hilariously I opt for lying down the bike and push/pulling it under the fence, it's a mammoth effort with bags catching on everything. Thankfully no one appears to think I've lost my marbles wrestling a fully loaded bike under a fence. I pedal on through lanes and farm tracks. The villages and the terrain are lovely: the sun shines and all the layers come off. My Wahoo freezes again, and again we go through the rigmarole of switching it off and resetting it a few times before it decides to work, and I breathe out again.
I've realised as I kept faffing, I'm stashing things in different places and so it takes longer to get organised and find things the next time: another lesson.
At lunchtime I go by a pretty pub beer garden and decide to stop, eat and more importantly charge. 41% and I'm good to go ahead and I climb up and onto the moors. The moors, well what can I say, they were a lonely place. If I'd had music, I'd have been all good, but I found them never ending, each hill the same. I start talking to myself later in the day asking myself if I'll ever see civilization ever again. I sing a bit, but my memory is rubbish, and I can't remember enough words to entertain myself, thankfully I don't see another soul for hours.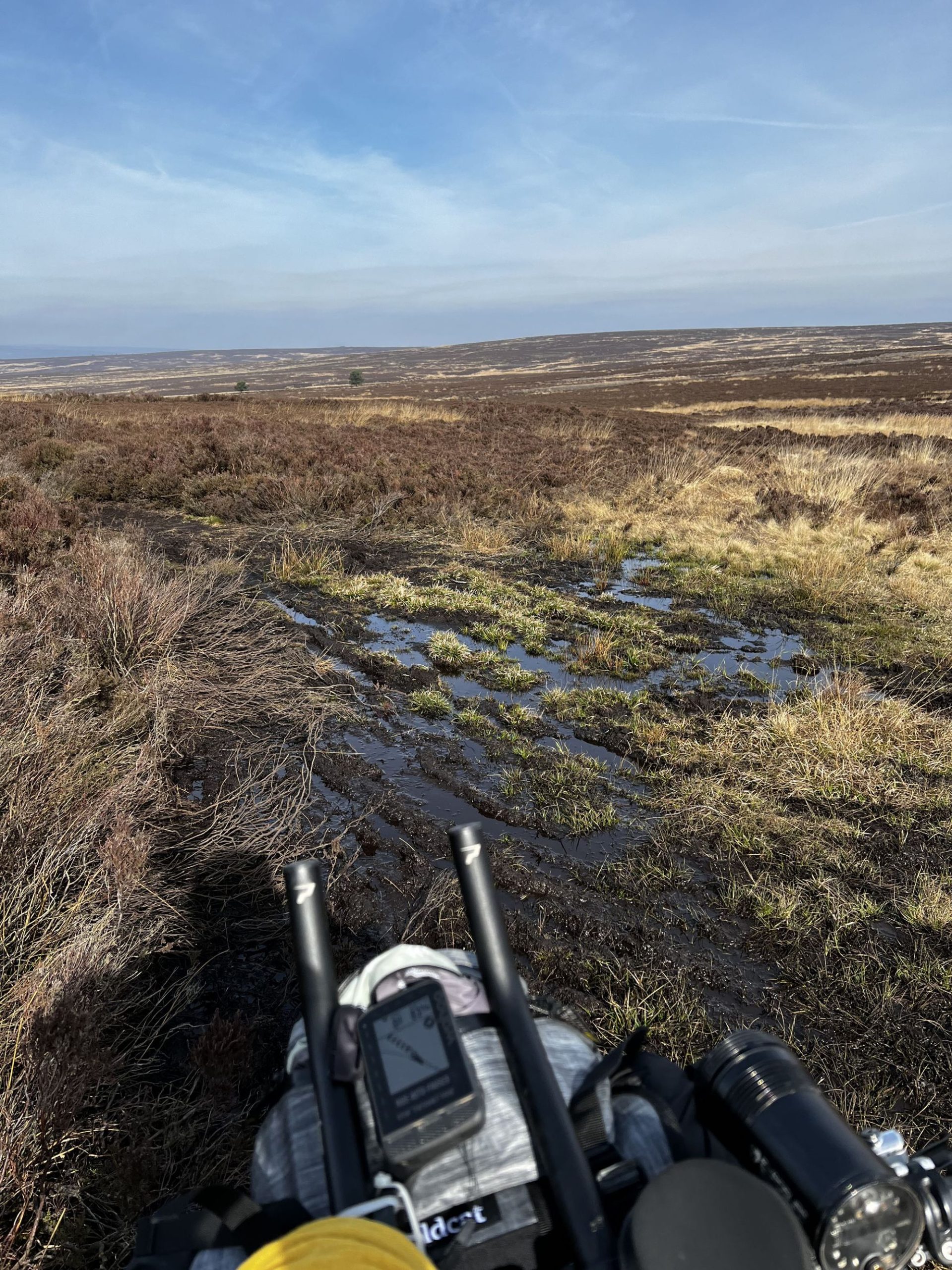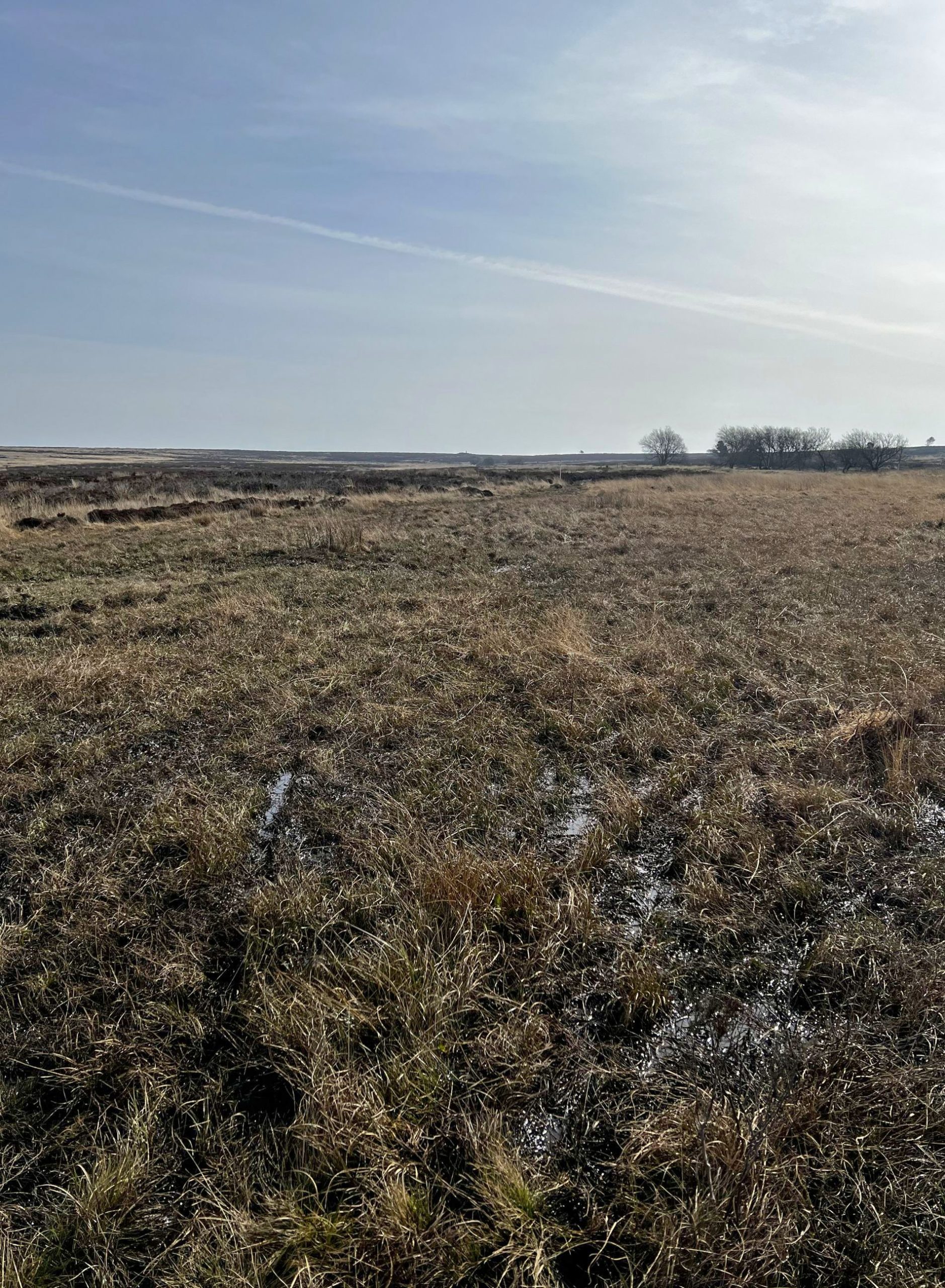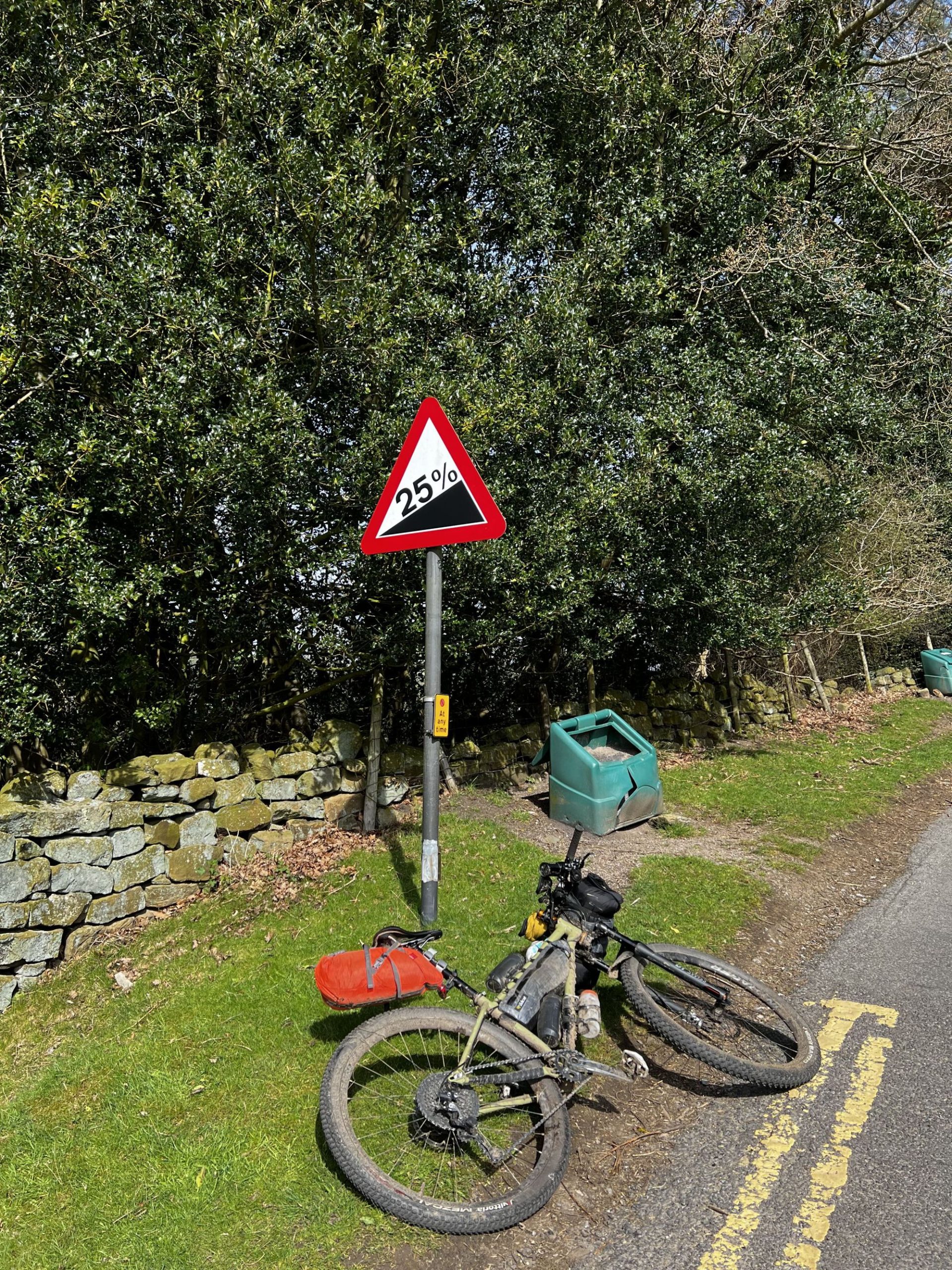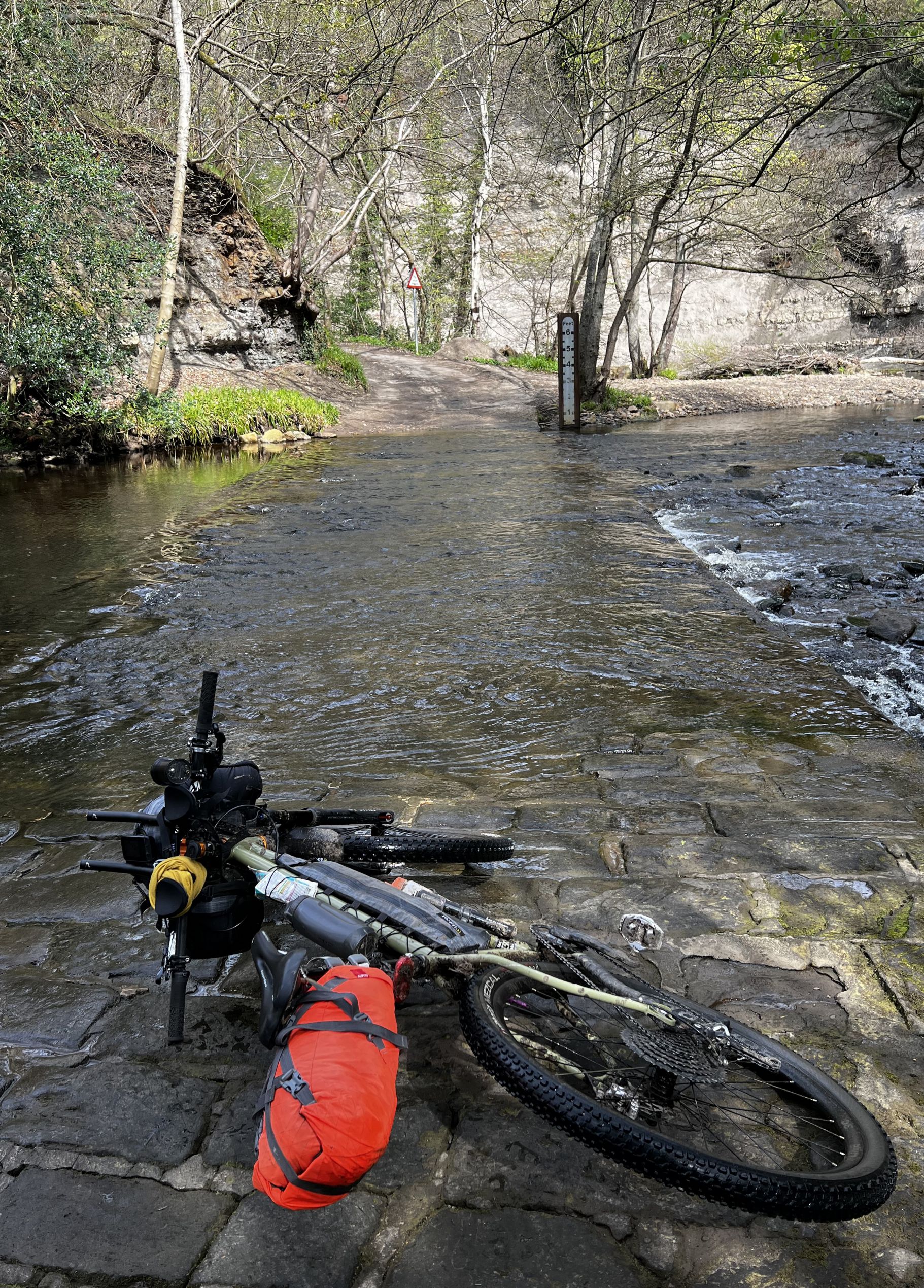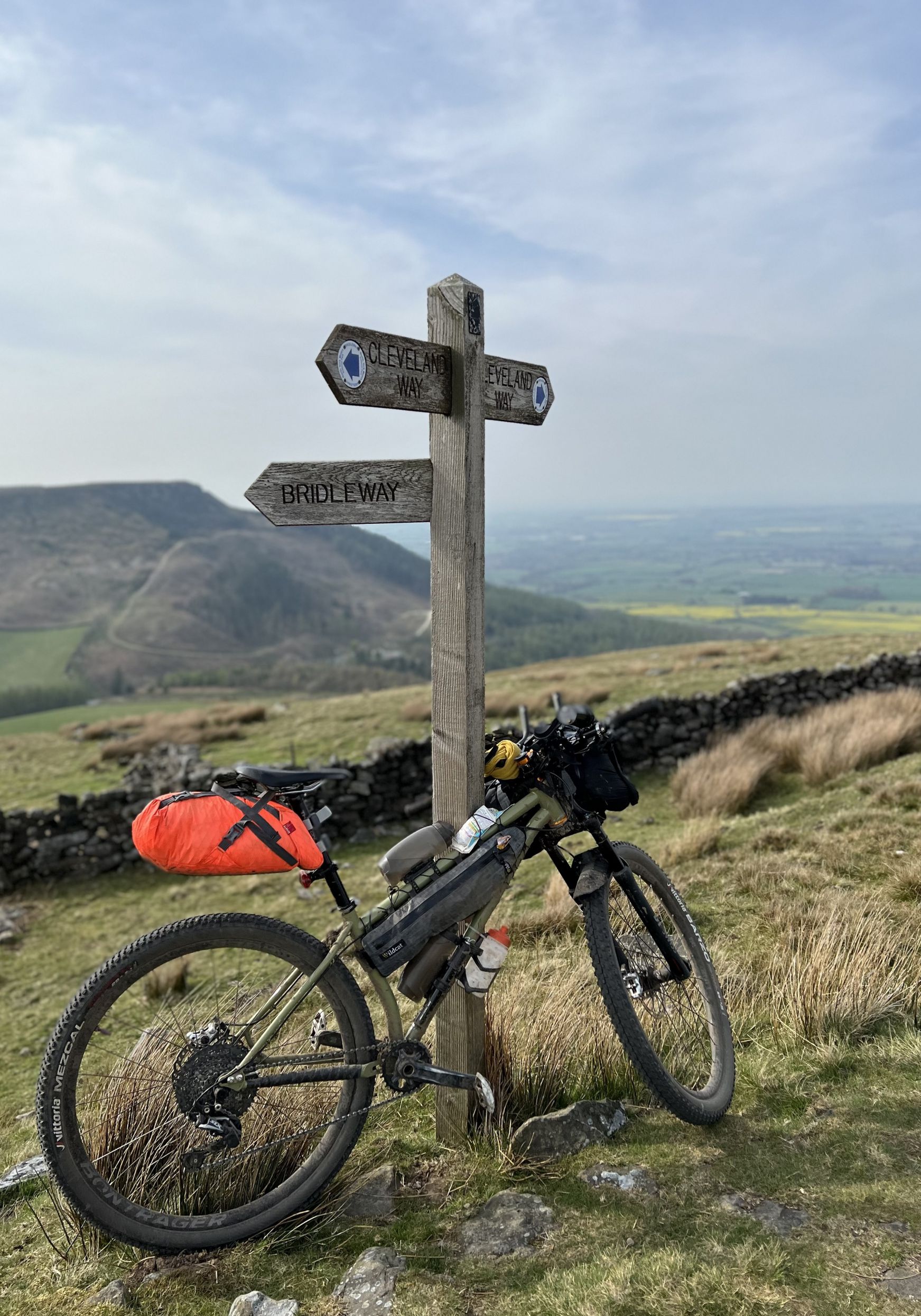 Late afternoon I'm finally on the Cleveland Way and huge stone pathways give me vibrations through my hands. After a massive push down an impressive stone staircase I drop on to a road: I'm sure Osmotherley can't be far!
I roll around the hillside fast on the road and within half a mile the wahoo points me back into a forest road. To my dismay I'm faced with about 50 wide wooden steps up a hillside and my heart sinks. Head down and get pushing: I'm halfway up and two lads come bombing down with fully loaded bikes shouting "good luck!" I want to shout "stop, keep going with me" and have some company but they are gone in a flash, and I'm resigned to push, stop, push, stop. Eventually I feel triumphant to reach the top, I get on and pedal a short stretch to be met with a monster gravel climb which is a steep push at this stage of the game, I have a little wobble. I can now see why the lads quit. "Head down Lynne, get pushing again, quitting is not an option!"
Finally reaching Osmotherley early evening I roll in and realise everything other than the pub is closed. I see a road sign: Northallerton 7 miles. I feel elated and think I can do that and set off at a good pace. I should have come to realise not to pay regard to the distances like that. As you set off, the route then drops into bridleways and farm tracks away from the road and those promised distances are stretched that bit further…
Finally, Northallerton….and food! I'm the only person in Dominos. I order and drop mud everywhere on their clean shiny floor as I put on legwarmers and layers. My phone charges slowly and I eat pizza, it's never tasted so good. If there's one thing this event gives you it's a newly found appreciation for food.
Phone is now 25% and I phone Davies for the first time. He's clearly happy and relieved to hear from me and his voice and words encourage me no end. "You must get to Catterick tonight or tomorrow is too long a day. Can you do that?" he asks. Fuelled by Dominos and a Coke my spirit is restored, my legs are still good, I tell him I think there's a bothy just past Catterick I'm going to aim for that. He doesn't have the full information pack I'd been sent so can't help me: another lesson learned.
I settle in to get to Catterick and it doesn't take long but it's still late by the time I get through there, its creepy with barbed wire fences dark yards and deserted streets. I sit by the side of the road and put my jacket on as its thinking about raining for the first time. A police car spins round and a friendly policeman asking if I'm ok: he thinks I've fallen off my bike. He thinks I'm a bit nuts when I explain what I'm doing. I feel a bit nuts explaining it.
I hit the moors and start to climb and climb. It's dark and very lonely up here. I climb for a long time and see only sheep. I steel my mind and try not to let it wander in case I get scared. There are odd shapes of things on the moorland made into tank shapes for firing practice, and I try not to look too hard and pedal faster. Music would've helped.
I worry as I eventually drop off the moors and onto a road: I've not gone by a bothy and its now raining. It's about 1.30am I stop and try to look at OS maps for a bothy ahead. My phone seems to be losing battery quickly in the cold, my spirits sink to an all-time low as I stand beside the road not actually knowing how far away the bothy is. "Think Lynne, think!"
Finally, my brain kicks in and I remember the points of interest map Chris E shared with us. My last hope, please let it work.
It shows the bothy, and I feel like crying with relief and with how far away it still is. If I'd have known at Northallerton I wouldn't have attempted to keep going so probably it happened for the best. It was probably 40k from when I had the dominos stop, just your average 2am pedal in the dark, in the rain, on the moors, on my own: nice. I have a moment when I think you have the daftest ideas, "Lynne, what on earth am I doing here?"
"Keep pedalling!" Eventually I get to moor again and climb on and on in the dark and the rain, I'm steadily getting wet through. I come to a dip which looks like a quarry, and I carefully go to the edge looking over, I see a roof and feel a huge wave of relief: the bothy!
I push my bike close to the bothy and see the windows are steamed up, signs of life. Ordinarily I would be wary opening the door, but this was the last chance saloon, I open the door a crack to see 3 sleeping bikers and bikes inside. I push quietly inside mindful not to wake anyone. I hang my wet coat on the bike and take my mat outside to blow it up in the rain. I creep back inside and lie on my bivvy to protect my mat, realising too late I'd be better inside it but not wanting to make noise. Sleeping bag over the top of me I curled up wishing the bothy was empty and I could get warm dry clothes.
I sleep fitfully, waking intermittently shivering with cold, you can feel how high on the moor you are with biting cold air even inside the bothy.
I hear a barking noise, twice it wakes me and the second time I realise it's me coughing, I've never heard myself cough like that: it must be the cold. I can hear someone else snoring, and another person in a foil blanket which scrunches noisily while they compete with me shivering.
In the early morning around 5.30am I hear the others moving around gathering kit and they are gone. I get up and pack up. It's freezing and I put on lovely Salomon mitts and remember I have hand warmers which are absolute luxury: if only I'd cracked them open last night.
I set off over the easy moorland tracks and feel my spirits rise in the early daylight, I follow my wahoo and push up a couple of steep hillsides before the track disappears. I look at my Wahoo and realise that it has been frozen, and I'd simply continued to follow what I thought was the right track for God knows how long. I wander around looking for the track but nothing. I pull out my phone and it's on less than 10%. I switch it off and look around the moorland thinking if anyone was dot watching what would they see I was off track, lost? Later I would see desperate messages from home and friends trying to tell me I was off track badly, but in that moment on the moors I was alone. At this point my Wahoo was refusing to load the new route, I stood wondering what to do to save myself. I decided to retrace my steps frantically trying to calm my mind and recall which tracks had brought me here. At a crossroads I went backwards and forwards trying to think which direction I'd come from; they all looked the same. I looked across the other side of the valley and saw in the distance a biker pushing a fully loaded bike up a stiff climb. I was off, down the track and chasing in their direction. As I reached the top of the climb there was a lovely lady, Chris, and she confirmed she was riding the shorter route. We pedalled alongside each other for a few kilometres and she lifted my spirits with some welcome company and some navigation! I continued to reset my Wahoo and it fired back up as she decided to stop to eat so I waved her goodbye and continued with spirits lifted.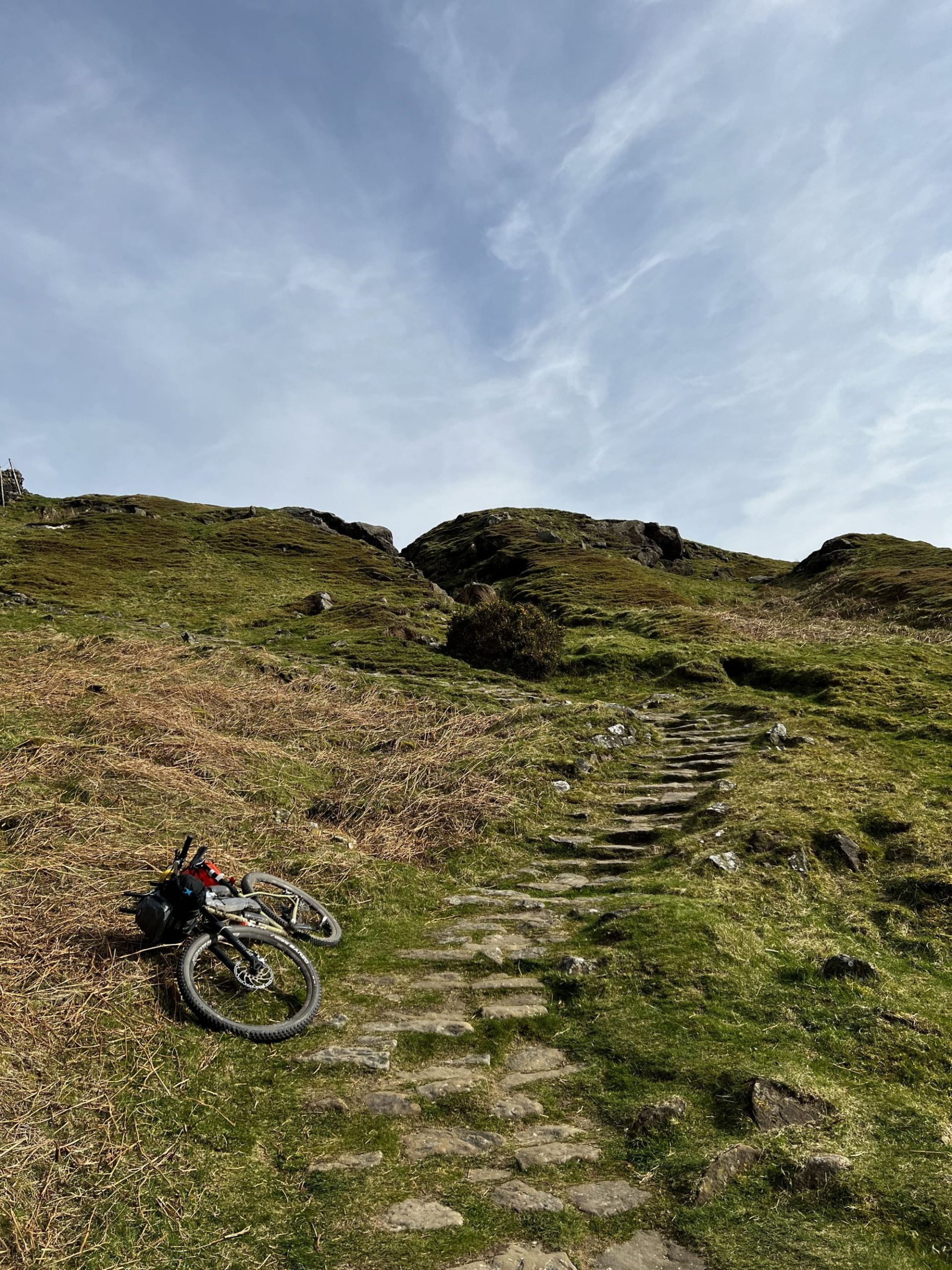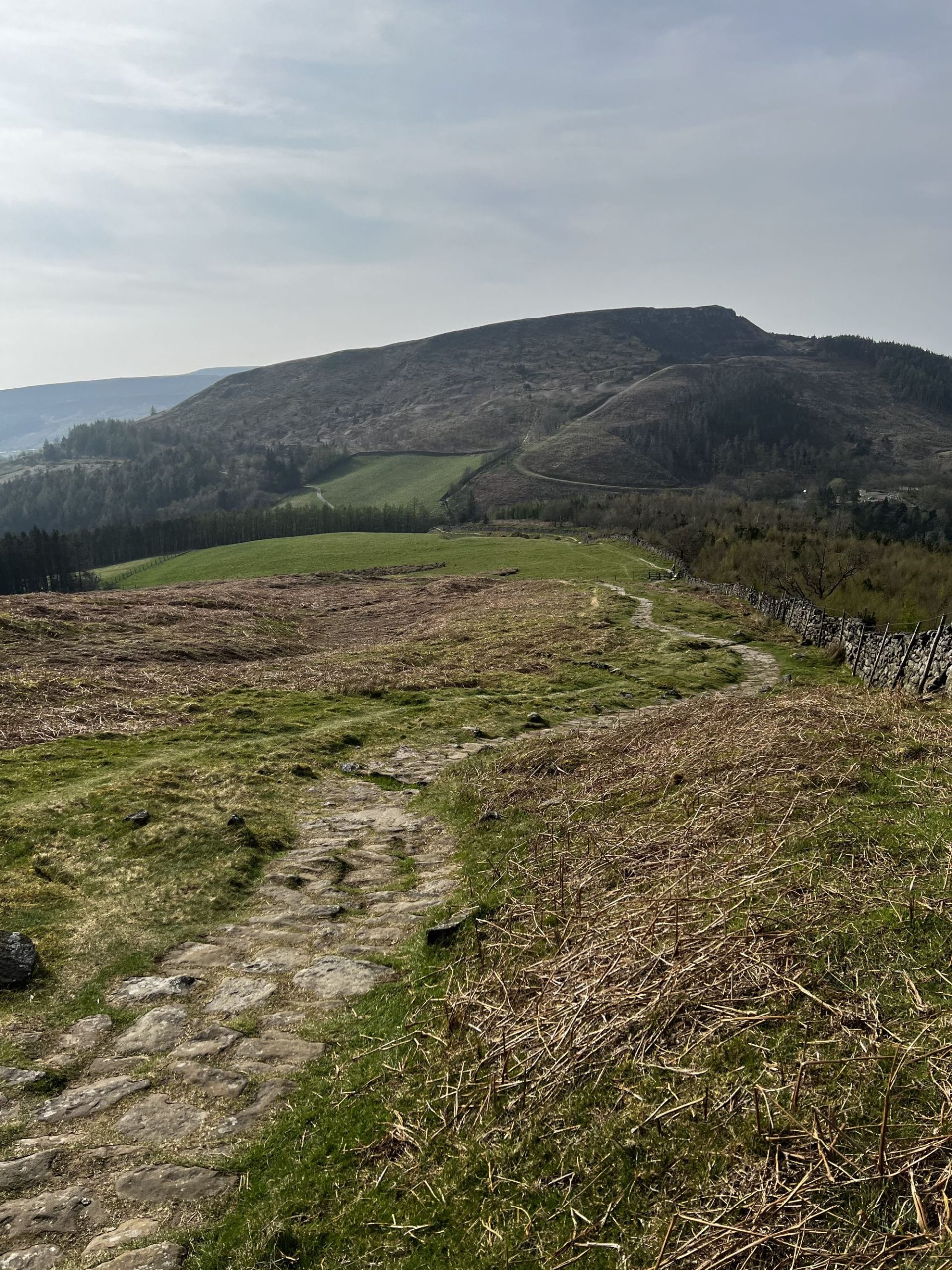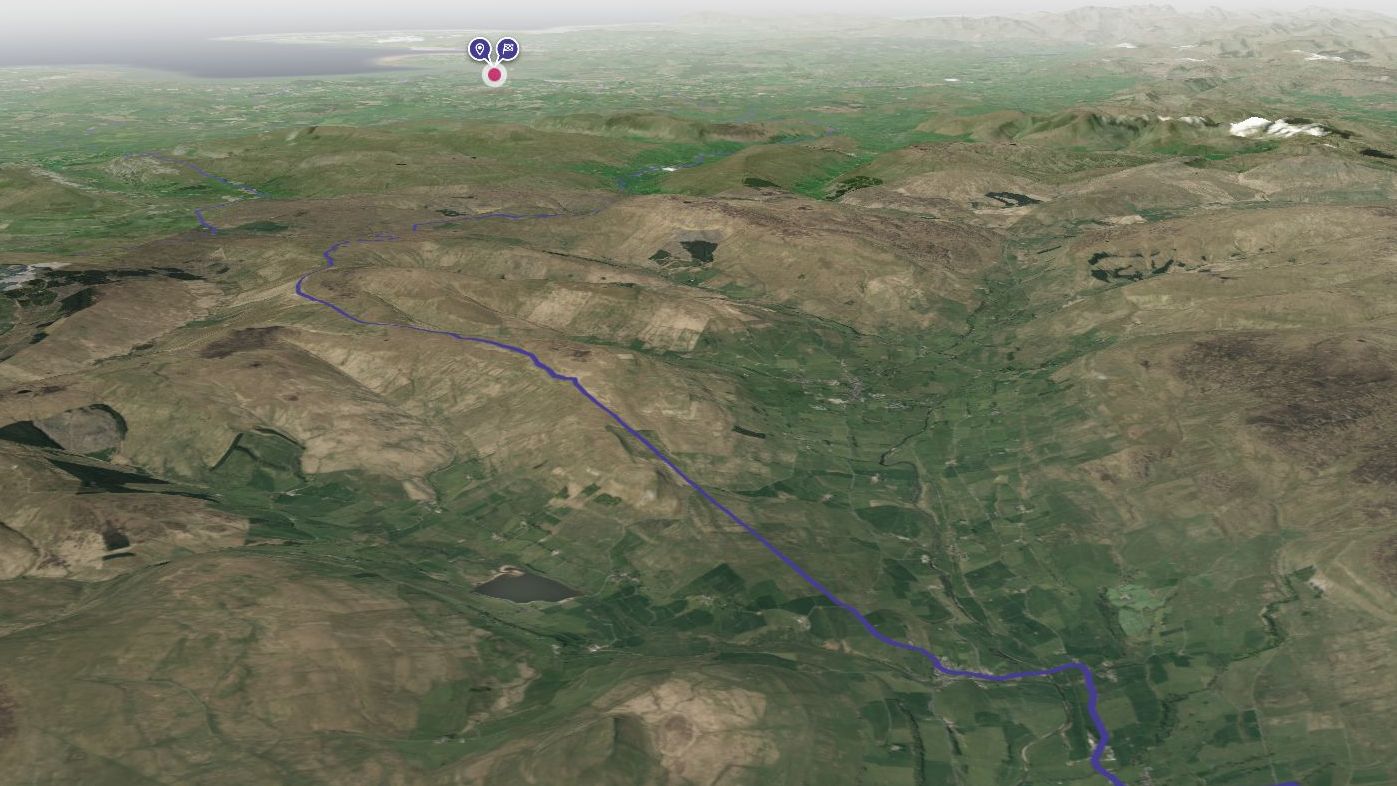 I dropped into Bainbridge and stopped to fill empty water bottles and replenish food, although I still had rolled up dominos in case of emergency (I'm learning these hobo tricks like a pro).
Revitalised, I enjoyed the climb up the Cam Road – a stunning climb I'd like to have as my local: it'd be great to keep climbing legs primed. When I eventually got to the top and rolled over to the next hill I must admit I chuckled at the brutality of throwing in the Pennine Bridleway straight afterwards – something so typical of the Dales Divide – what doesn't kill you makes you stronger!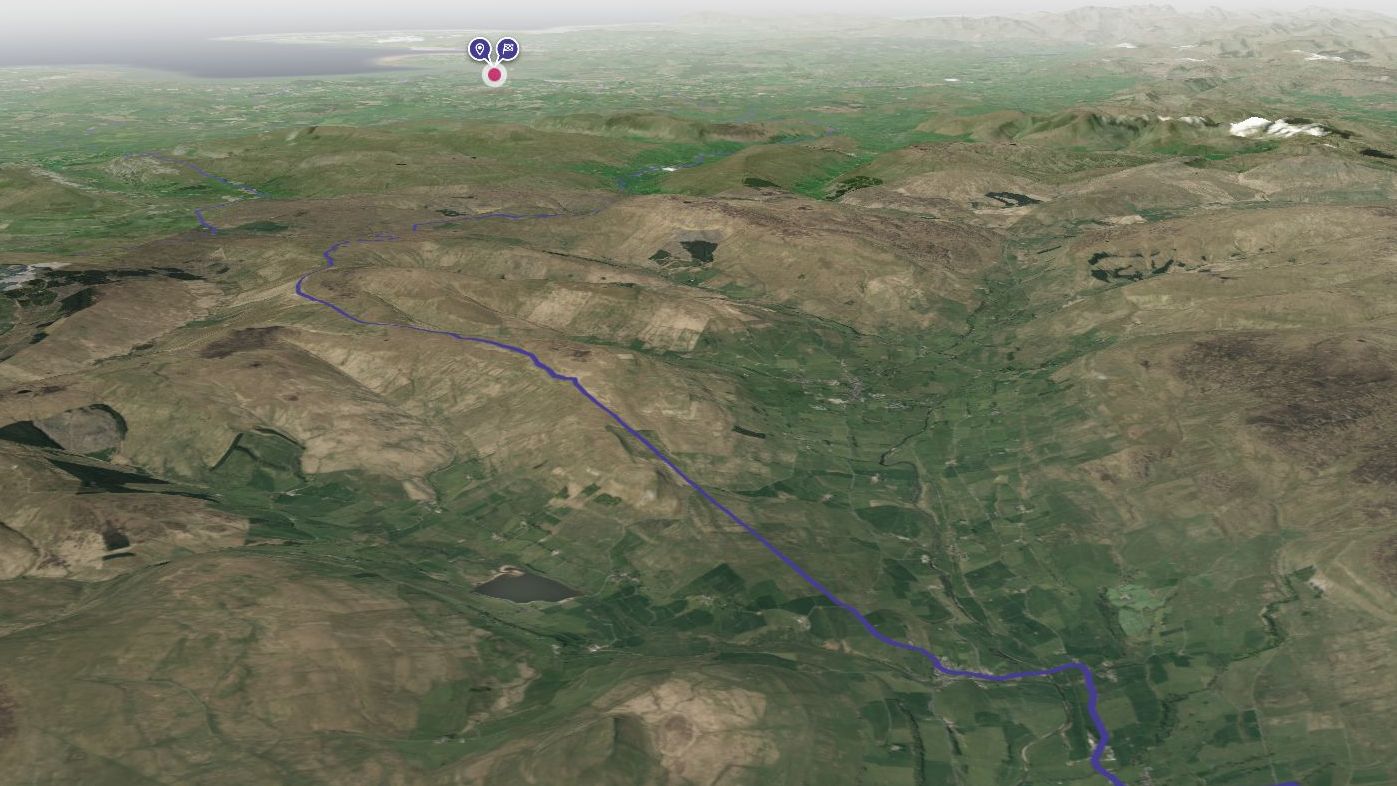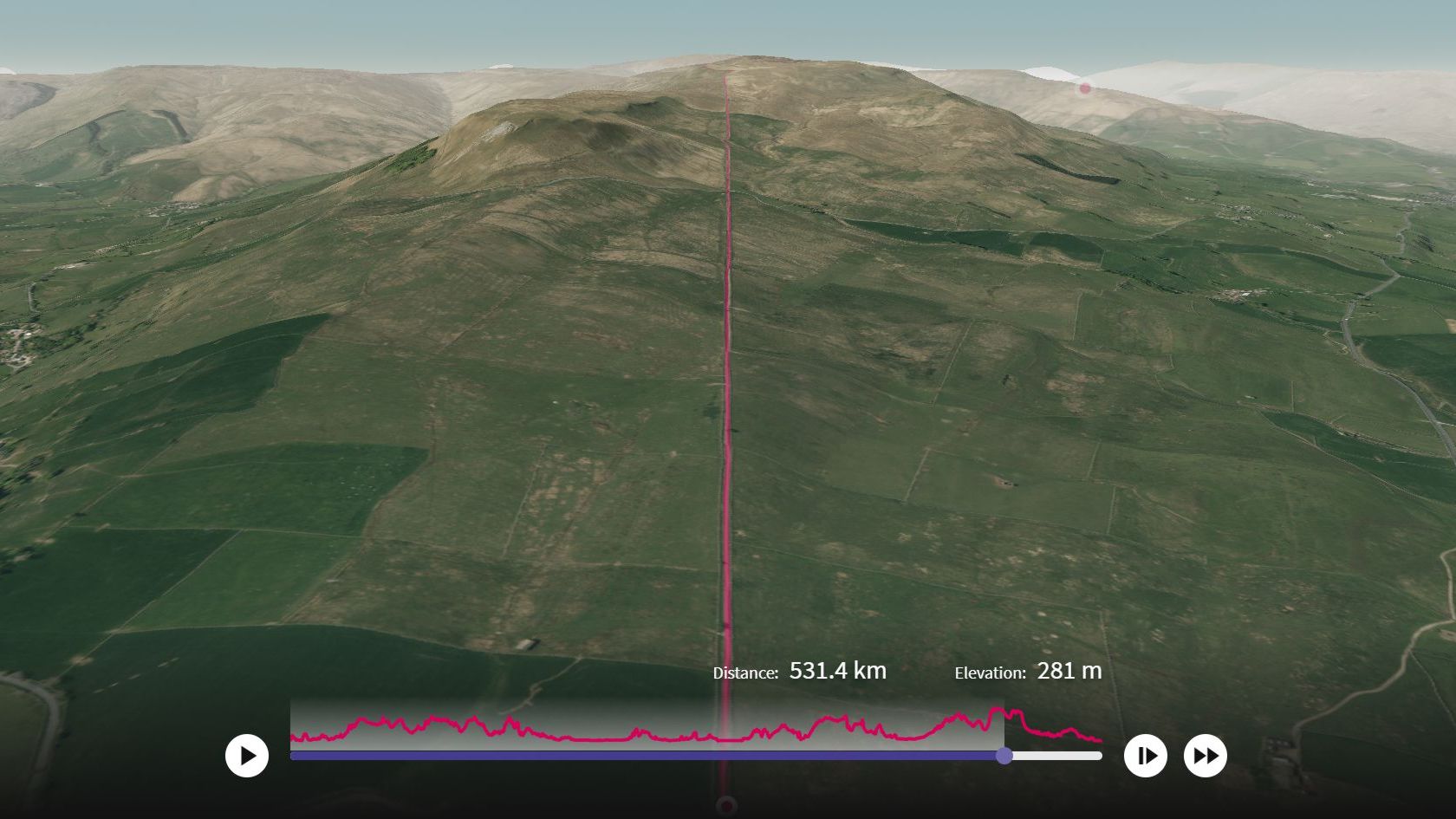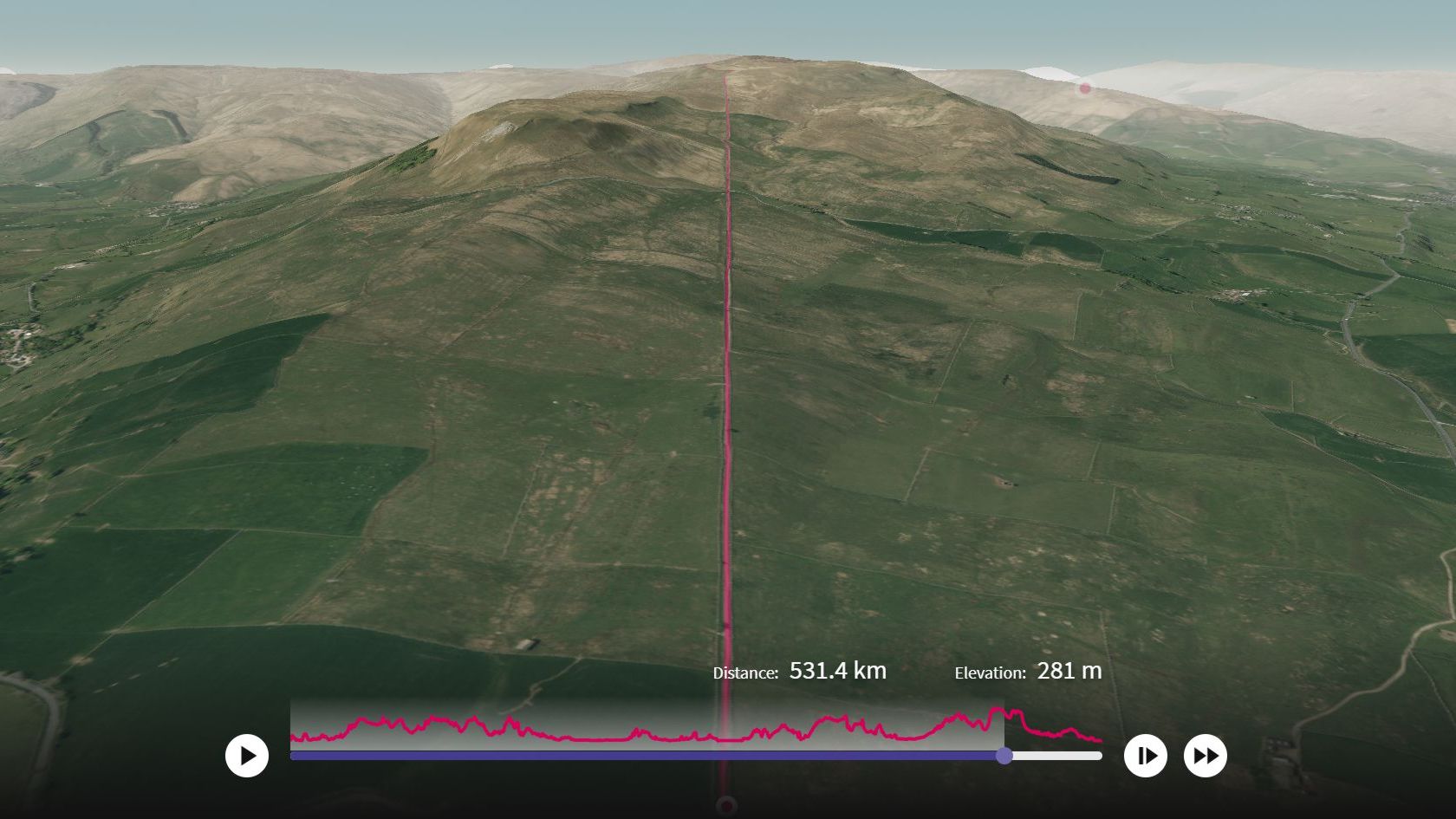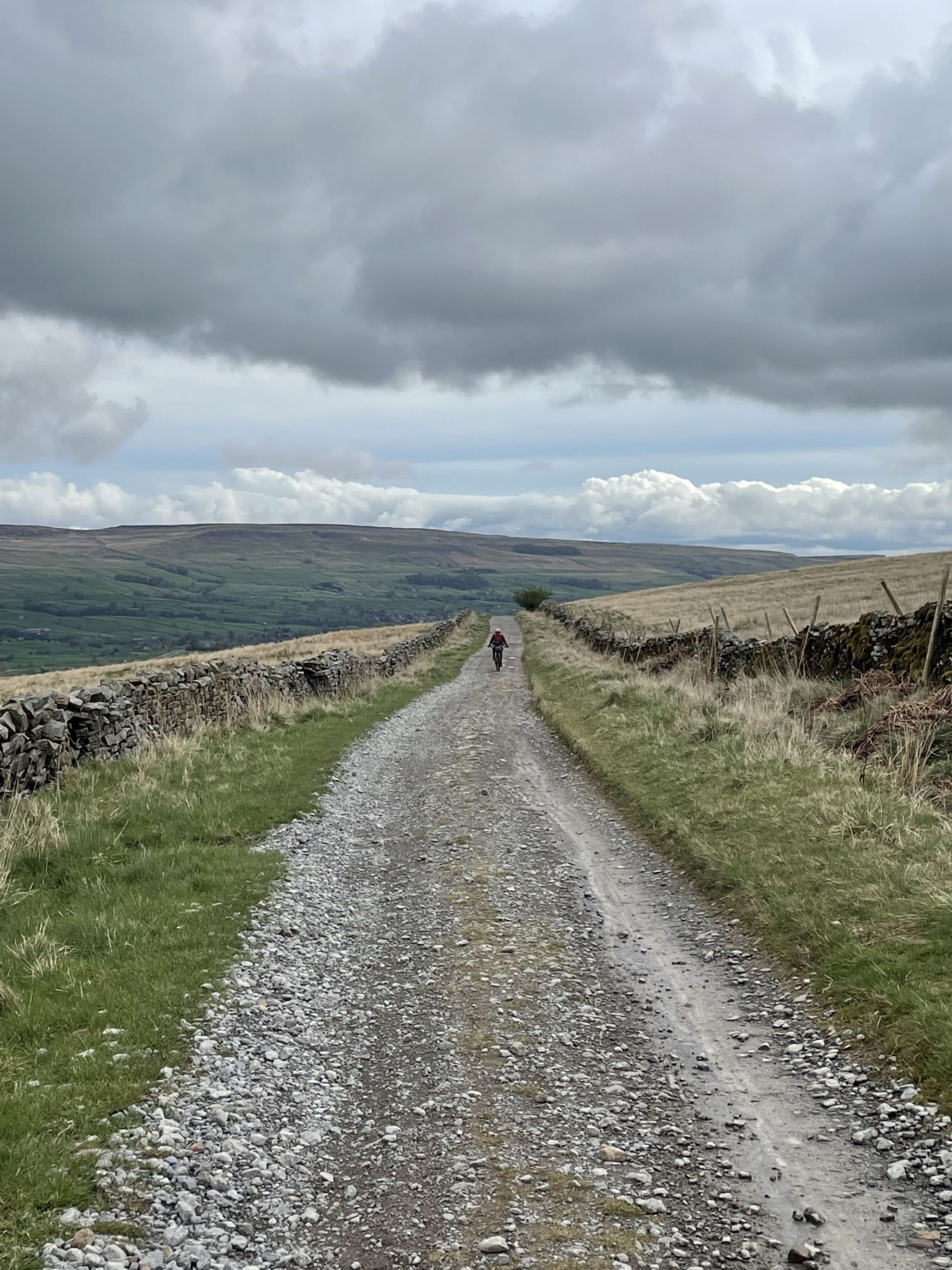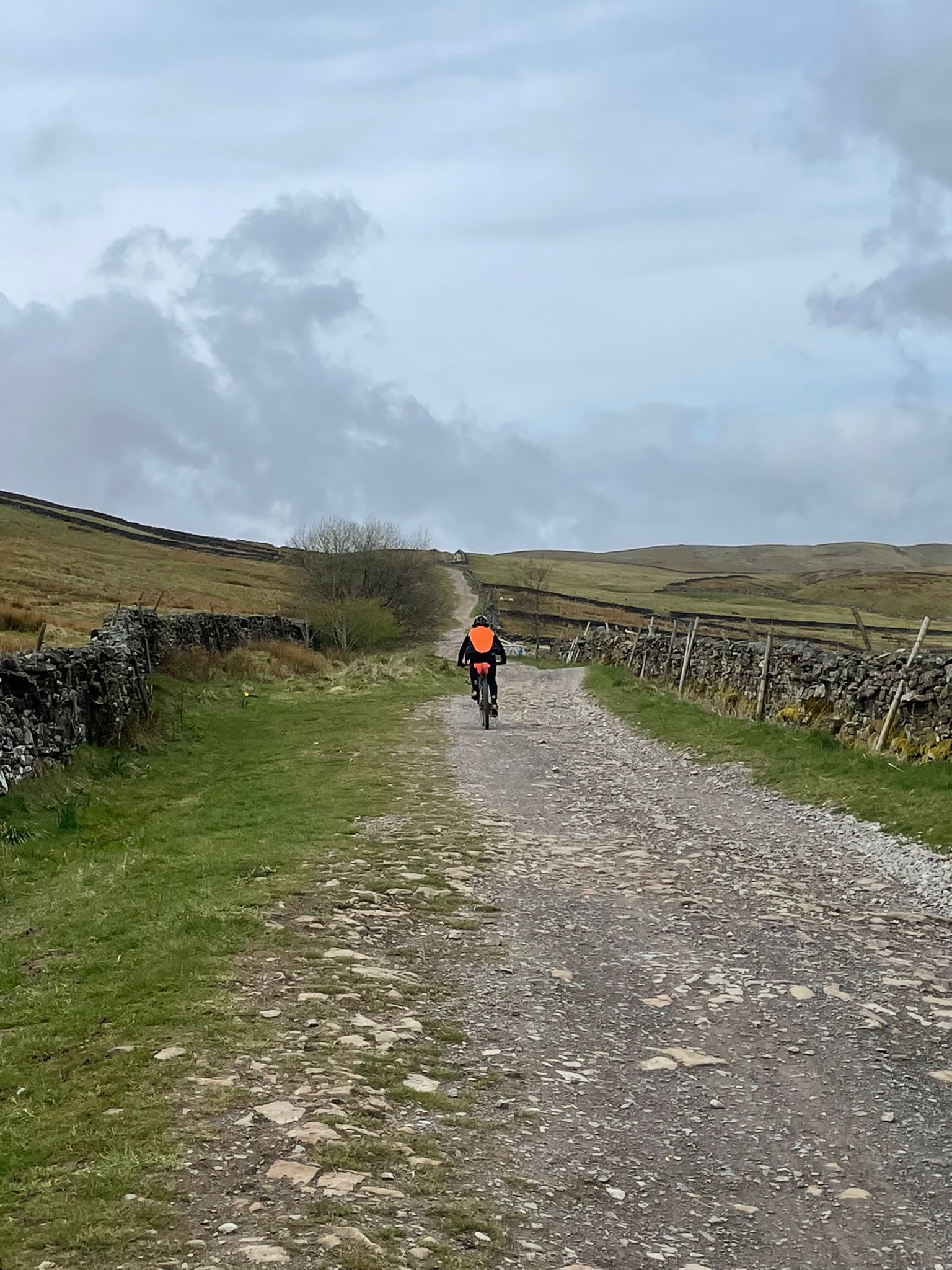 Pretty fields, gates, more gates and it seems like a rolling slow picnic to the end: eat, roll, gate, repeat.
As I pedalled into Arnside a lovely girl on a bike hollered at me and my heart soared. I pedalled up to the pier and saw my excited kids, an elated Davies beaming and ready to hug me despite me smelling like I'd slept three days in fields. #teamdavies. Hobbling to get off the bike I couldn't believe it was over.
What an experience – so much I have learned – about preparation, kit, about what I need, about what I can do, about what I need to do to get better – and so much about myself!
I really didn't think I would learn so much. My mind has spun trying to process everything since I have come home and in writing this. I hope to have given you a little insight.
For a bike ride, it really was quite a profound experience.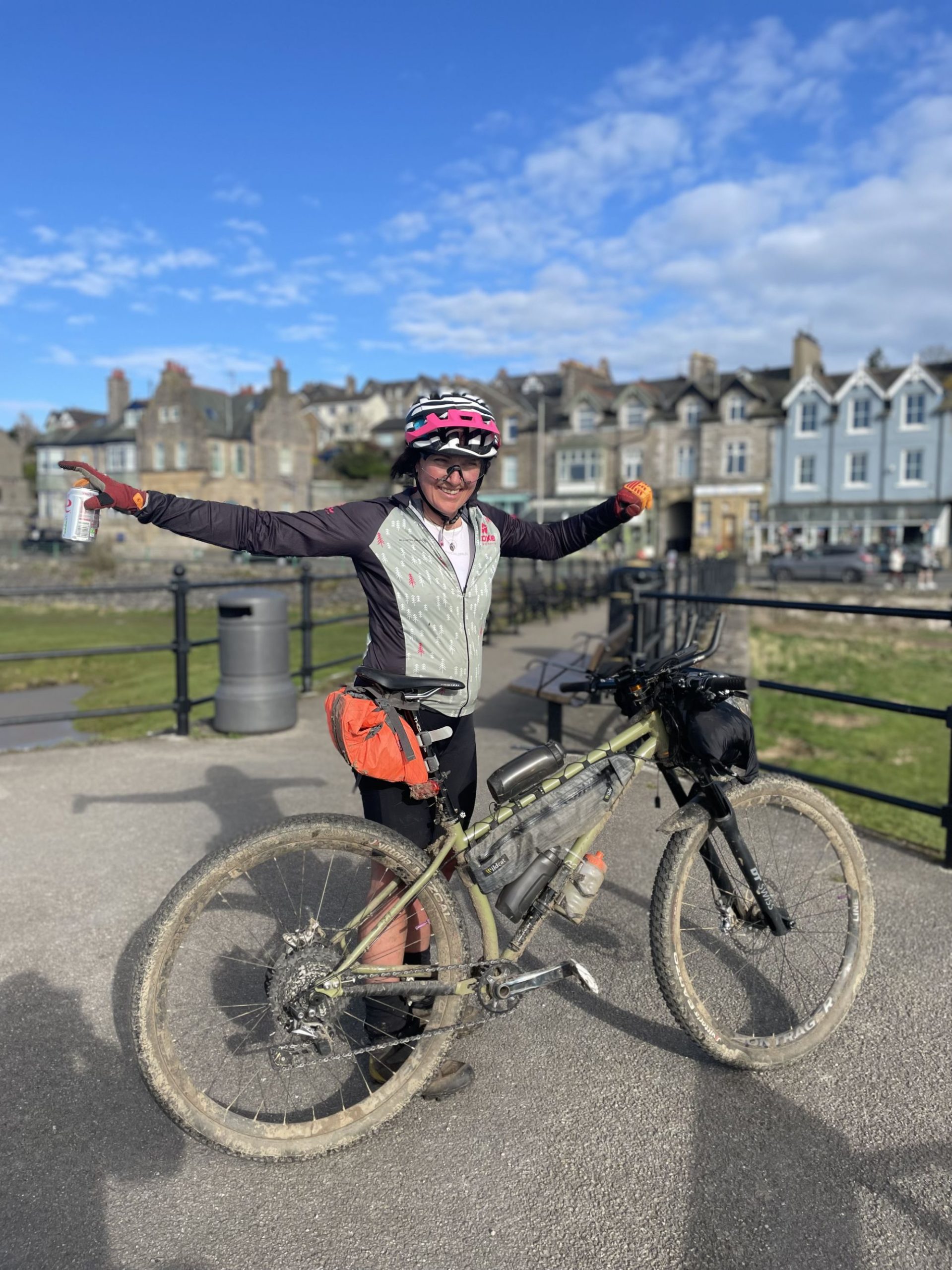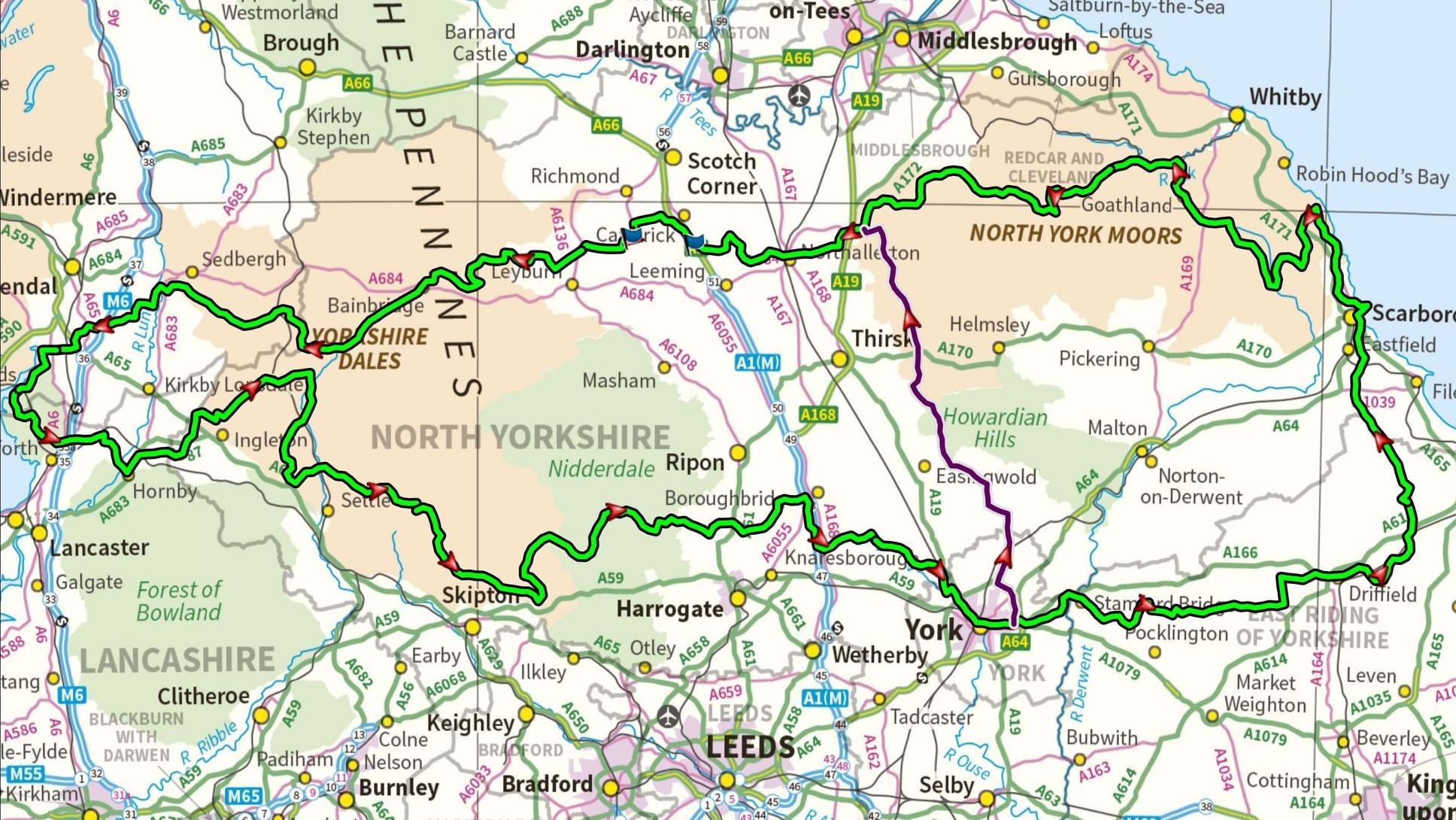 Starting from Arnside, on Morecambe Bay and the Irish Sea, the first 40km is on a mixture of minor roads and pastureland bridleways and gets you to where you enter the Yorkshire Dales National Park. You are now in limestone country.
Remote in parts, with moorland, barns, walls and lots of ancient routes from roman days and well used in monastic times for driving livestock from valley to valley. There is very little road until about 150km where the Dales spills into the flatter land of the Vale of York. This is Harrogate, birthplace of the late Mike Hall, Yorkshireman, probably the best bike-pack endurance racer there has ever been an inspiration to so many of todays racers. It is then a mixture of bridleways and minor roads to York and the Minster at 220km and the real flat lands. Fast gravel tracks and roads get you to Scarborough at 300km and a ride along the shore of the North Sea.
An immediate turn West is riding over the isolated moors of the North York Moors National Park. Tracks that are sometimes well made, sometimes not, both follow the ridges as well as dropping up and down the steep sided valleys. Much of this area is the Woodcock C2C area, a famous MTB ride.
At 440km you drop suddenly into Osmotherly and out of the moors, back onto the Vale of York flatlands. Mainly on Sustrans minor roads, a spin across the flatlands gets to 490km and the start of the Yorkshire Dales again. Back onto those green lanes, drovers roads and bridleways the ride uses some of the iconic MTB tracks across Swaledale and Wensleydale then Ribblesdale and Dentdale before dropping out of the isolated dales at about 575km and a short ride back to Arnside.