Bike packing….
In this world full of gadgets, technology and luxury, it's amazing that taking as little as possible on a bicycle and sleeping in the outdoors far away from everything and everyone has captured the imagination of so many people. Is escaping really the key to finding yourself?
This last couple of years I've really been bitten by the bikepacking bug. Squeezing only enough on the bike to sustain me for a few days off-grid adventure is good for my soul. Losing a good phone signal can be nerve-wracking at first, but it does wonders to calm the brain as you become increasingly aware and sensitive to your surroundings.
My husband Si and I had a few days child-free thanks to generous grandparents offering their annual gift of child-minding. Finding time for adventure while juggling the responsibilities of parenthood doesn't always come easy. I always feel a pang of guilt when leaving the kids and undertaking this kind of adventure however, I know that they're proud of me. It's important to me to show them how to be brave, strong and free, yet still be responsible. They definitely won't remember their mum as someone who liked to watch the telly!
In preparation for our trip, I had browsed a number of routes near to home (and somewhere with no phone signal) but was drawn to the excitement of the Cairngorms Loop (or loops). It's is a 300km route through the Cairngorms National Park in the Scottish Highlands – a challenging route in a very beautiful part of Scotland – and it sounded perfect.
Si had never bike packed before, but he was tentatively keen (escaping fatherhood?), and I had only ever bikepacked solo. He was upbeat until he started pulling out and dusting off his extensive hoard of ancient but good quality camping kit.
"I can't go, all my kit won't fit on this bike…It definitely won't fit: I'm not going."
He grumpily sat looking through the big pile of kit on the garage floor…he didn't get it, but he really didn't need all that stuff. Par for the course for our marital harmony: I ignored him and continued to pack my own bike.
I was riding the Pipedream Sirius, a short travel steel hardtail, light and fast and very comfortable. This bike had performed beautifully during the Dales Divide and is a firm favourite of mine for bike packing adventures.
Si was riding the Pipedream Moxie, a longer travel steel hardtail in its signature neon pink. There was no danger of losing him in the great outdoors.
My first challenge was to get him to come round to the idea of paring down his kit. He's meticulous: ordered, organised, and ready-for-anything. I normally fly by the seat of my pants: perhaps because I know he's always there as my back-up and go-to mechanic. Cue a couple of hours of Mexican standoff while I tried to reassure him to cut down on his gear and pack only what he really needed. It's clear I've got a more optimistic approach to winging things.
When he realised that I was still packing for myself and was prepared to set off solo (if necessary) he got on with it and (no surprise to me), all his kit fitted.
I've spent the last year or two thoroughly enjoying the process of researching, buying and carefully collecting kit. When you first fall down this rabbit hole of bikepacking, researching kit can become an obsession. Through trial and error, I've been disappointed by some choices I've made and hugely appreciative of the comfort, convenience and quality of others. Chose the 'wrong' kit and it can seriously comprise or prematurely end a trip.
I've got some pretty decent kit now and am happy and confident with my set-up. My advice: do your research, read reviews, ask for advice and buy the 'right' kit from the get-go. It can be a false economy to get the cheap/heavy/comprised kit as you'll only end up replacing it later. So, if you're new to bikepacking, beg/borrow or make-do with what you already have and see what works – and what can be improved. Also, consider the key parts of your kit as 'systems' i.e. sleep system (shelter/bag/mat), cooking system (stove/fuel/pans/utensils), clothing system (base/mid/shell/waterproofs). Buy the best you can afford, look after it, keep it clean and store it well.
Some of my best bits of kit to-date are…
Thermarest Neoair Xtherm mat.
Most of your body heat will be lost if the mat you use doesn't have a decent thermal R rating. I upgraded after suffering several cold nights on an entry-level budget brand so, do your research and buy the best you can. The Thermarest is warm, packs small and I like the funky colour.
Si has a 10 year old Thermarest from his backpacking days and it's still going strong. It works but the pack size (volume) is double that of my Neoair which means less space on your bike for other stuff.
Thermarest Corus sleeping quilt.
It packs small and is rated to -6. It doesn't have a back and has straps to hold it to the mat. Less fabric means less bulk but it still retains the heat where you need it. Of course, you need a warm mat! This took a bit of getting used to until I got the straps properly situated. As a 'sleep system' it's light, soft and warm. Don't cut corners in a bid to shed weight or bulk as it's better to be slightly too warm than miserably cold! A night with poor sleep could mean you suffer the next day…and the day after that…
Wildcat Gear frame bag, handlebar harness and drybag.
These are high quality lightweight bags, lined, waterproof and the drybag for the handlebars is genius with a two-way different sized liner so you can pack a tent in one side, and your sleeping bag into the other. Everything squashes together into the same space without touching each other.
I'm no bike packing ninja but what I will say is that you very quickly learn what works, how and where to store things and what you do and don't need. Here's some tips that work for me…
Keep everything in its place: the same place, every time. That way you can find it in the dark or when you're being eaten by midges (or both in Scotland)

Leave yourself some space. I call this faff space: a space in one of your bags for extra food or something you need to stash. If you don't, you'll be relentlessly shuffling stuff around – wasting time, frustrating yourself – and still won't be able to pack it. Also, it's unlikely you'll ever get your kit packed as well as it was at home: there's probably not a clean dry floor; it's going to bulk up; it might be wet; it might be raining…leave some space!
Finally, and with everything loaded up, we trundled north in the van to the start point and parked in the Blair Athol visitor centre car park. It felt like a safe place to park for a few days, with several other vans and people setting off on their own mini-adventures.
We set the Spot Tracker to track us for peace of mind and followed the route on my Wahoo to the start of the Cairngorms Loop near the Bridge of Tilt car park. The weather was pretty good – for Scotland – warm, but not too warm for cycling.
Here's another tip: remember to download a copy of your route to your phone on Komoot and OutdoorGPS and make sure you download the map regions before you go off grid. Sync' and update your GPS device on Wi-Fi before you leave home.
We warmed up by following a fair bit of cycle path and B-roads, which seemed to go on for ages, but we made good time. When we eventually turned off the road and onto gravel tracks, we felt like this was the true beginning of our adventure. We were both in high spirits and the route headed off the gravel road and onto singletrack through the heather. Si insisted we check and double-check the route: I'm confident following and trusting the Wahoo. However, he was sceptical as footprints and tyre tracks on our route would mysteriously disappear….
After some doubts (on his part) we followed the GPX and eventually climbed onto singletrack traversing Loch an Duin.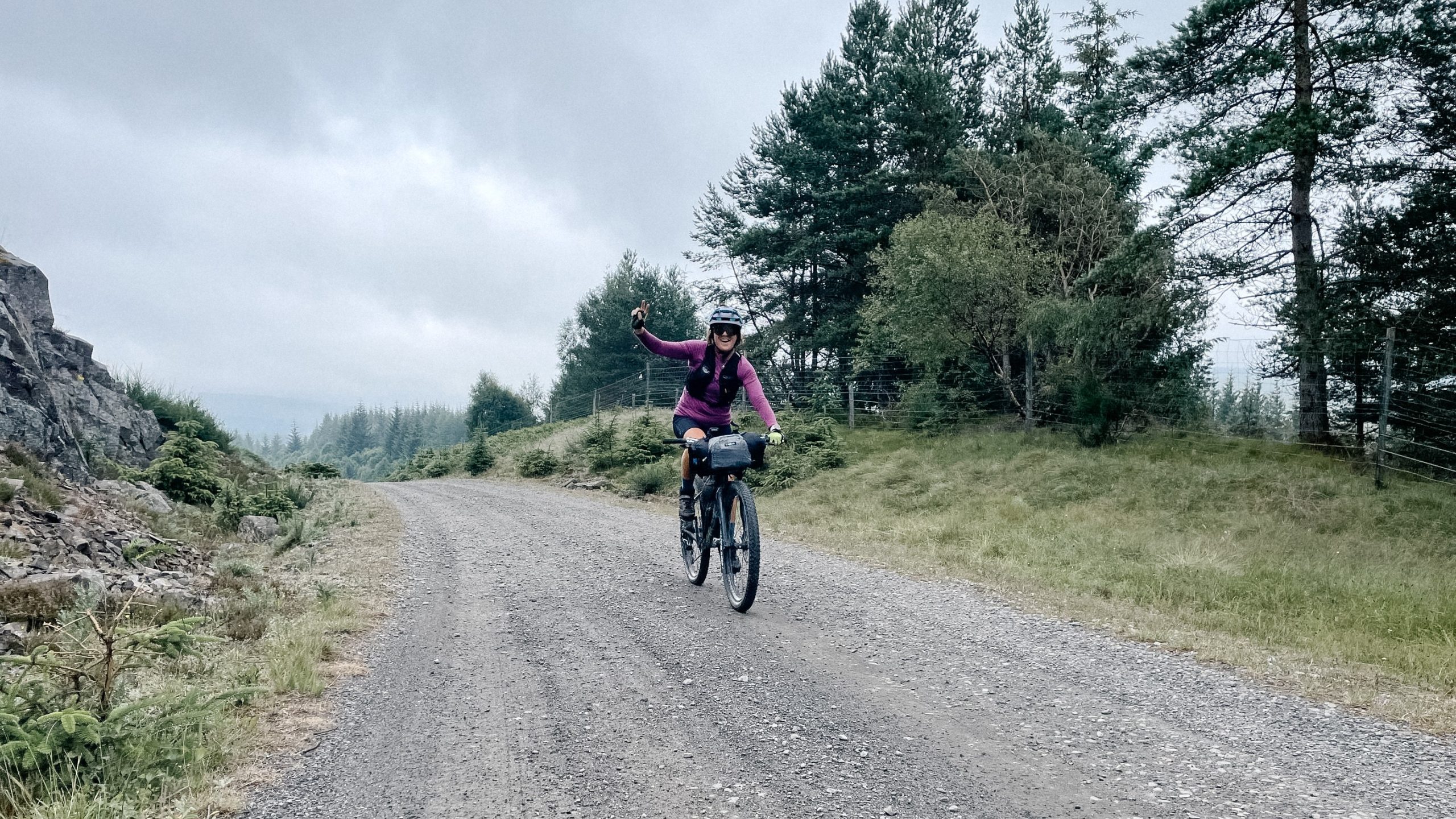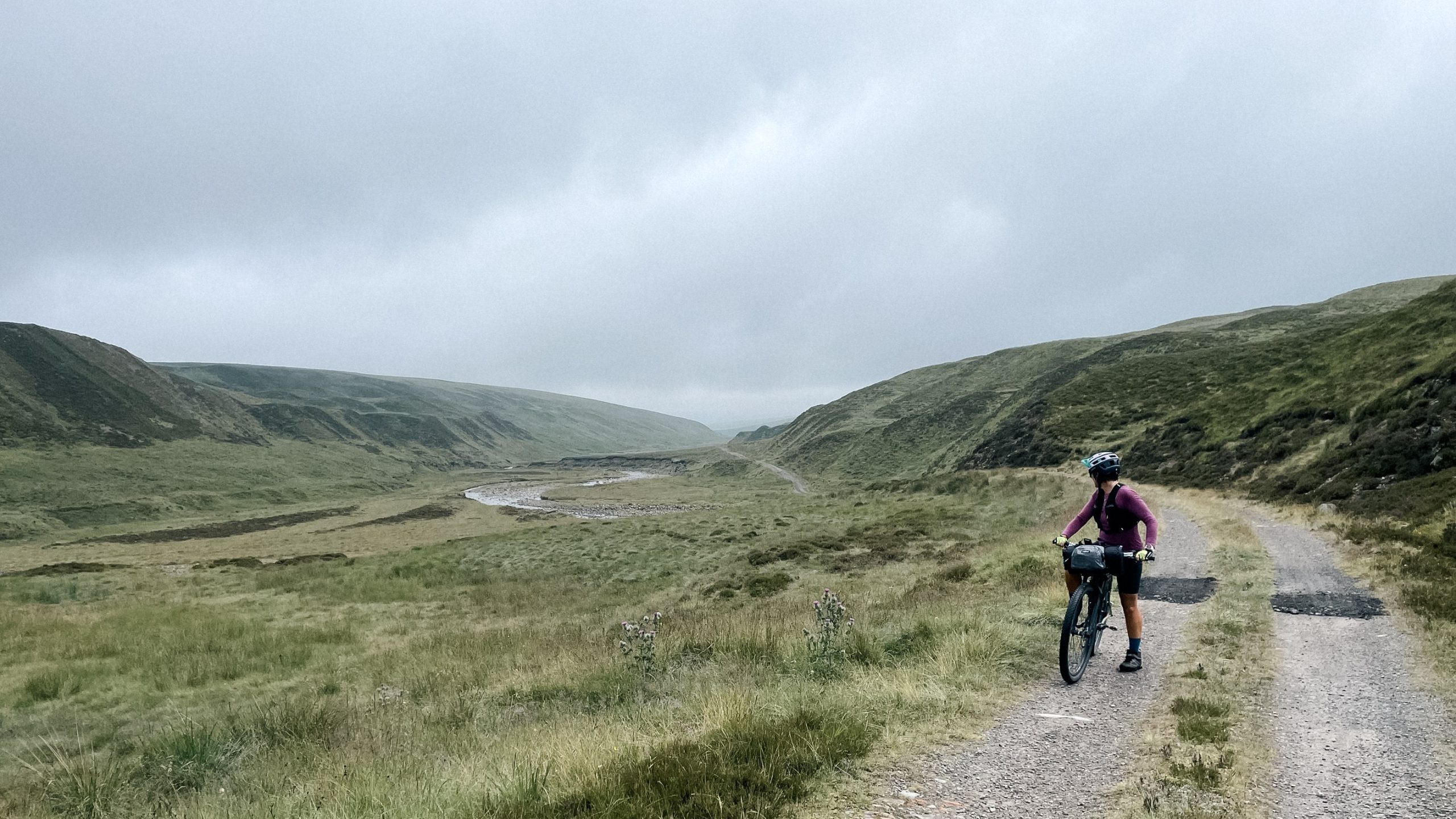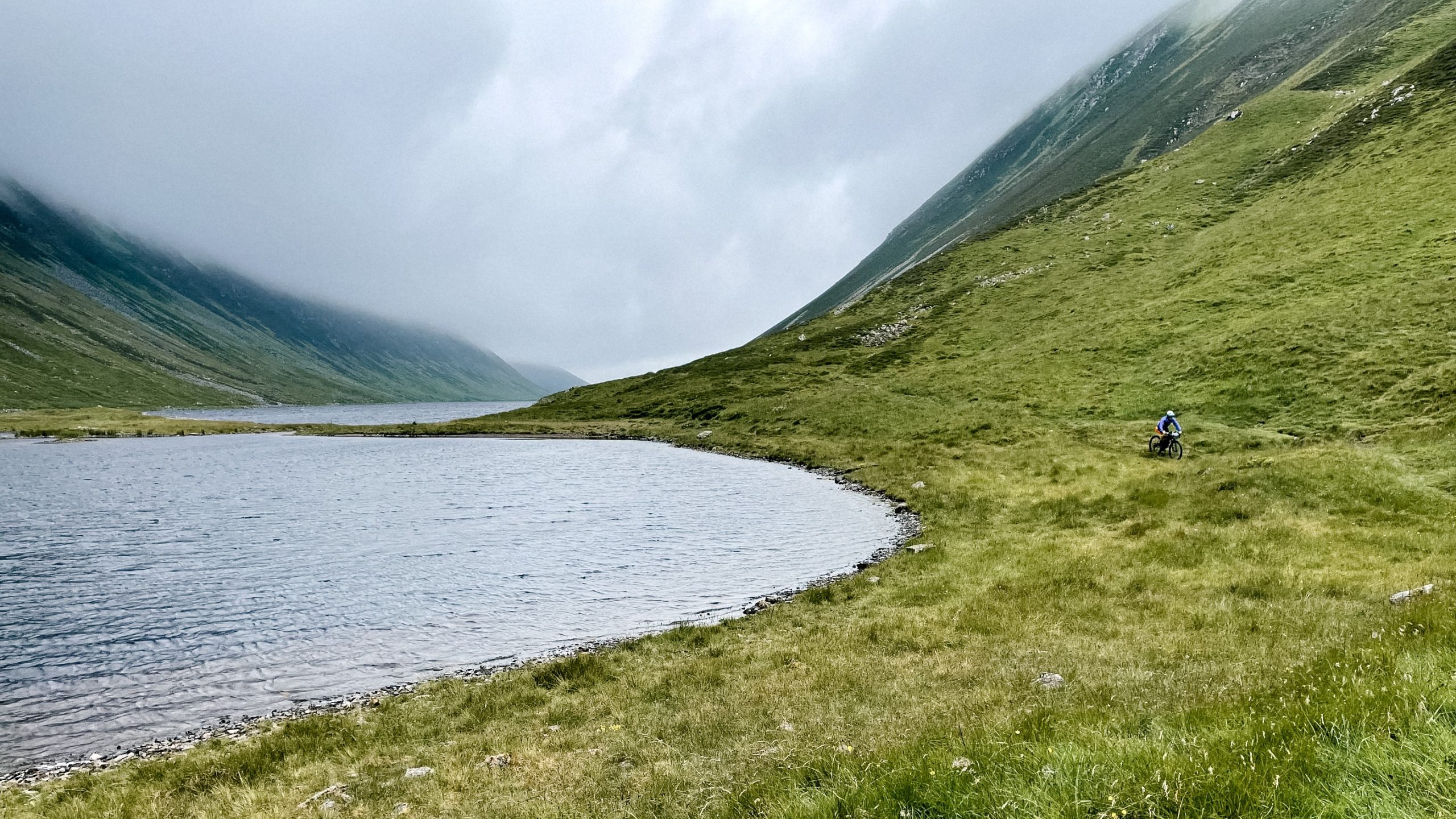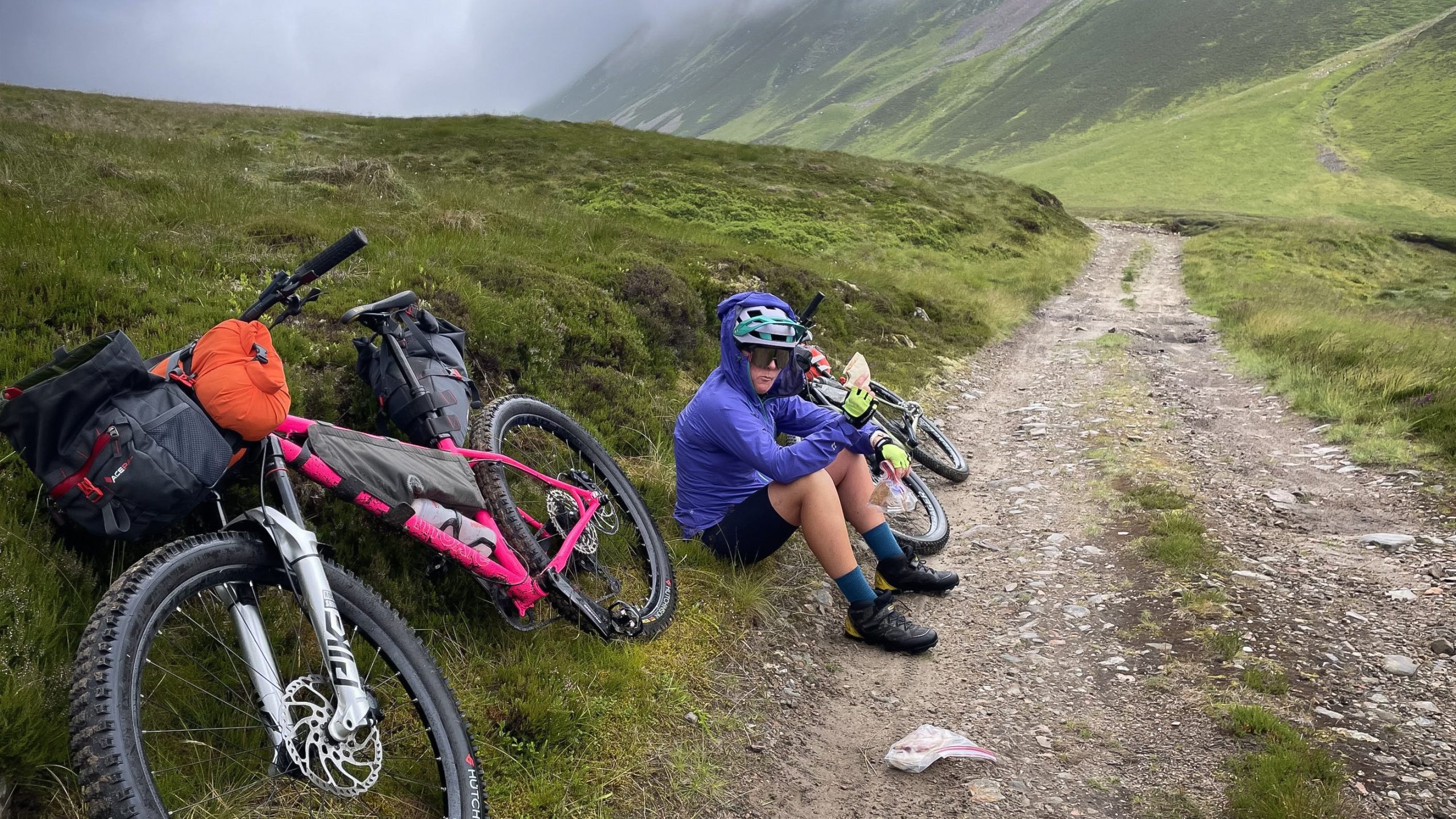 At this point we slowed down considerably, and we both shut up as we concentrated on some pretty tricky terrain. This singletrack would have been a lot more fun if the bike wasn't fully loaded. The bags and weight affect the handling and balance of the bike and rider. The inability to drop a seat means you can feel precariously close to going over the bars if you get too ambitious. I realised also that the cleats on my shoes were slightly too tight for an emergency dismount: a heavy bike and uneven terrain is not a brilliant combination.
The terrain dropped steeply down to the loch on the left and my balance felt fine on this section. Strangely, later in the ride when the drop was to the other side, I had a complete inability to balance. Is that a thing?
Despite the threat of rain, it was perfect riding conditions: a near-perfect temperature, no midges and a jacket wasn't needed for long.
We eventually dropped down to the valley floor, and soon we were ripping along fast gravel tracks. We took the opportunity to stop and fill our water bottles at Gaick Lodge, which had a funny little gamekeepers bothy (which was open). It's got some crazy oddities which have accumulated over the years from passers-by. It does make you wonder how all these quirky things ended up in the back-of-beyond in the highlands but people clearly carried them in with intent. Cards on the wall told their own stories, conveying their thanks to the owner for rescuing them from various mishaps over the years. I half expected to open a cupboard and find a mummified body of a missing bikepacker!
We filled water bottles and looked at the decorations on the walls, and the first few bars from the movie Deliverance came to mind. I was keen to move on but Si was looking curiously at a bunch of dusty bottles on a table in the corner. He said they were labelled whisky but I imagined they were pee – Scots are hospitable but they're also pranksters! He confidently took a swig….
You'll see from the photo he was living up to him nickname of "the gnarly fox" – and his collar matched his cuffs!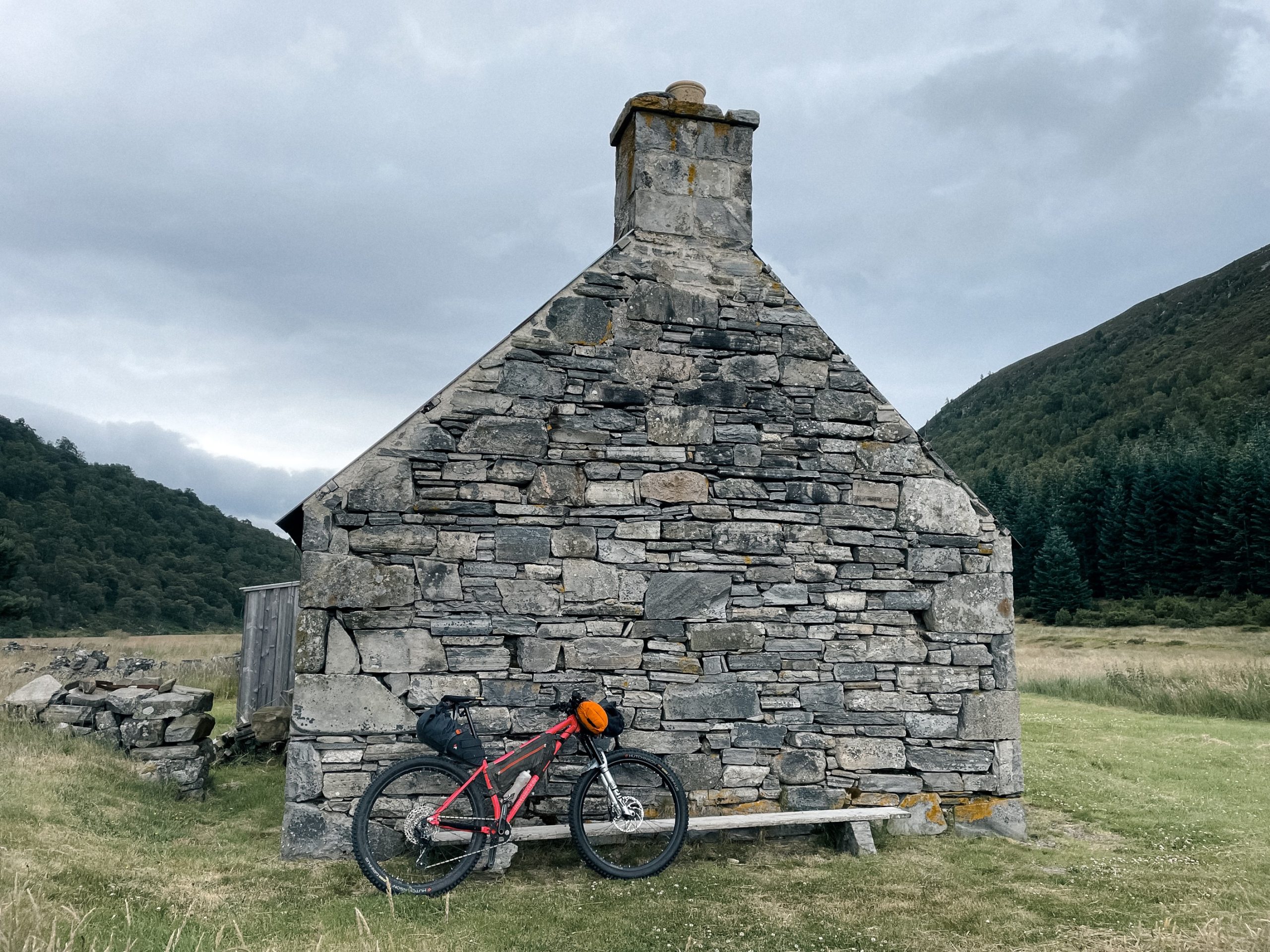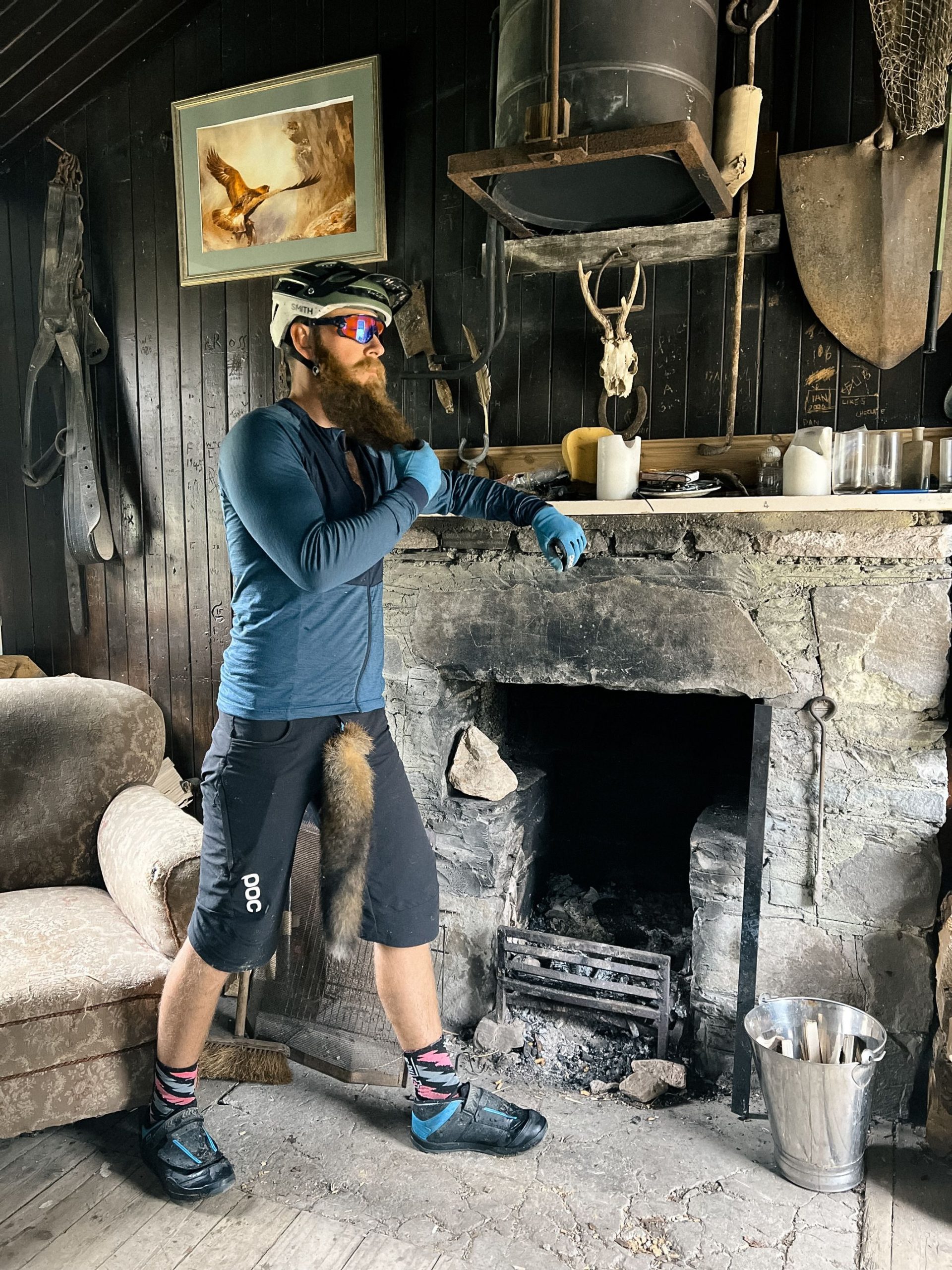 Quickly onwards on the fast gravel tracks towards Feshiebridge, and a wistful gaze over the bridge at the most wonderful swimming spot with huge rocks and crystal-clear water. We didn't stop as the lure of food was calling from Rothiemurcus and we were keenly aware of the time. Swimming would have to wait until next time.
I loved cycling through Glenmore Forest. The trails were baked dry, flat and fast so we made great time, arriving in Rothiemurcus around 5pm. It's amazing how you find a turn off speed when you think that the café will close. We had packed enough food to cook but the thought of a hearty meal – cooked for us – was very inviting.
We stopped and had a pint of cold coke at the Pine Marten Bar and then quickly moved across the road to the Youth Hostel for food. If you've not tried the food in a Youth Hostel (YH) you're missing out: three hearty courses for less than £15 and food-heaven for a hungry bikepacker. I don't think food ever tastes as good as when you've earned it by putting in the miles or when you're spent. My Dad brought me up well calling this "honest dirt".
Heavy with full bellies, we stumbled out of the YH and hit the trails. It was the back of 7 when we rode out of Rothiemurcus.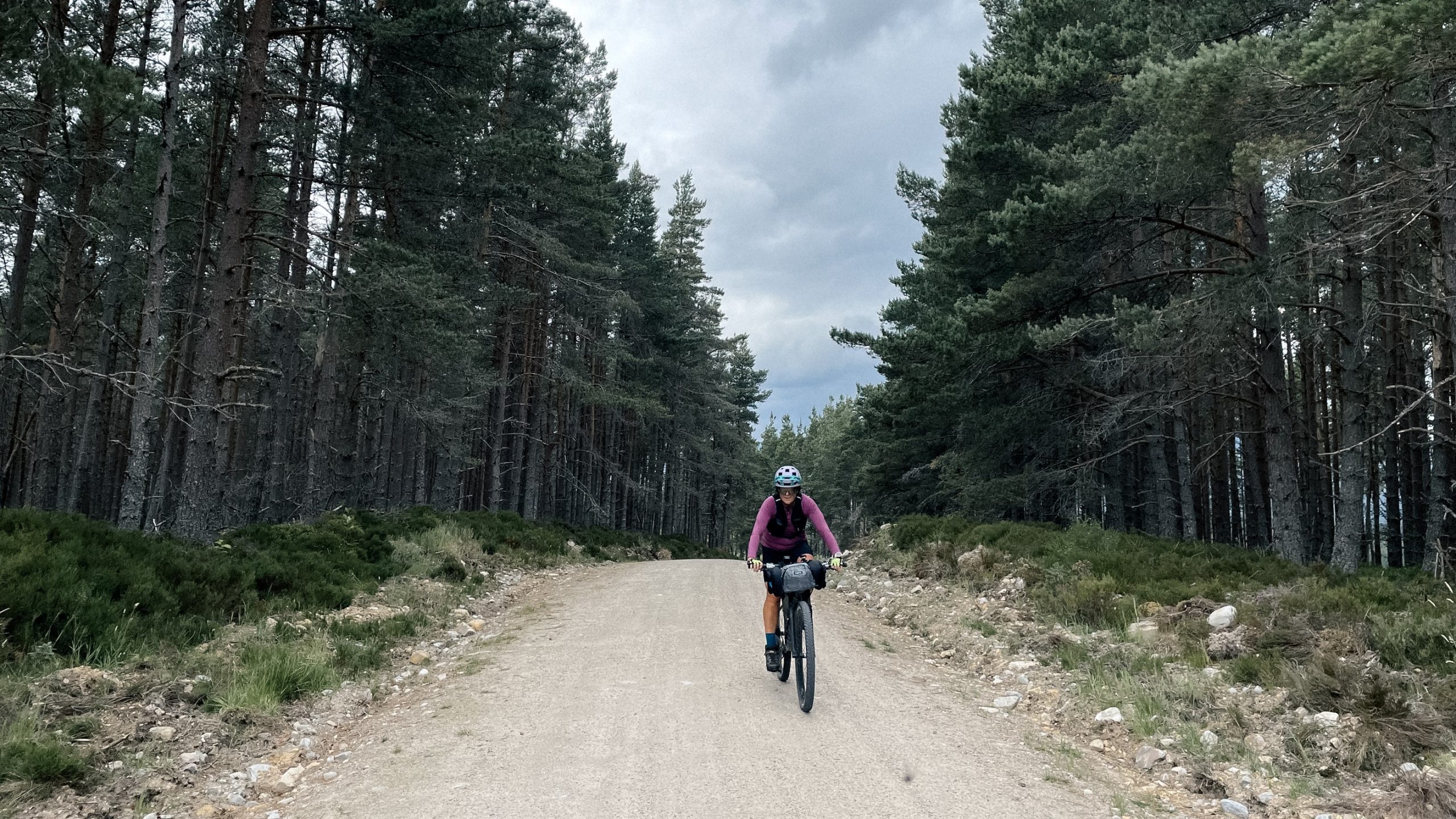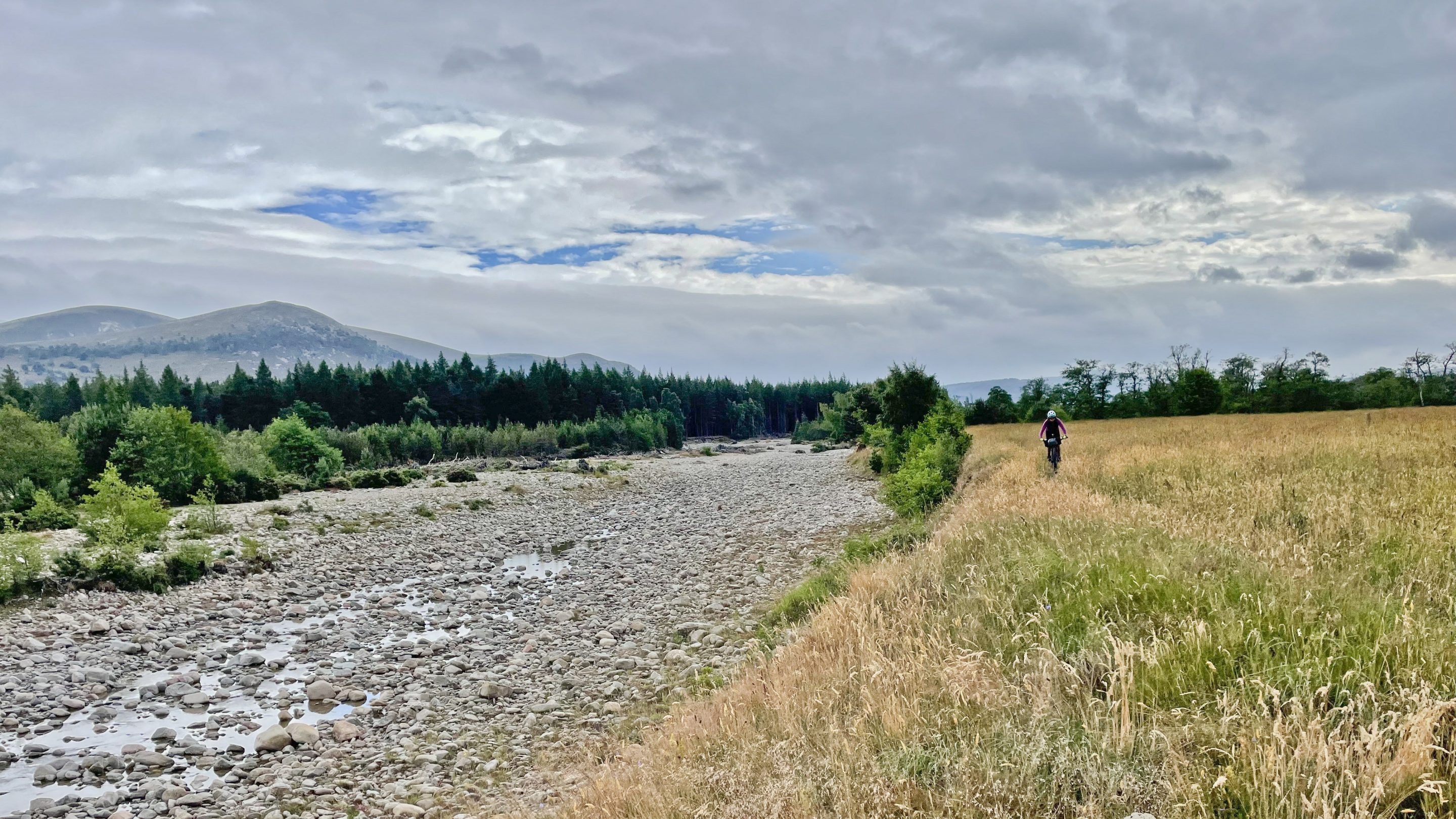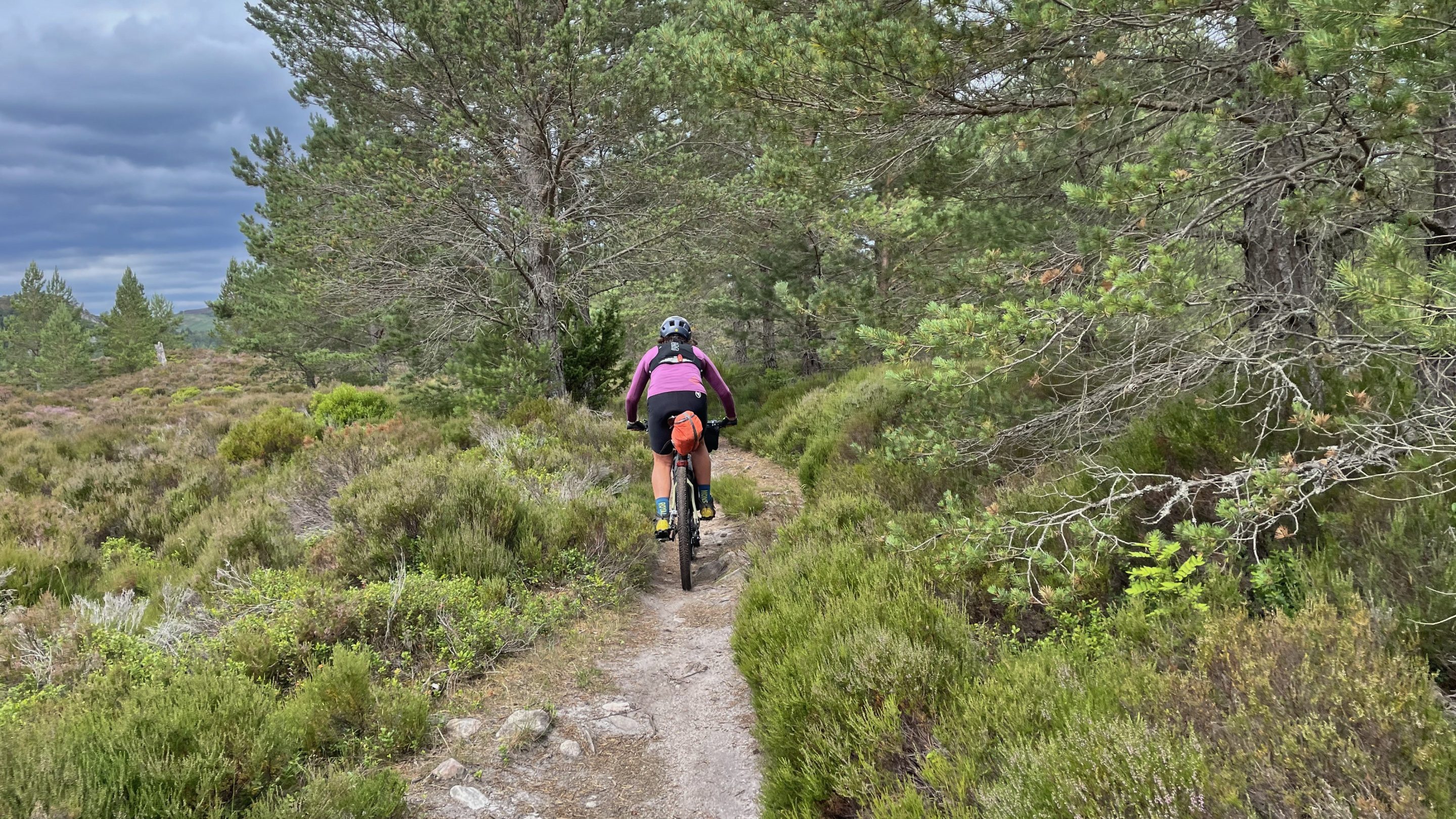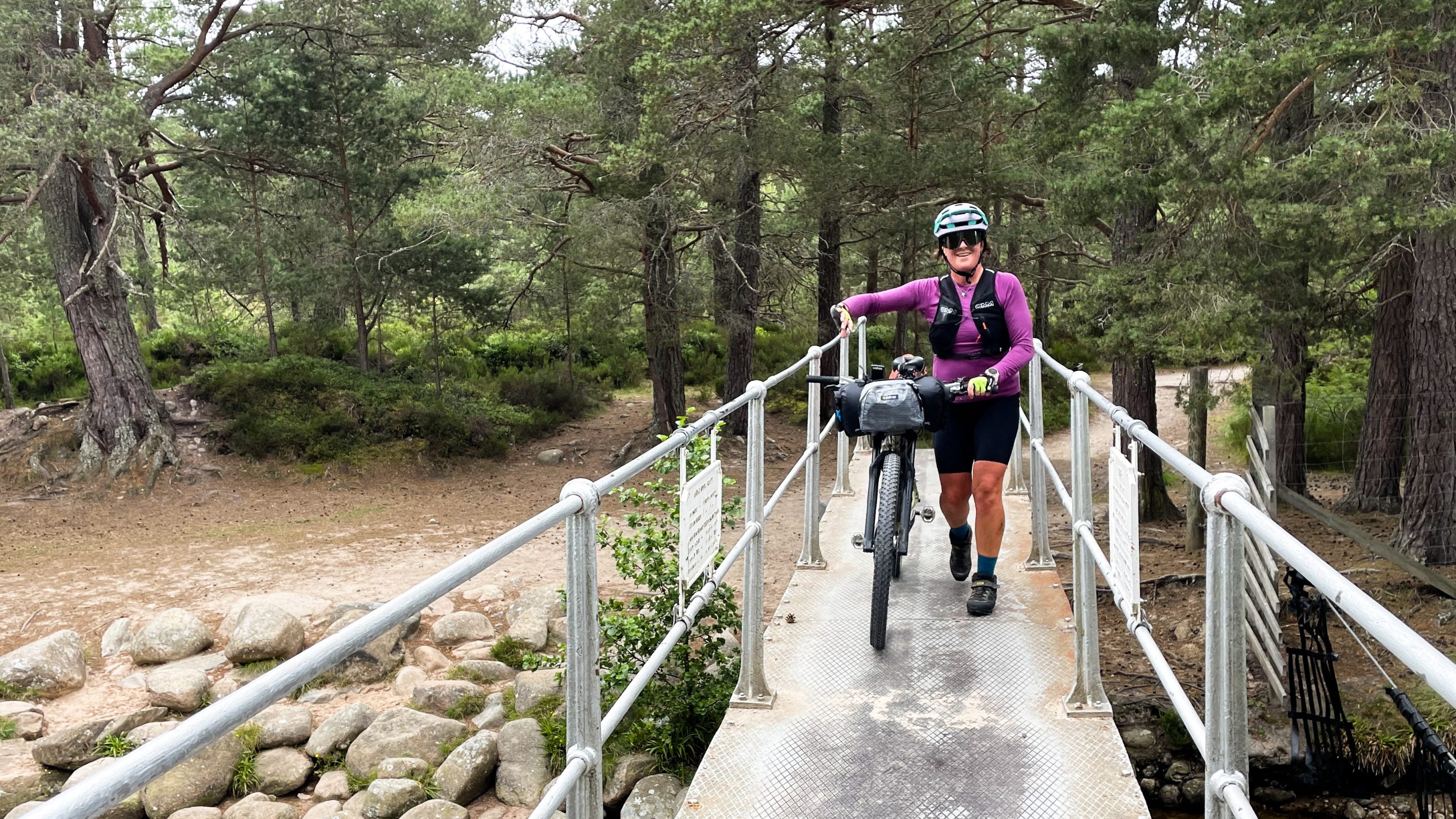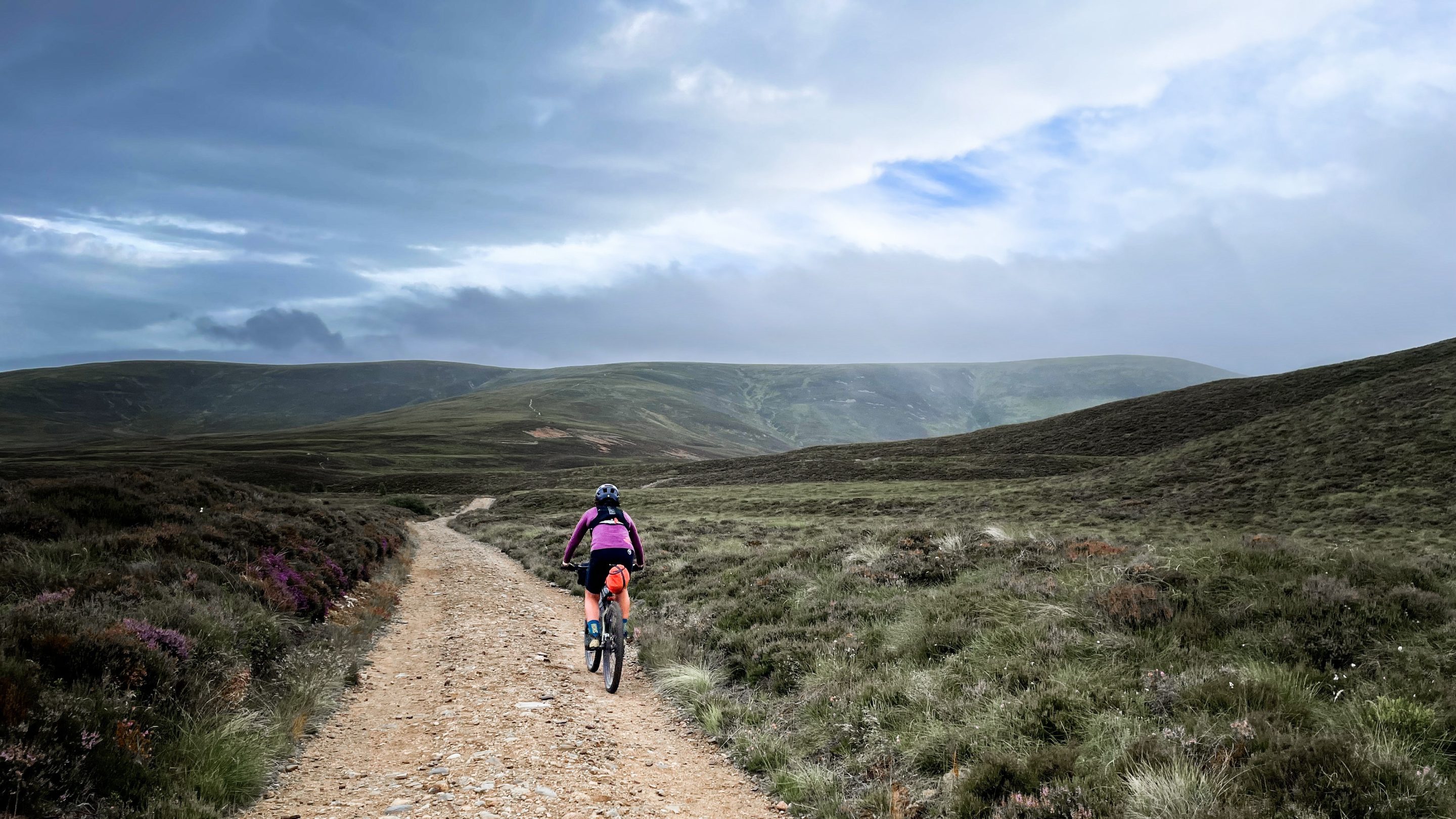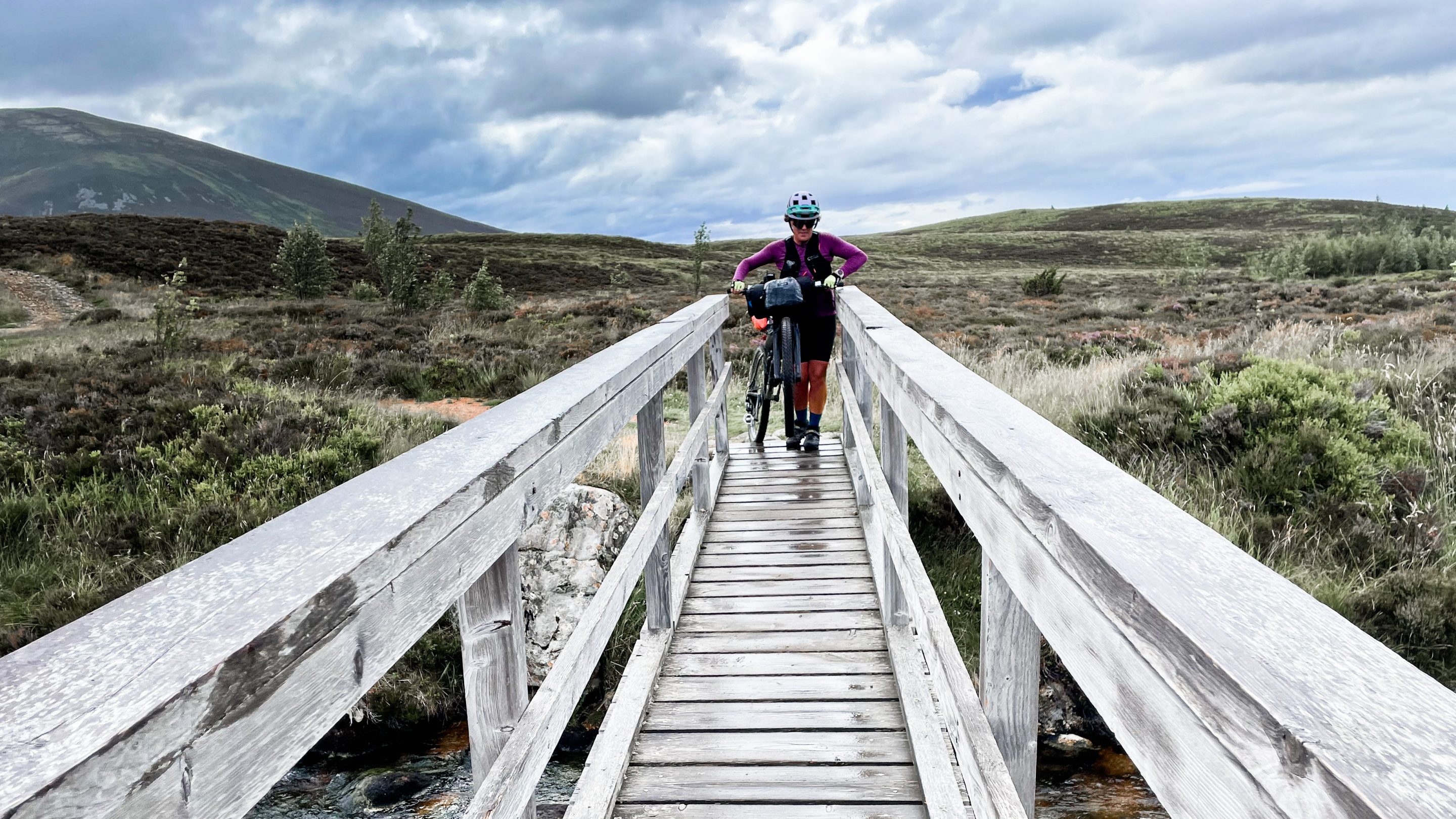 We had no firm plans about where to stop. We knew the route went by the Fords of Avon refuge hut but were unsure if we would reach there by dark.
We didn't!
We climbed and pushed up a huge hike-a-bike section of trail. As the wind picked up, it constantly pushed me off course and into the heather. At one point it literally blew me over and I lay in the heather clipped onto a heavy bike with a complete inability to twist my feet to unclip. I felt like a ridiculous upended turtle. After vainly hollering to Si who was trudging ahead with his head down in the wind, I wrestled myself from under the bike and wriggled free.
We eventually stopped in the dip of the valley and reassessed our progress to the refuge. As my solo wanders have become more 'interesting' and my close encounters with stupidity even closer, I've tried to discern both the little voices in my head, foolishness and wisdom.
"Take that new path, it looks so exciting. Where does it lead to? Ride just a little bit further…. "
Or…
"When you are stuck in the dark far, from home, alone, remember you feel like an eijit, a scared eijit. Make the right decision."
I looked up at the rain clouds forming in the distance and the dusky light and listened to my sensible voice. Looking at the GPS, the refuge was still another 3km but the going was slow, and we were likely lose the light before we'd get there. With rain on the horizon we looked around and decided the 'best' spot for the tent was on the short grass near the stream. My little tent is a Nature Hike Cloud Up, which is ridiculously cheap and a recommended and rated 'knock-off' of a much more expensive brand. I'd used it a couple of times – in good weather – and it worked a treat. As a bikepacking tent, it was lightweight and roomy for one, snug for two.
We pitched the tent quickly but Si immediately realised we had no guy lines. I'd accidently left them at home in the other bag. We cracked on, inflated the sleep mats and changing into our warm sleeping kit, huddled down in our little sanctuary. Fairy lights on and all was well in the world…
I snuggled into my sleeping bag and began to drift into a well-earned sleep but then I heard a noise, a weird tinkling noise. I kept my eyes closed and at first thought there was an insect or something outside the tent or maybe the trickly of the stream. But then it became more persistent, and I realised it was raindrops. I tried my best to ignore them but the isolation and skin of the tent only amplified the pitter-patter and it soon became ominously heavy. And right on cue, the wind picked up. Drat!
From the huddle of his sleeping bag Si accusingly asked me where I'd bought my tent, and how much it cost? I really didn't want to tell him, so I said I'd forgotten…but that it did get great reviews.
His cross-examination persisted and he asked me what the hydrostatic head was, as the wind and rain now sounded like it was reaching biblical levels beyond the two thin layers of nylon. "I don't like this" he said quietly, accusingly and worriedly into the darkness. It was pointless trying to speak over the noise so I stayed silent.
With thick cloud overhead and rain battering down, darkness engulfed us. I'd decided that the best way to convey positivity was to remain serenely calm. I could tell Si was imagining every scenario and outcome and that at any moment my little tent could take off, leaving us dangerously exposed on the Cairngorms.
At 3am Si 'woke' and said he could hear running water. He asked me to remind him how far away the stream had been and said he was worried it had now risen and was close to the tent. The rain had subdued but the loud gurgling of the stream did sound closer. We climbed out of the tent and into the darkness to discover the stream had risen and was flowing a foot away from the tent. The rain had formed big puddles outside the tent and we were on our own little island. If I'm honest, I was too tired to worry: it would be light soon enough.
6am and it was still gently raining and still quite dark from the overcast skies. Si was itching to pack up and go home, adamant he'd had his fill of 'type 2' adventure and he was ready for a warm dry bed. He was ready to back track – returning the way we'd come – saying "better the devil you know". I was equally as adamant that we were going forward and "there's no way we are giving up." A tiny tent is no place for 'a domestic' but I impulsively 'dropped the big ones', telling him he's always so negative, and he's a quitter. [Cringe, I know!]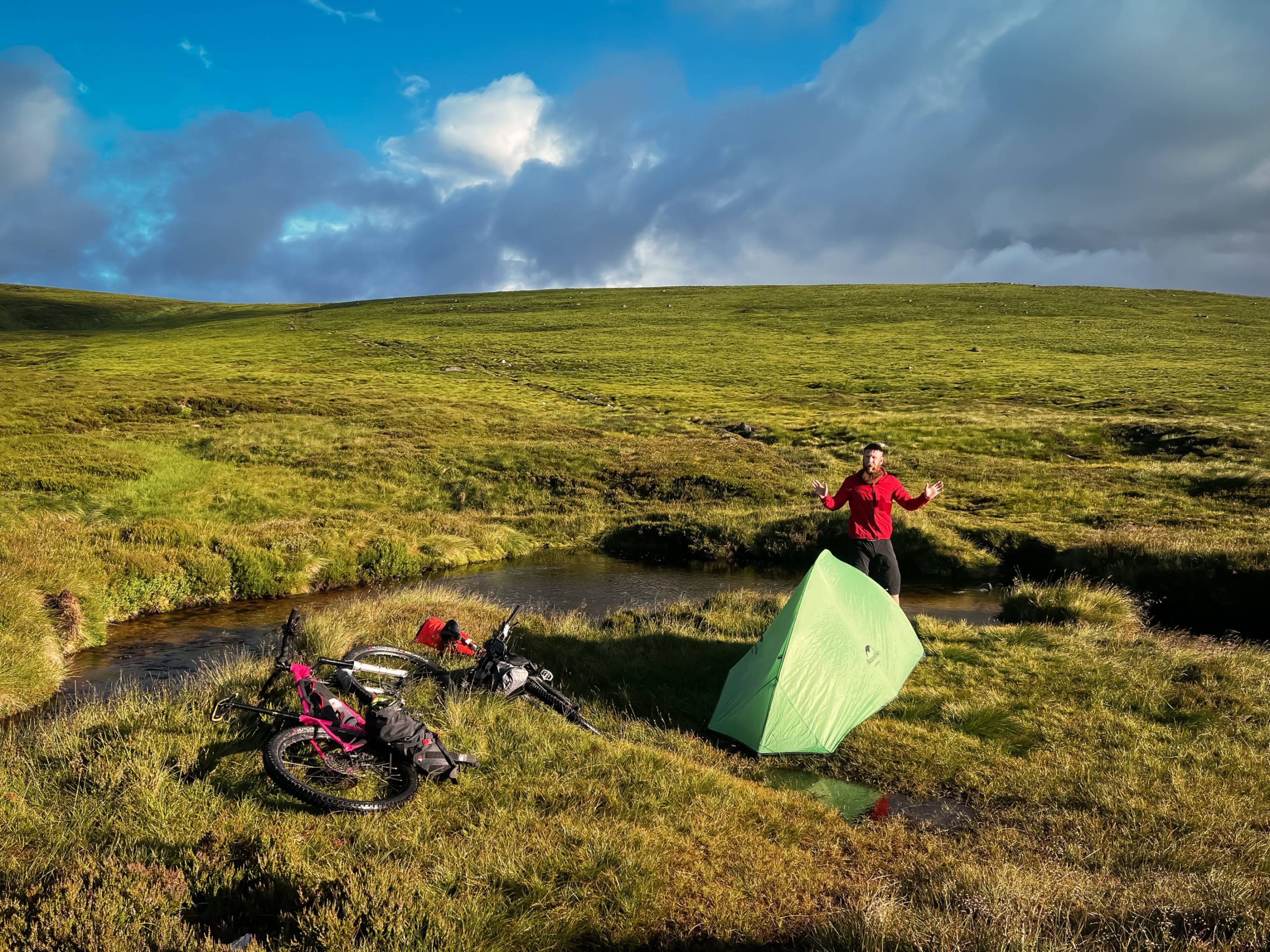 7am and Si finally unzipped the tent and climbed out. It would seem the weather gods had answered our prayers as beautiful blue skies broke. Scotland! Everything looks so different in the light of day…
As the saying goes, "if in doubt sit it out". Never decide to quit something difficult in the dark of the night: hang on in there because it could all be very different in the morning.
I have to say – with some satisfaction – that my little tent hadn't let in a drip of water and had stayed strong all night.
Si was immediately buoyed by the sunshine, and the rain had stopped! We set off towards the Fords of Avon and quickly realised we'd made the right decision to camp the previous night. It took a good amount of effort to pick a line in the huge boulders and push and pull our heavy bikes around boggy ruts.
9am and we see the Ford of Avon refuge hut: what a little beauty!
We propped the bikes against the wall and brewed a couple of cups each of coffee inside the hut. Hot coffee really does make the world of difference to the spirit and the body first thing in the morning. If only we had made it this far the night before. It would have made an amazing place to stop, shelter from the storm, and admittedly, a lot more peaceful than my tent! Holding our warm brews, we watched a line of walkers making their way down the opposite hillside from the Hutchison Memorial Hut, high in the distance. A bowl of porridge each and we were in much better fettle to crack on. It was just as well as we immediately had to cross the Fords.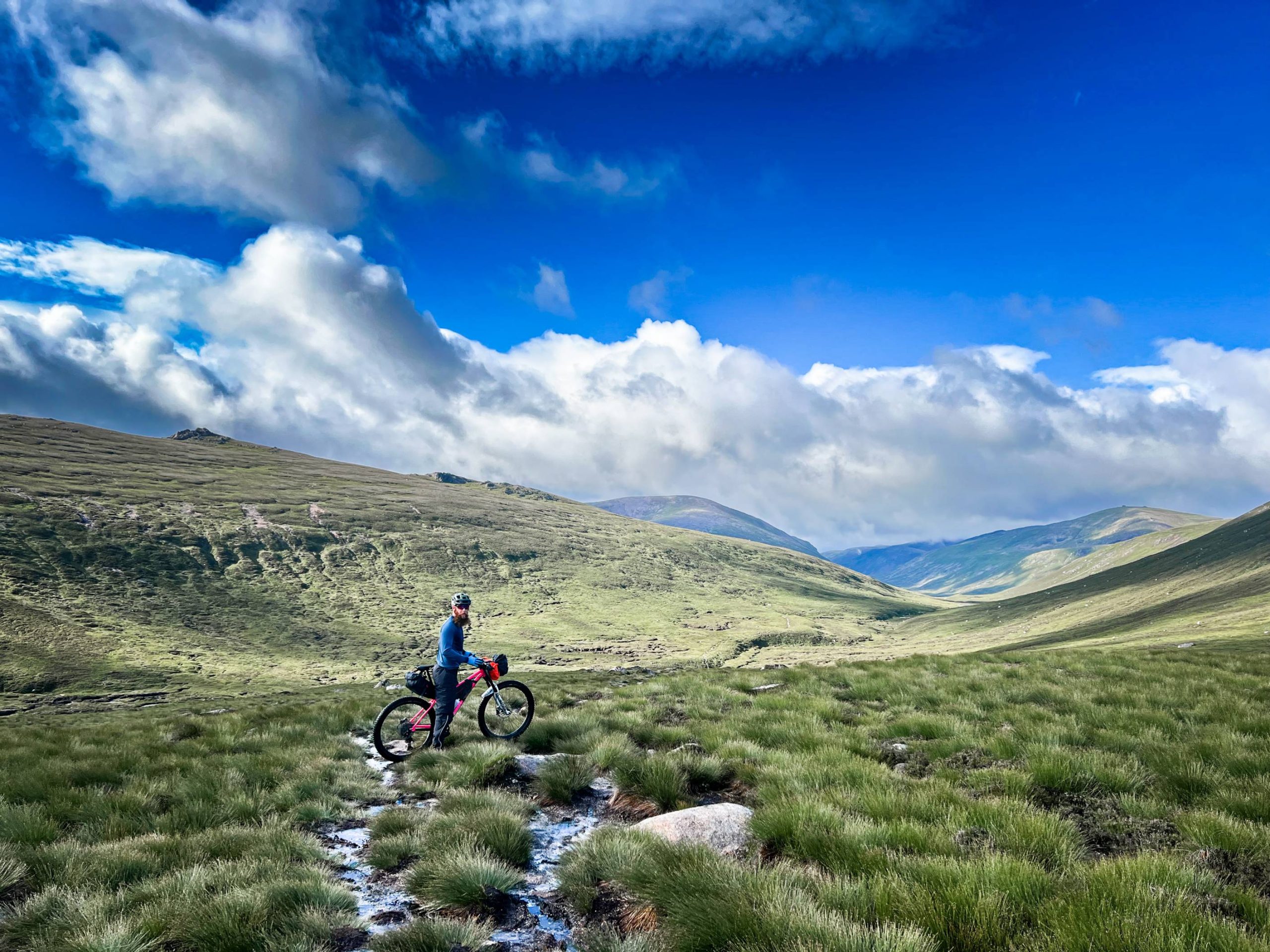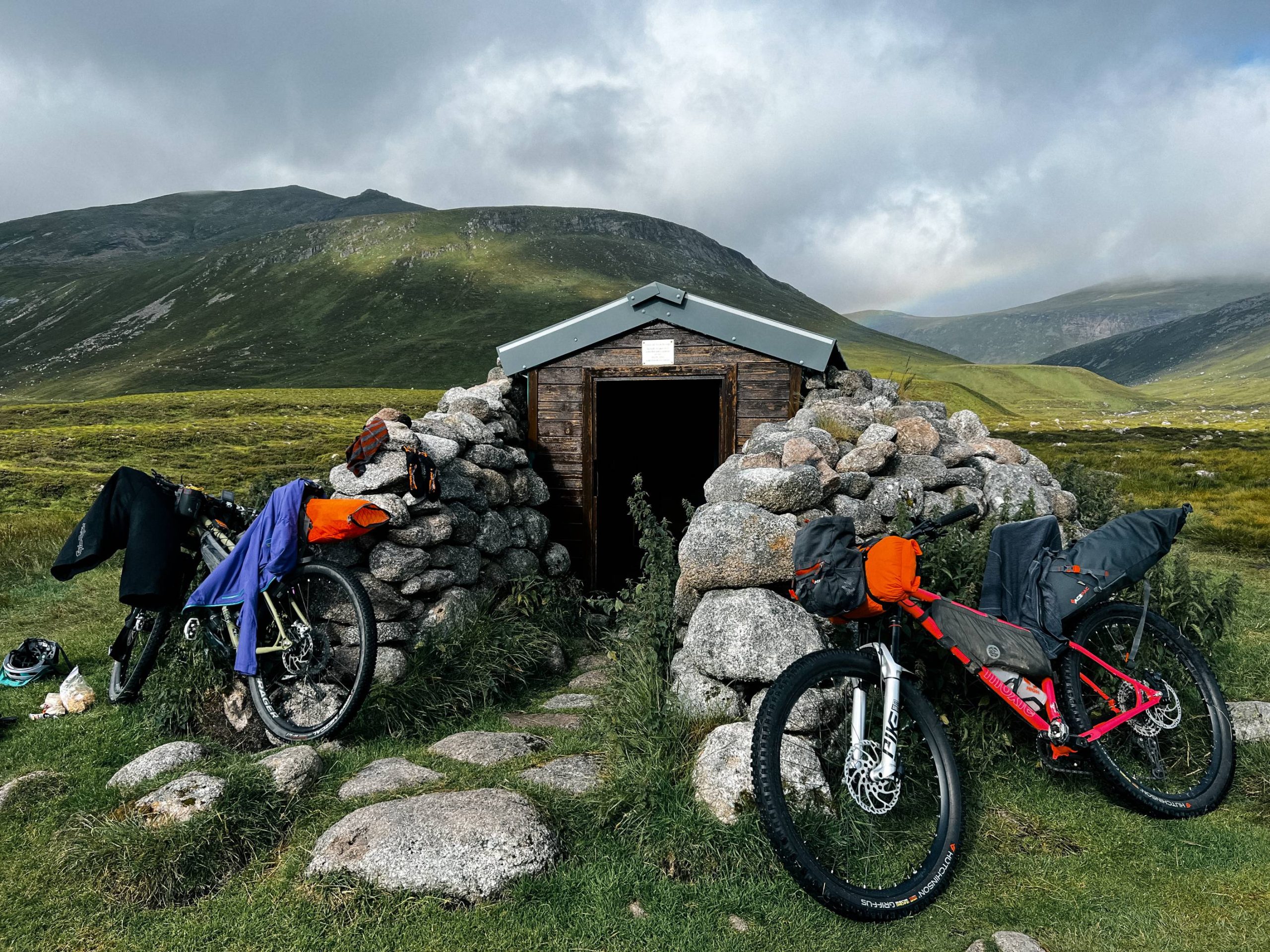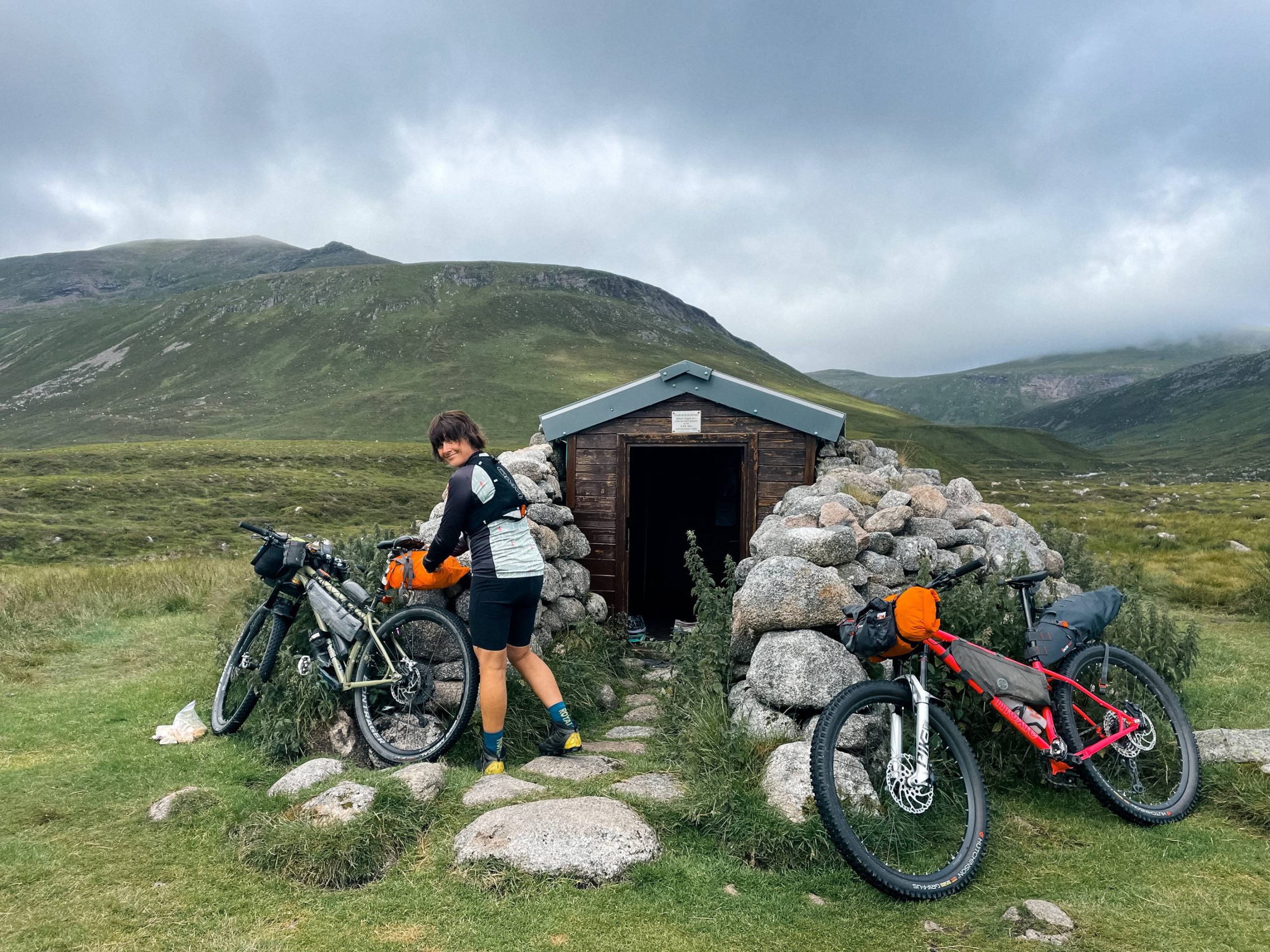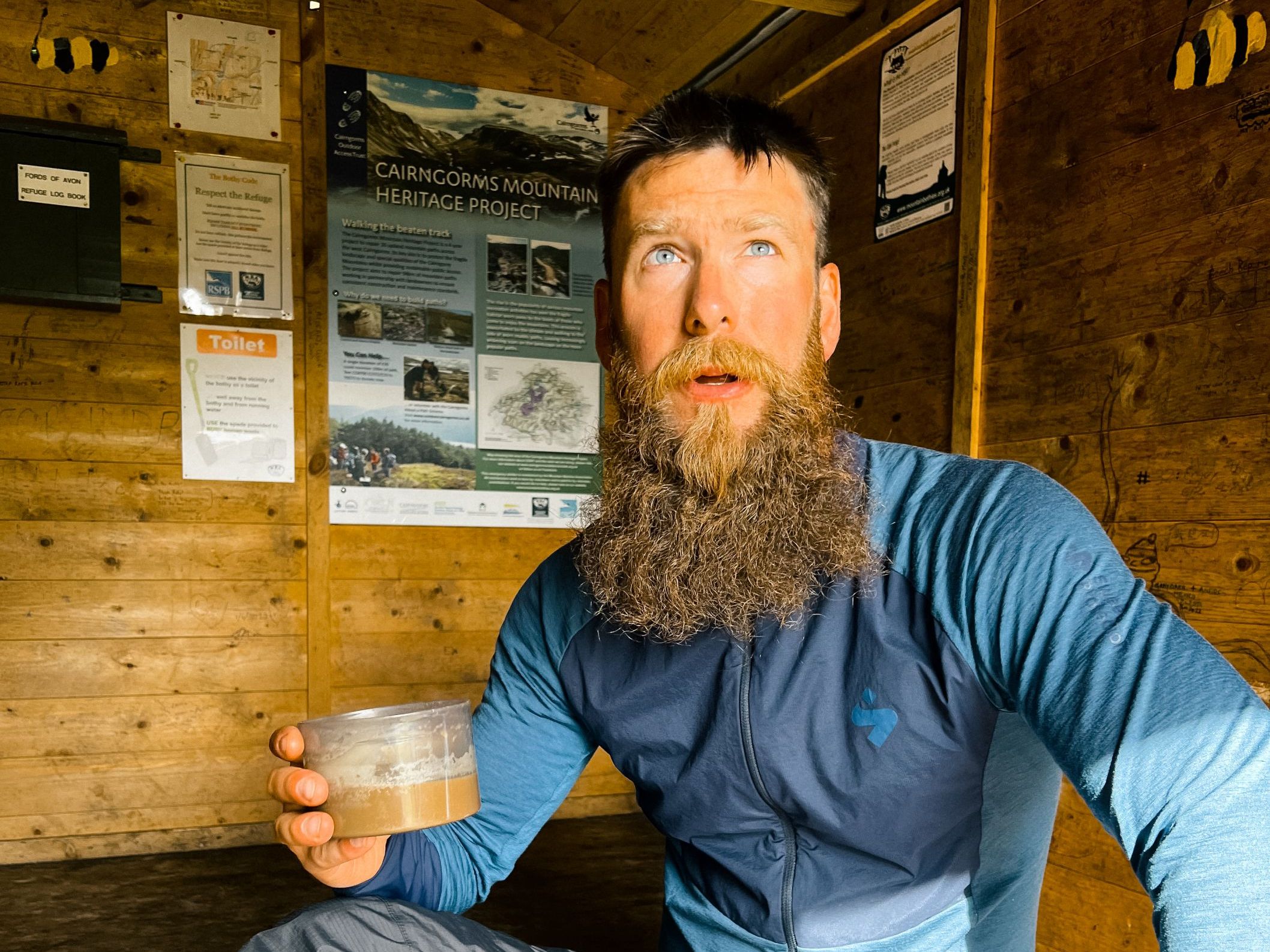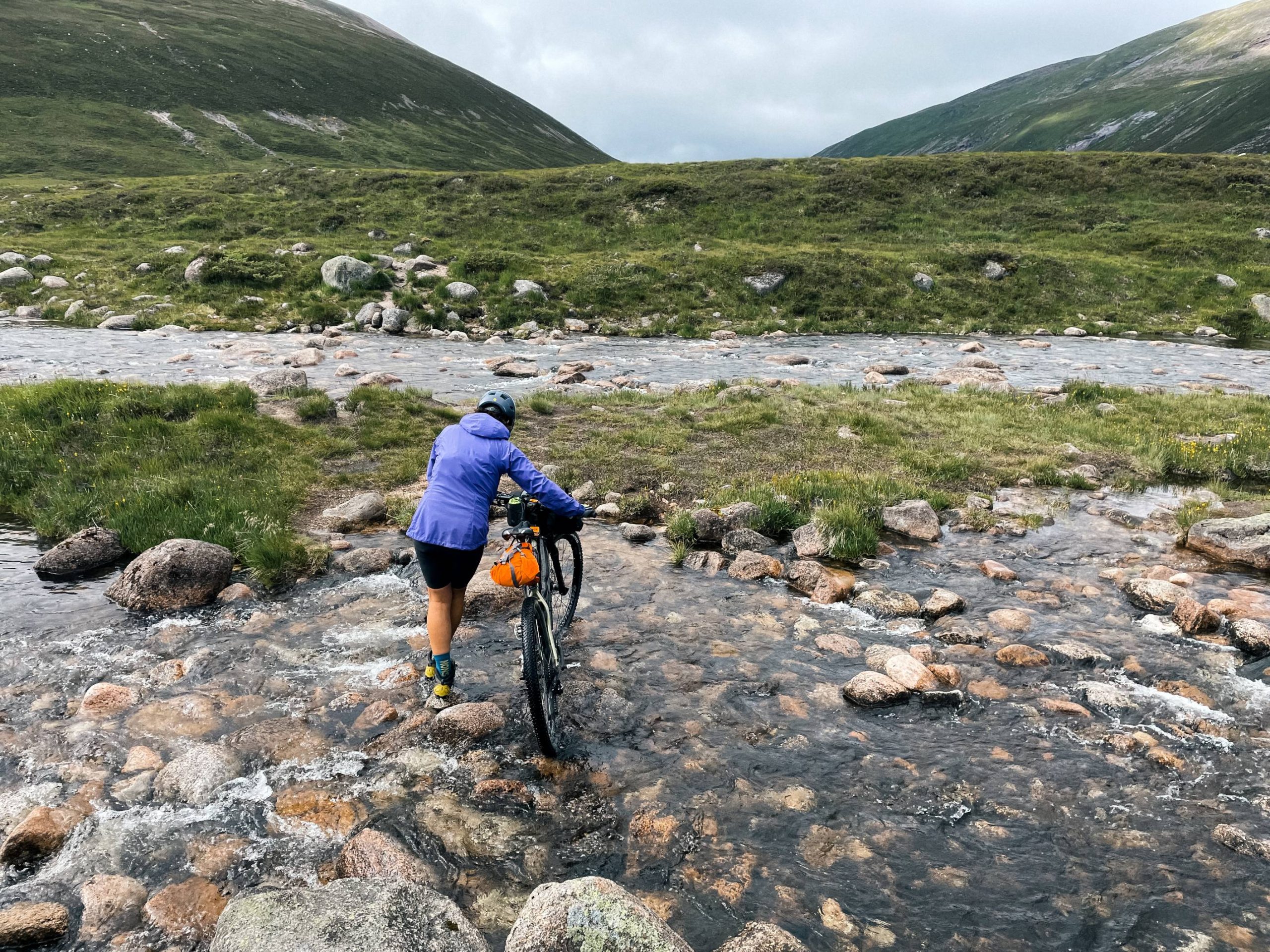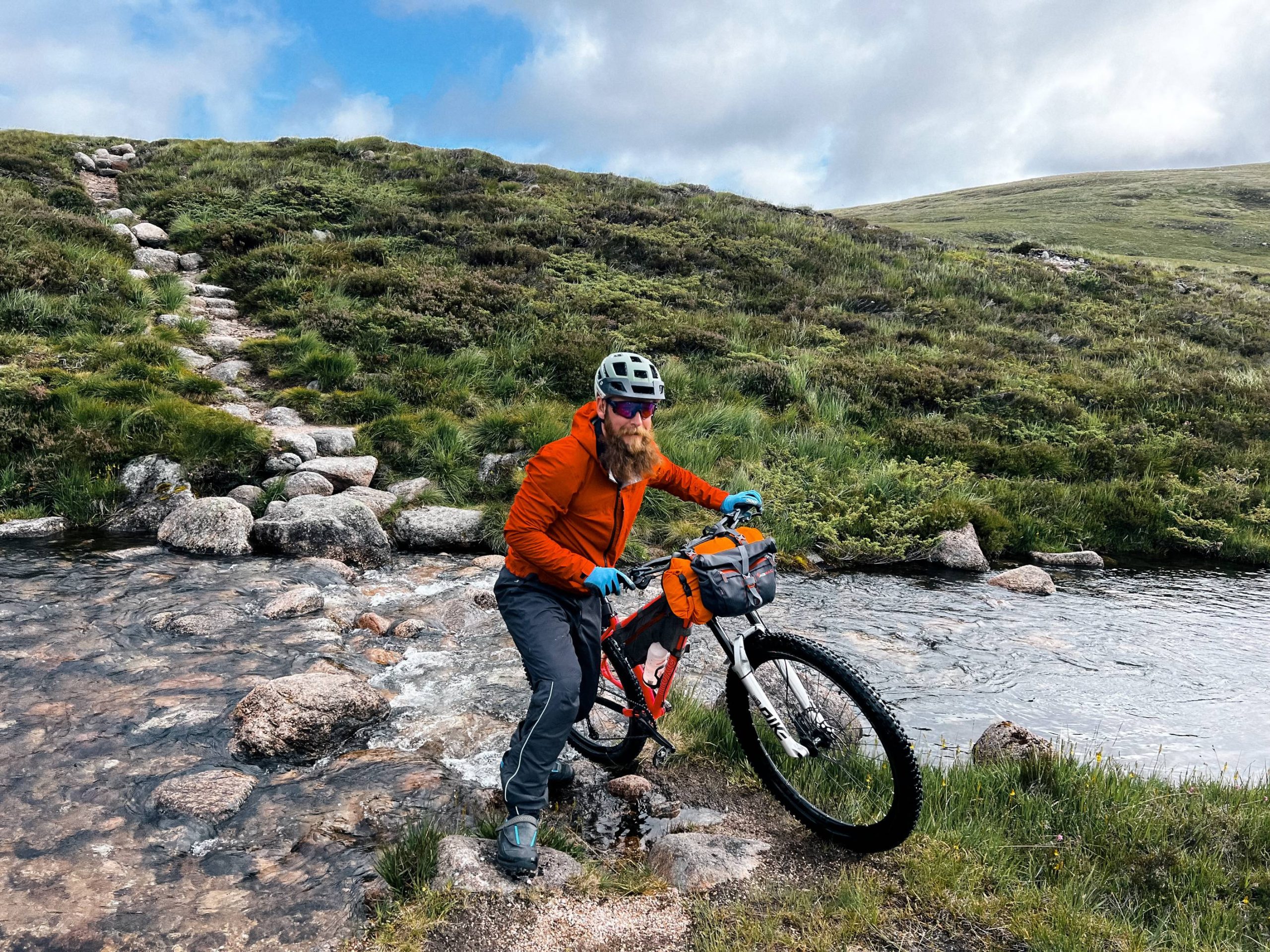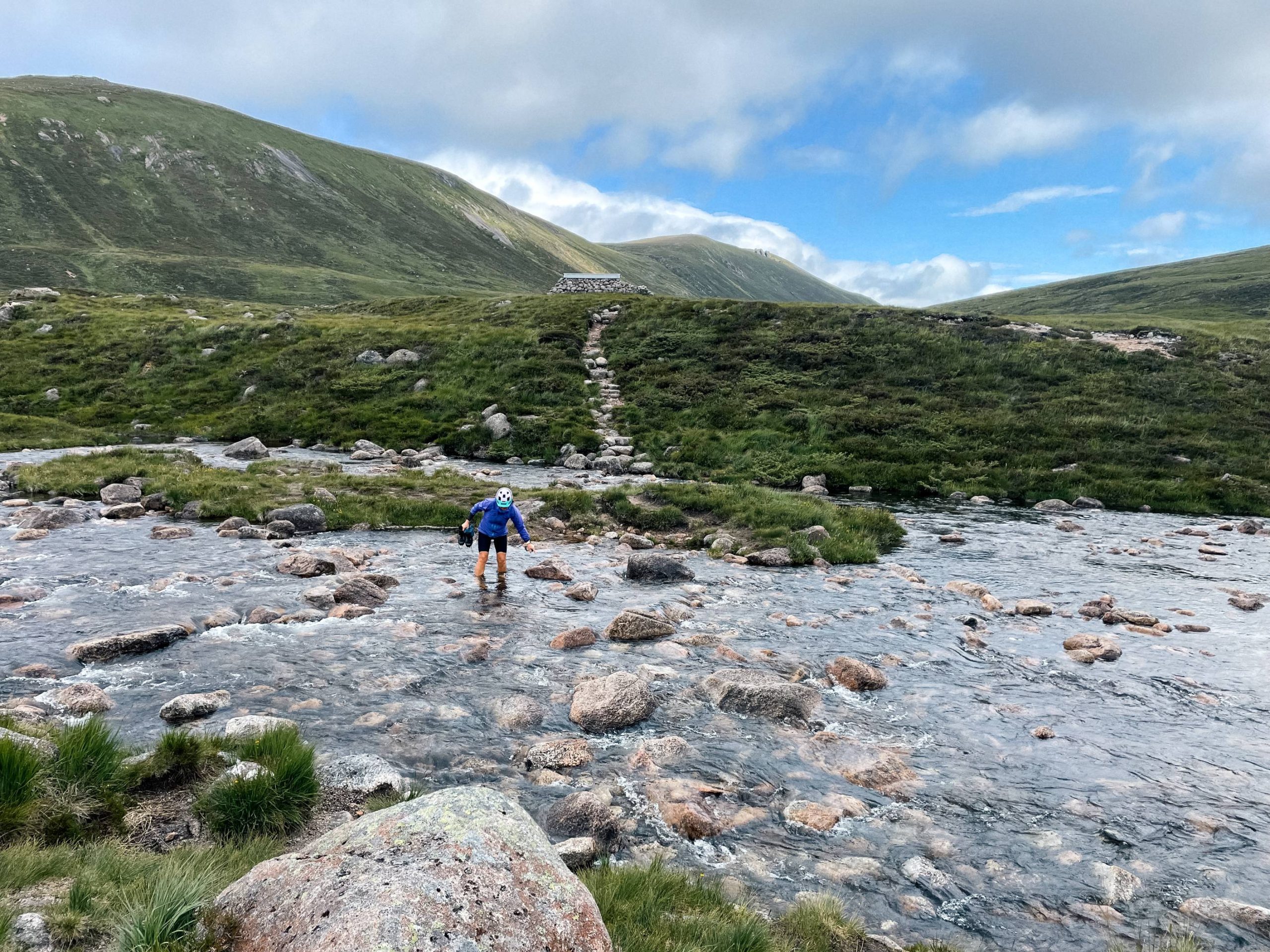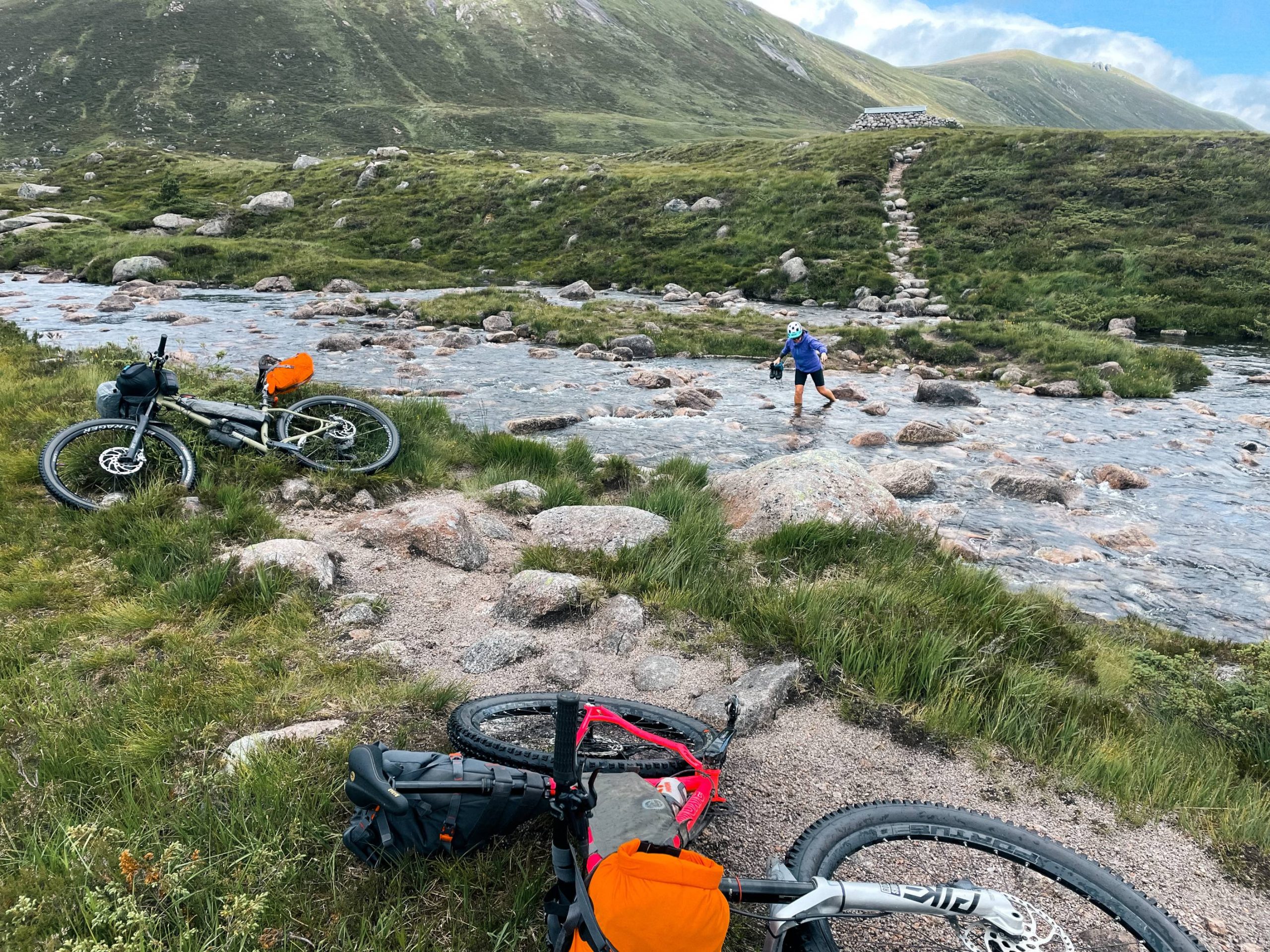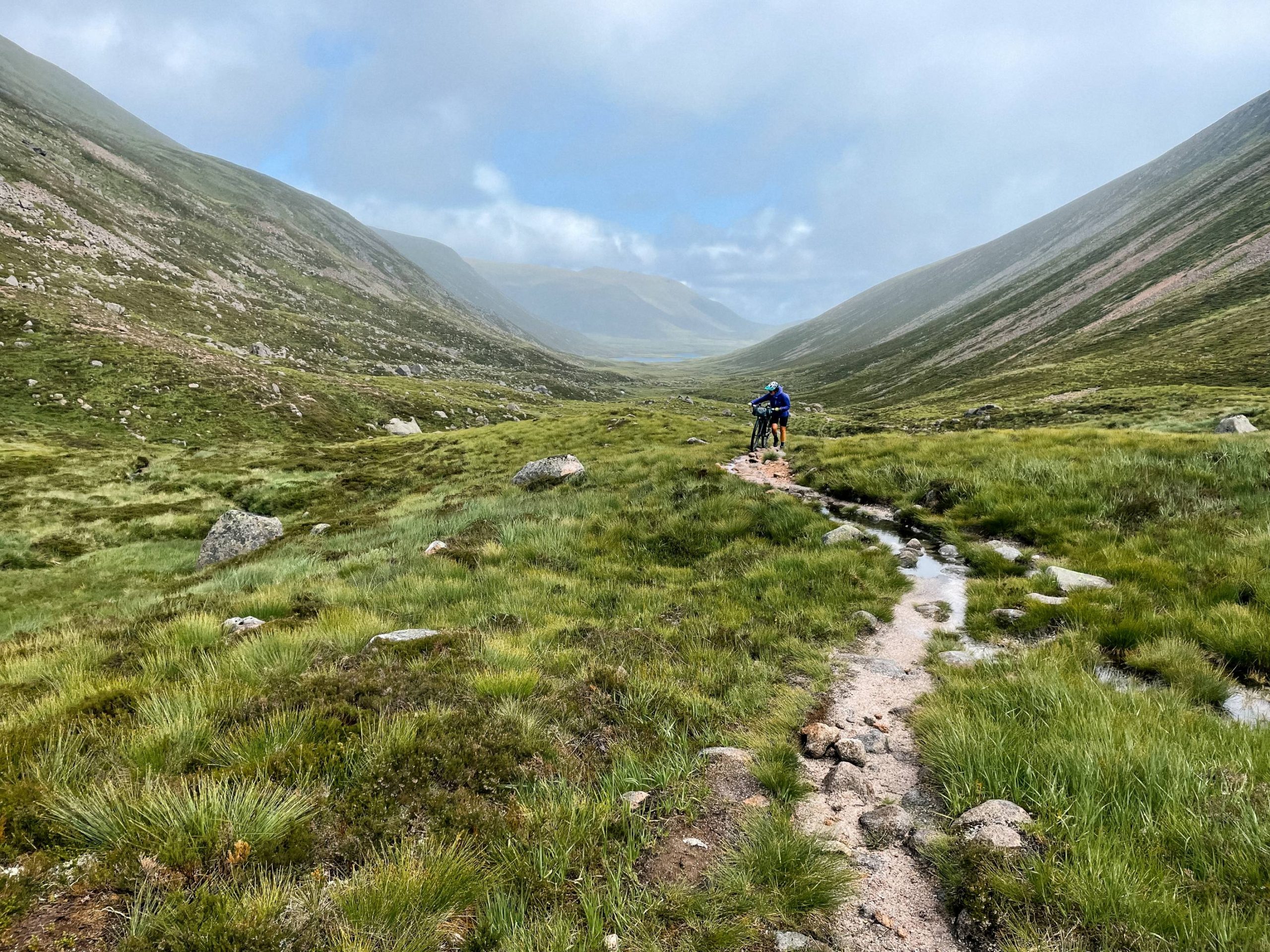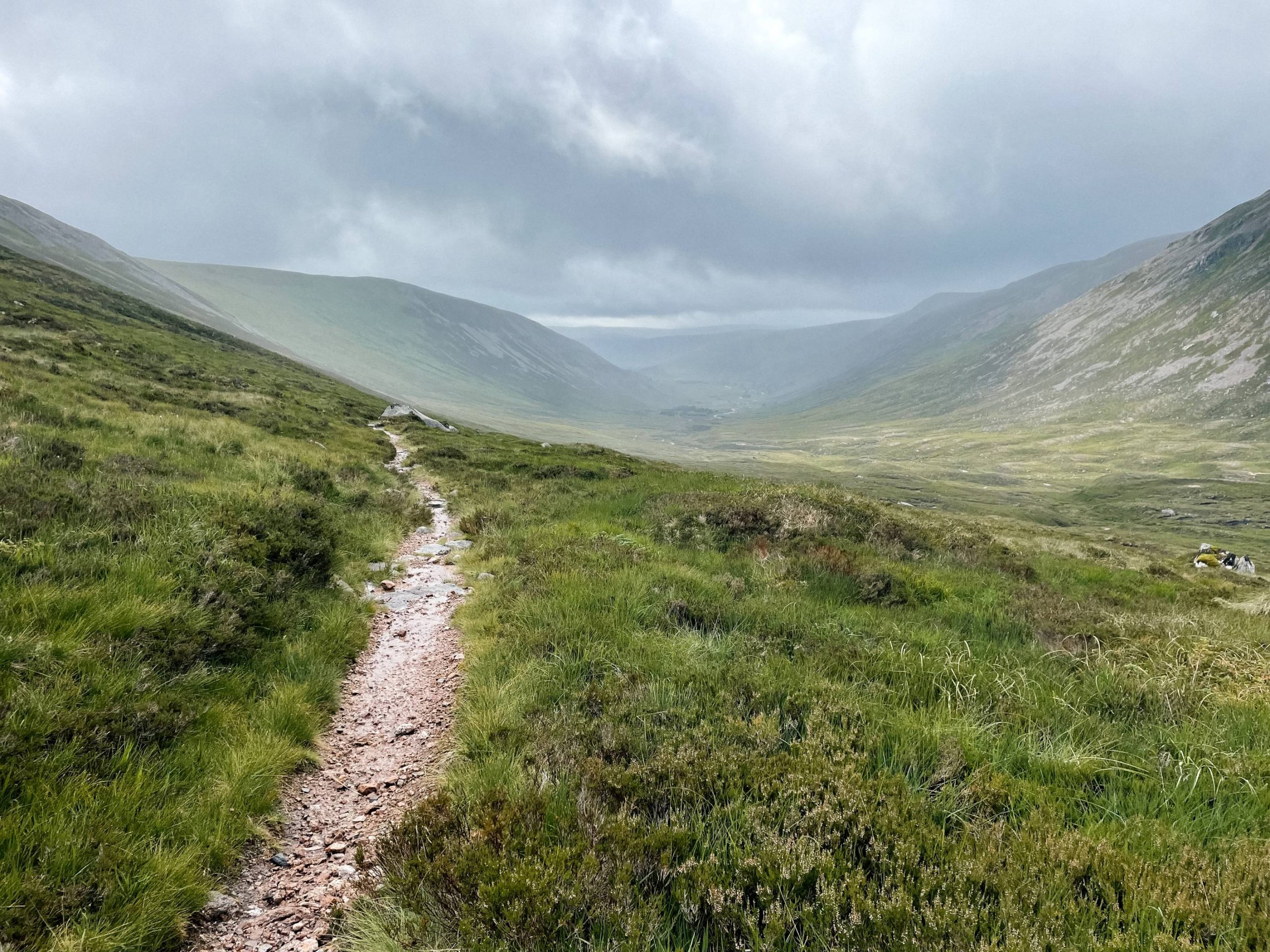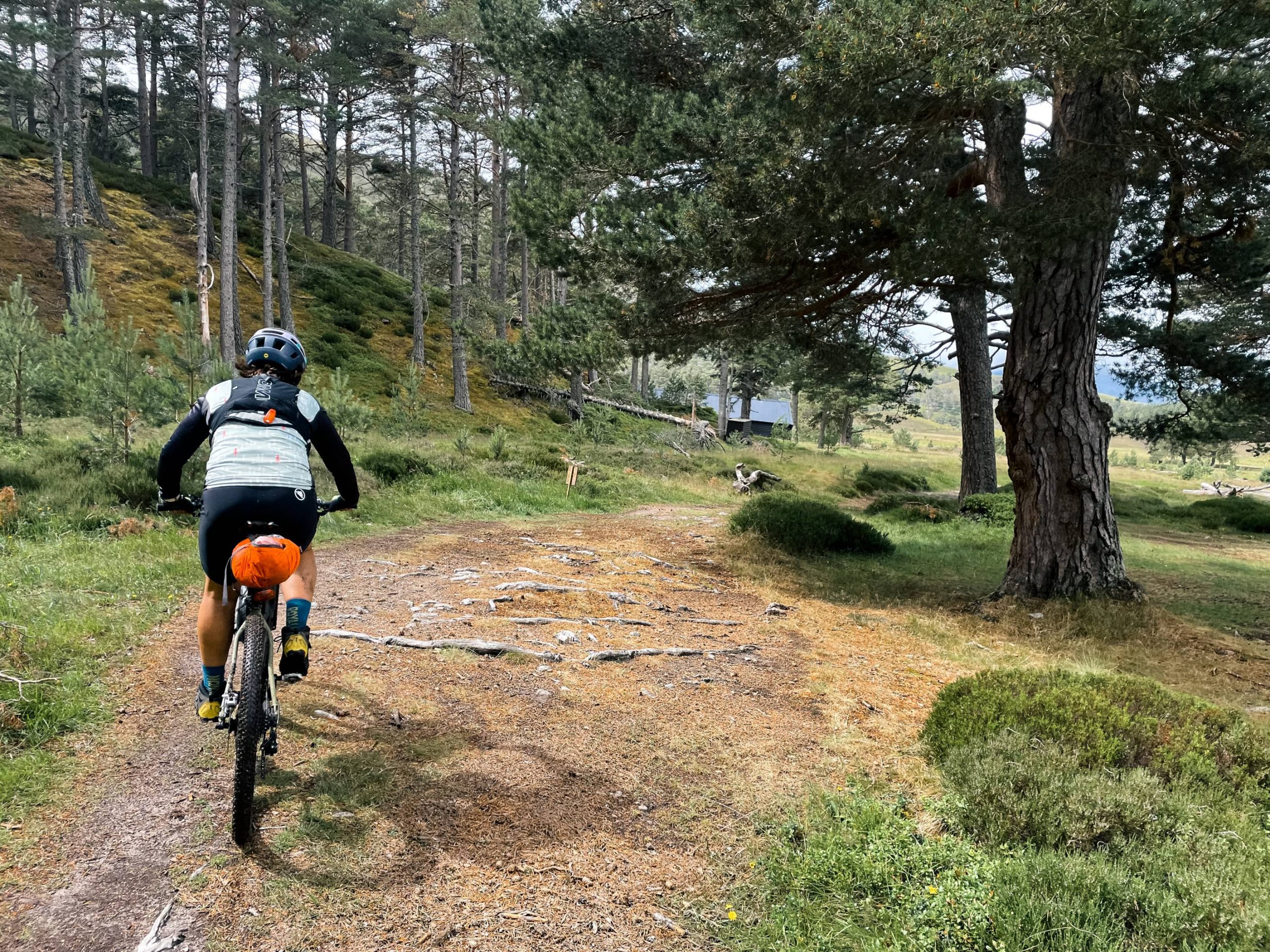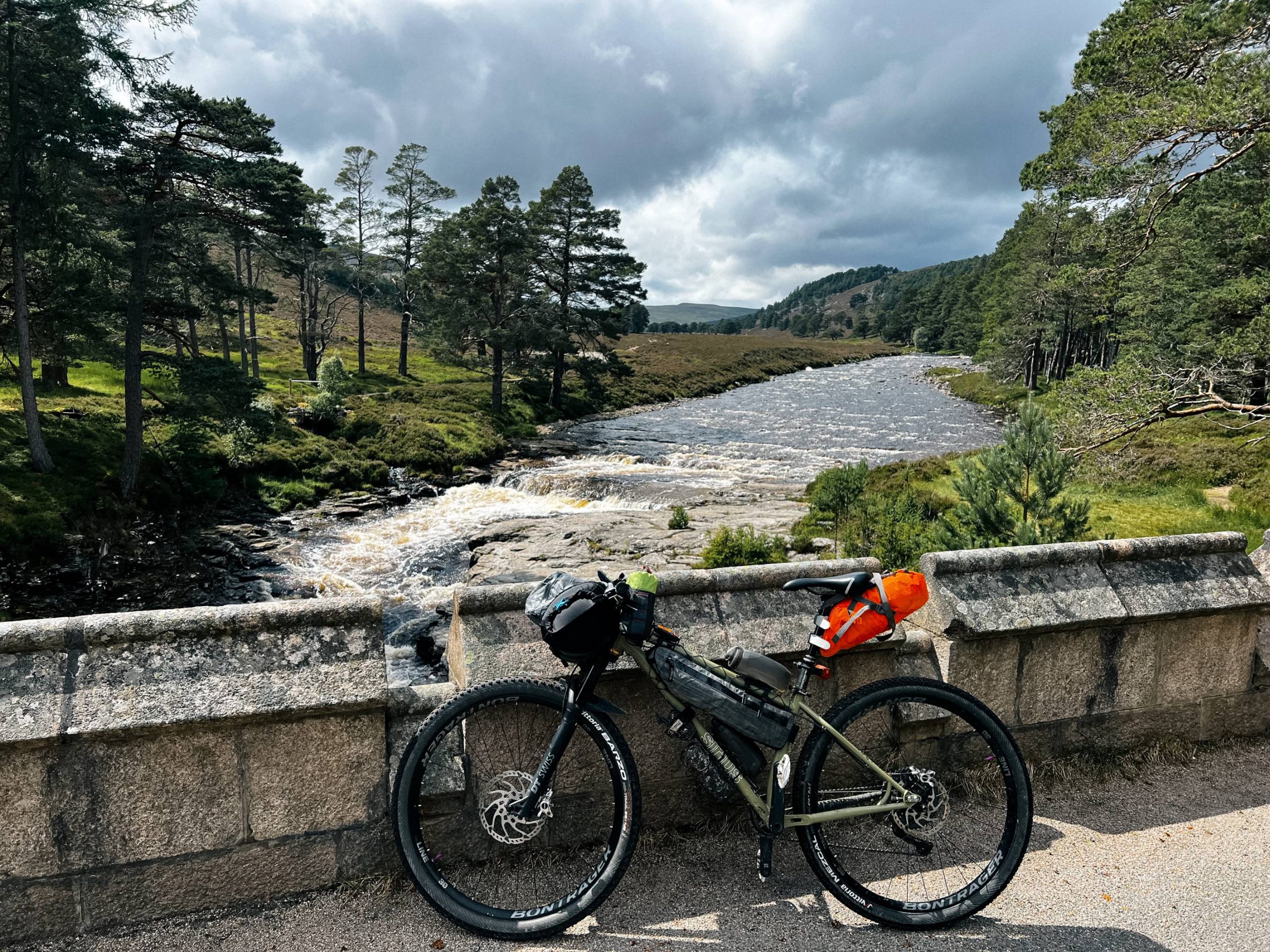 Onwards and downwards, dropping out the valley towards Bob Scott's Bothy, it was on this stretch that we began to see people again. Bob Scott's Bothy is in a nice spot and tucked out of view, we nearly missed it. Making the most of any shelter we could find, we turned back and ate lunch inside. It's not my favourite bothy but it's popular at the weekend with 'folk people' who walk in to socialise and sing. I'm still slightly traumatised by the toilet and caution you to enter at your peril. We left Bob Scott's and continued on easy tracks, enjoying a refreshing dip in the river, until the midges discovered us. Time to move on.
We'd decided to venture into Braemar for supplies: civilisation after our night in the wilderness. This bonny wee town was a tonic – so pretty – it's a rich tourist heaven and a famous venue for Highland Games. We enjoyed browsing at Braemar Mountain Sports – a great outdoor shop with some great kit on offer – and the cheerful staff were eager to know where we'd come from and where we were headed.
Optimistically, I talked about returning onto our GPX track and continuing the inner loop however Si was adamant and told me he couldn't face more hike-a-bike and another rainy night in my little tent. I could see he his enthusiasm for adventure had waned and told him to bear with me.
We went in search of the Braemar Youth Hostel (YH to the rescue again!) and found it near the centre of town. It was a big, slightly down-at-the-heel, old mansion house. There was information to say at some point soon it might be renovated – and it did need it. We booked in at £18 each per night (tell me that's not a bargain) and accepted the key to the bike store.
At this point our hearts sank, the 'bike store' was a tin shed at the bottom of their garden. The girl at the desk apologised and said "not to worry" about the damage to the door: Mountain Rescue had accidentally driven into it. I thought of all our careful bike security at home as we wheeled both precious rigs into the tin shed. When we locked them in, we could clearly see our lonely bikes through the huge bulge in the tin door. I'm sure I could have broken in with less than a multi-tool and I left my tracker on my bike just in case.
A drying room is such a luxury after tent life, and we hung out our kit to dry and kicked back with a bottle of wine. I love the eclectic mix of people a YH and the Scottish outdoors attracts: we spent our evening in the company of a German couple hitch-hiking around Scotland and who were climbing the Munros.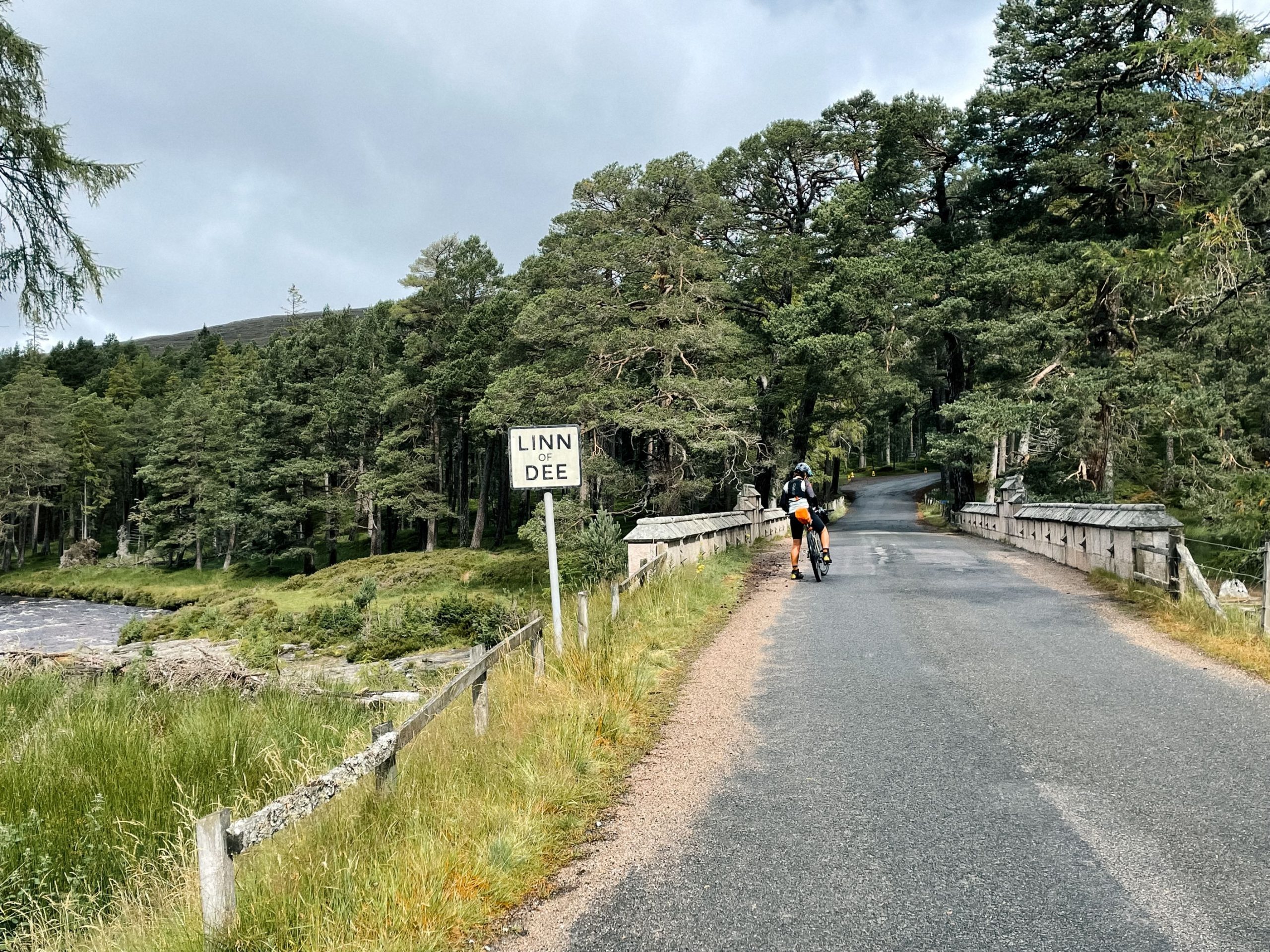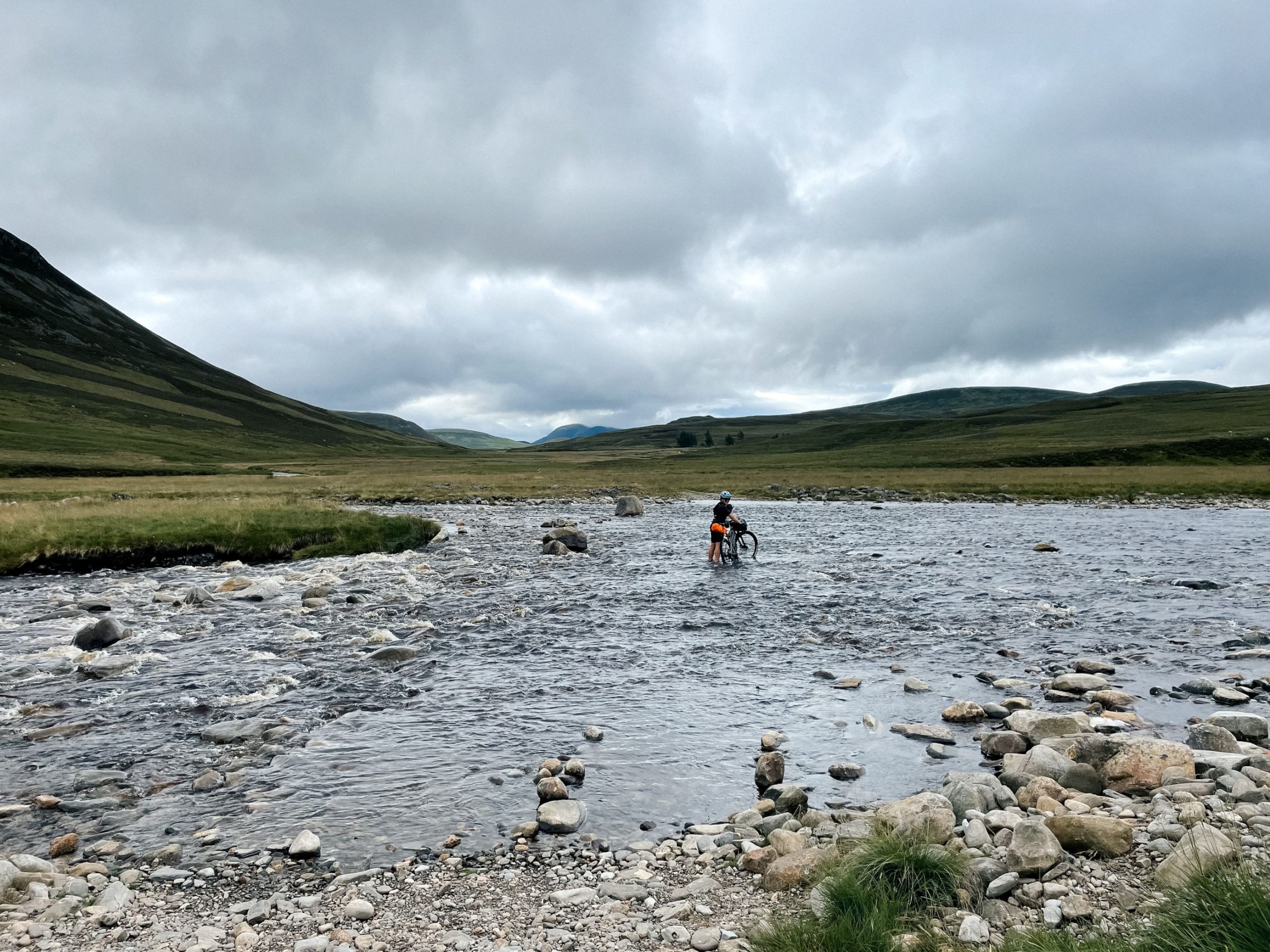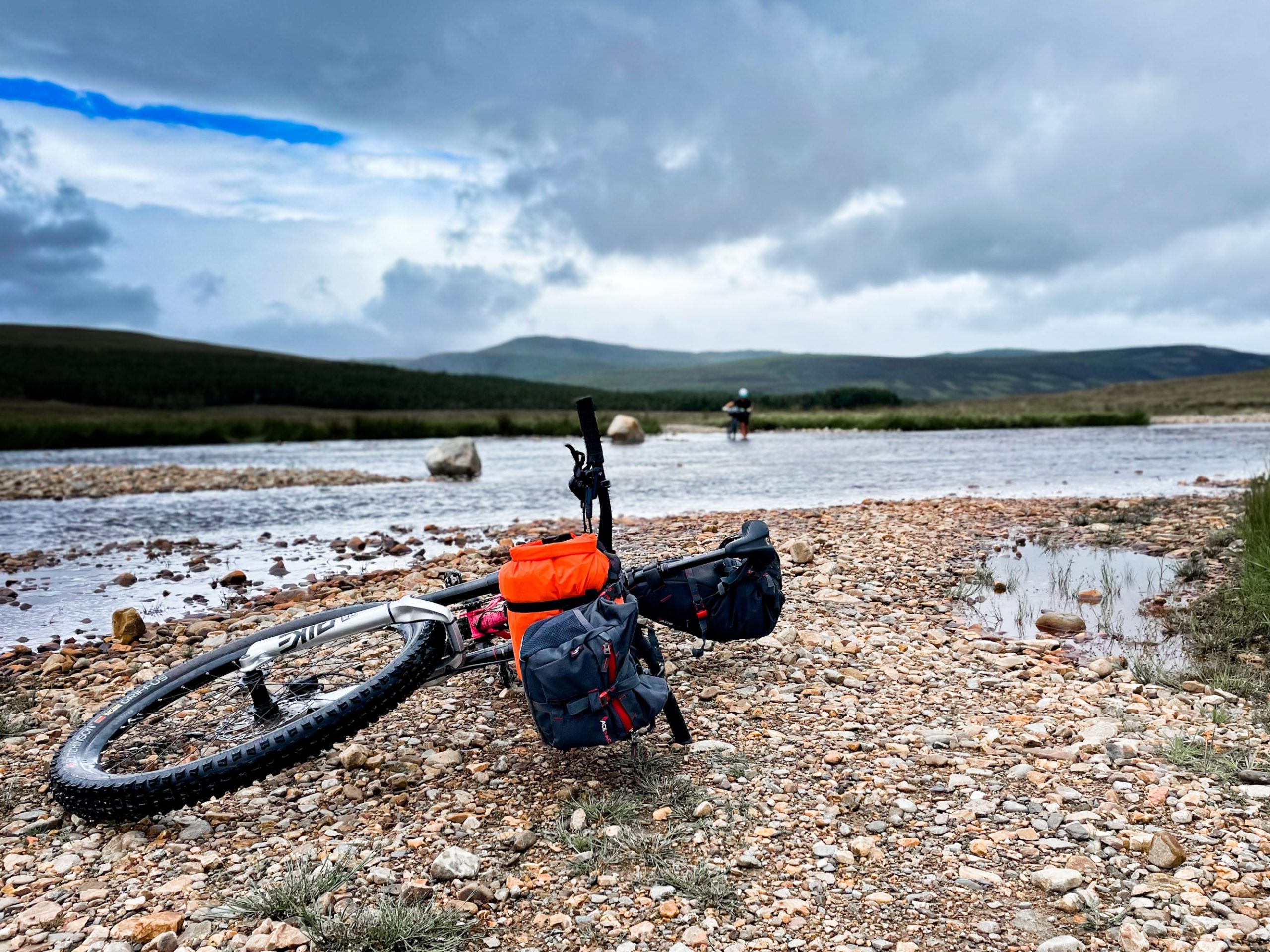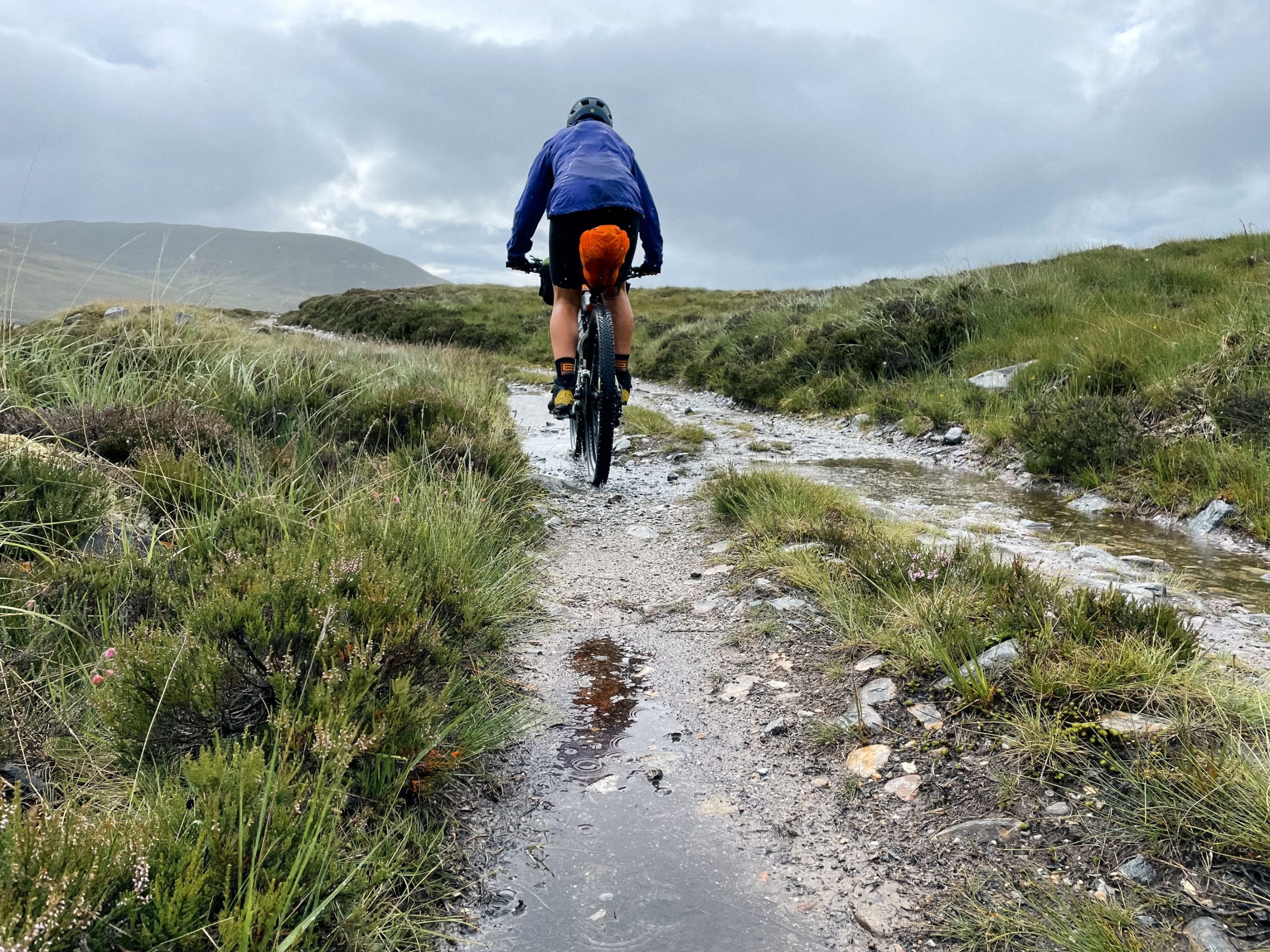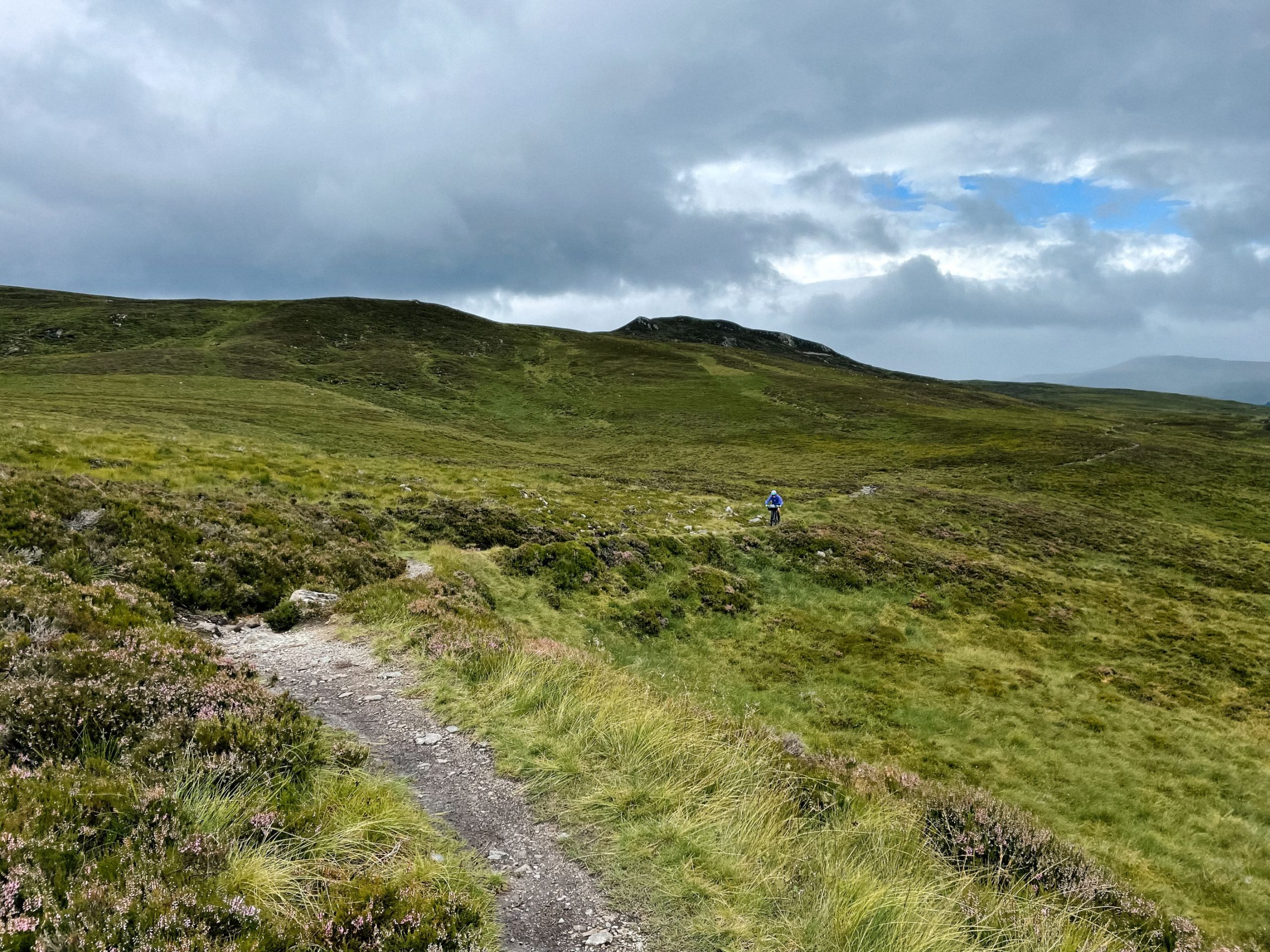 Next morning, we headed out of Braemar fully fuelled by a wicked all-you-can-eat Youth Hostel breakfast for £5: lots of cereals, and enough toast to sink a steel bike in a short river crossing…
We headed out of Braemar on the back road towards Linn of Dee, then got back on route again.  Fast tracks by the river allowed us to make good time.
As we began to climb, this was the section of the route where I discovered I didn't have any sense of balance when the track fell away steeply to the left. If it hadn't been for the drop, it's a track I would easily ride but instead, I was hopping on and off the bike relentlessly.
We eventually came to a large ford: not deep but very wide. I didn't hang about and off came the socks and shoes for a cooling dip in the river. This feels so good on feet which have been trapped in cycling boots all weekend and I tied my boots together and slung them around my neck. I tried to ignore the fact that they smelled like dead sheep. Maybe around my neck wasn't the best place to hang them.
We'd taken off our socks and shoes for the first couple of river crossings but when the crossings became more frequent, we trudged into the water realising it was a pointless exercise to keep dry feet and socks. If we had another overnighter, we would have persevered however damp feet for the rest of the ride wouldn't kill us,
On one of the first of these crossings another rider appeared: a guy who looked tired but had packed much lighter than we had. He explained that he'd ridden the whole Cairngorms Loop in two days, practically nonstop and he was desperate to reach Blair Athol and get some sleep.
Our friend had joked to Si on the phone earlier in the day that my 'next husband' would ride the whole Cairngorms Loop with me and not be a whinger. As the guy pedalled off, I cheekily said to Si, "I think we've just met my next husband", but I never did get his name!
As I pedalled, I realised with a little pang, we had gone by the turn for the rest of the inner loop. I needed to put this thought to rest now, or it would continue to gnaw at me. What if…
it was at this point that I felt myself relax mentally: gone was the pressure I'd felt  to continue the inner loop and when faced with such beautiful tracks ahead, I started to enjoy the ride again for what it was. Secretly I thought, "maybe Si isn't so wrong after all: this bike riding malarkey is pretty enjoyable" but stubbornly, I wasn't quite ready to tell him that.
A little further along, the route dropped down to the valley floor and we were faced with the decision to either follow the original route which doglegged back to the left and up a steep hillside or continue along Glen Tilt straight ahead of us. Si had ridden part of this route before and I trusted his good judgement and we agreed to continue down Glen Tilt towards the spectacular Falls of Tarf. He always does have good judgement it's just (sometimes) I don't want to hear it…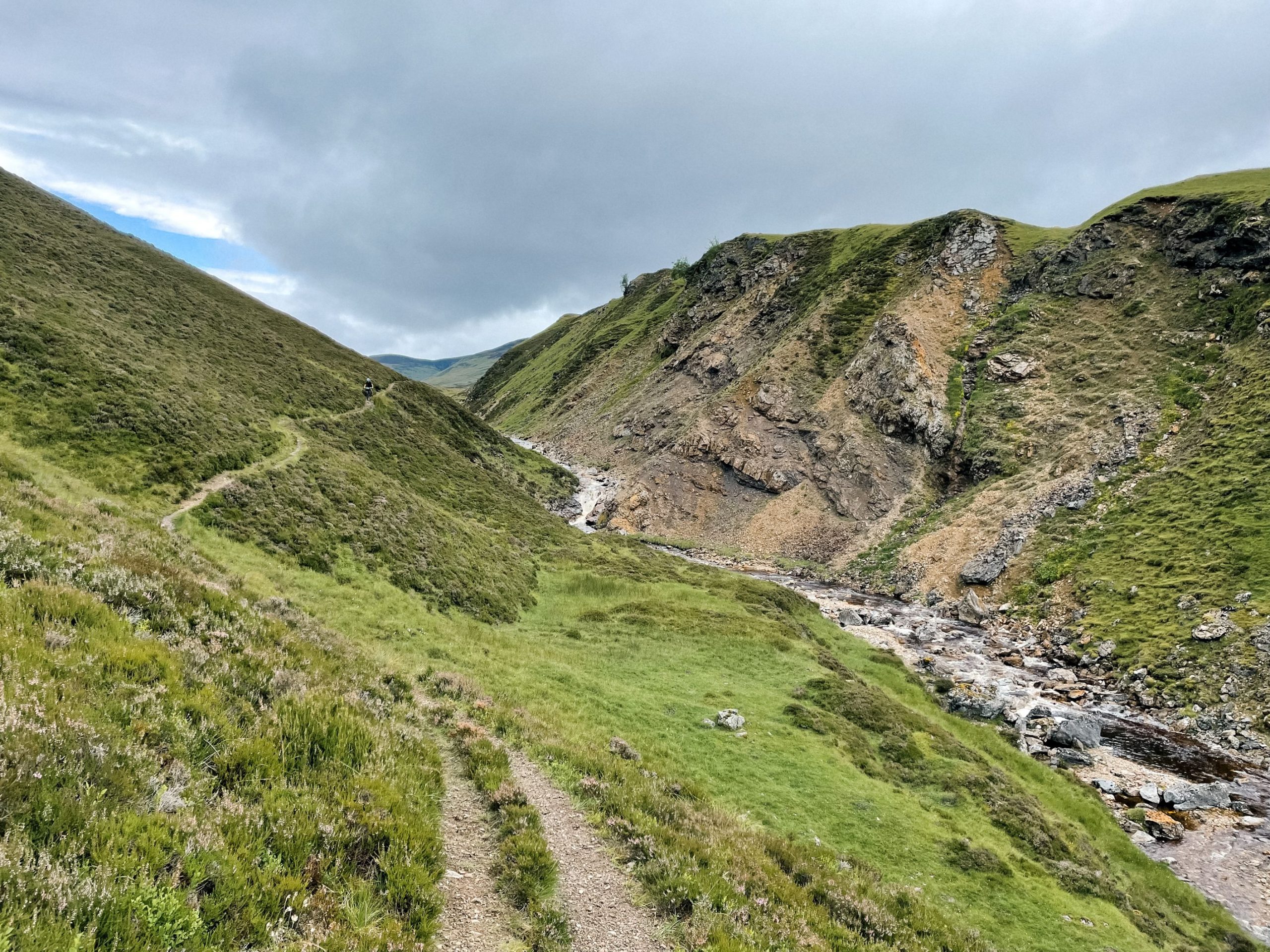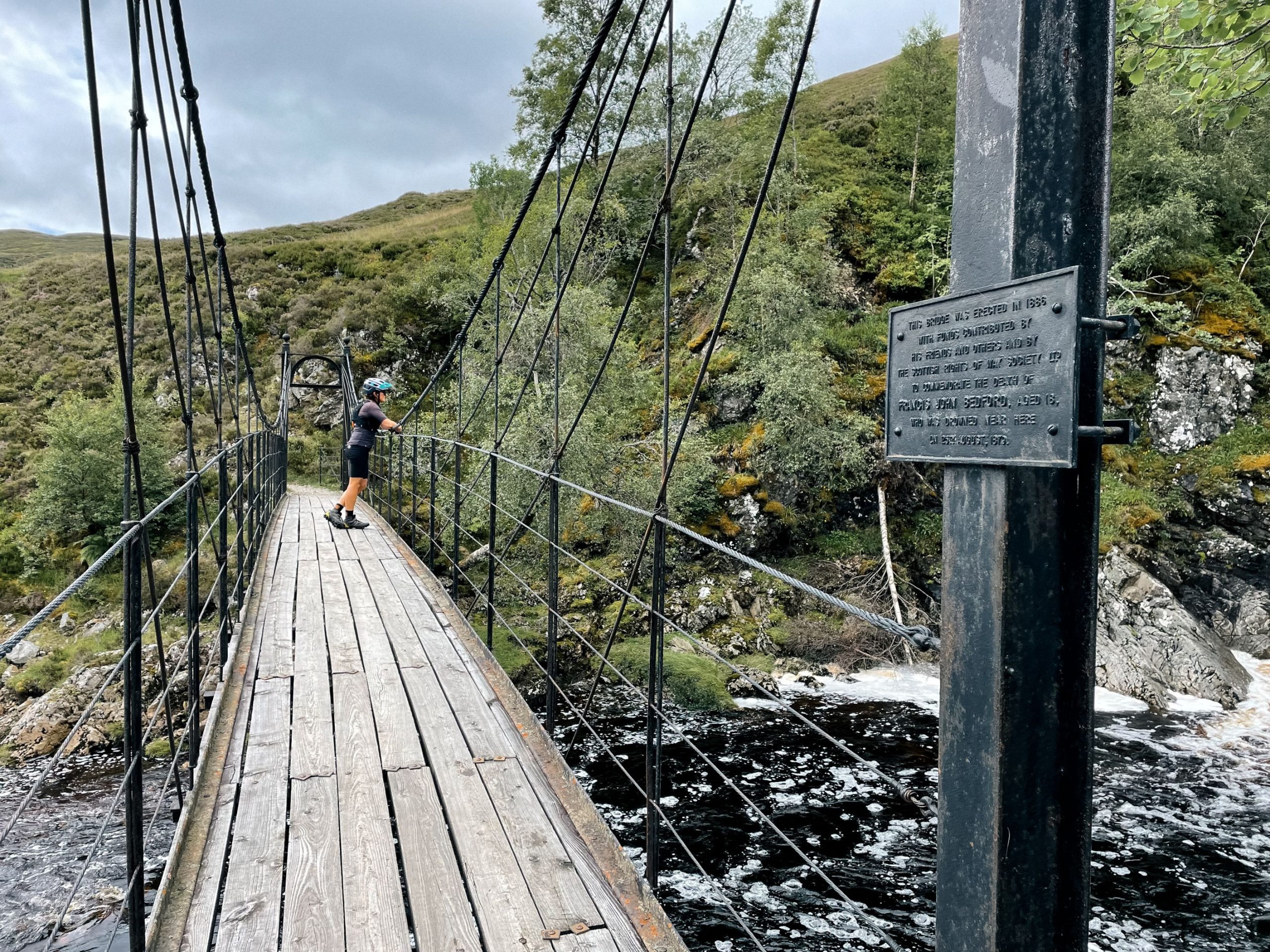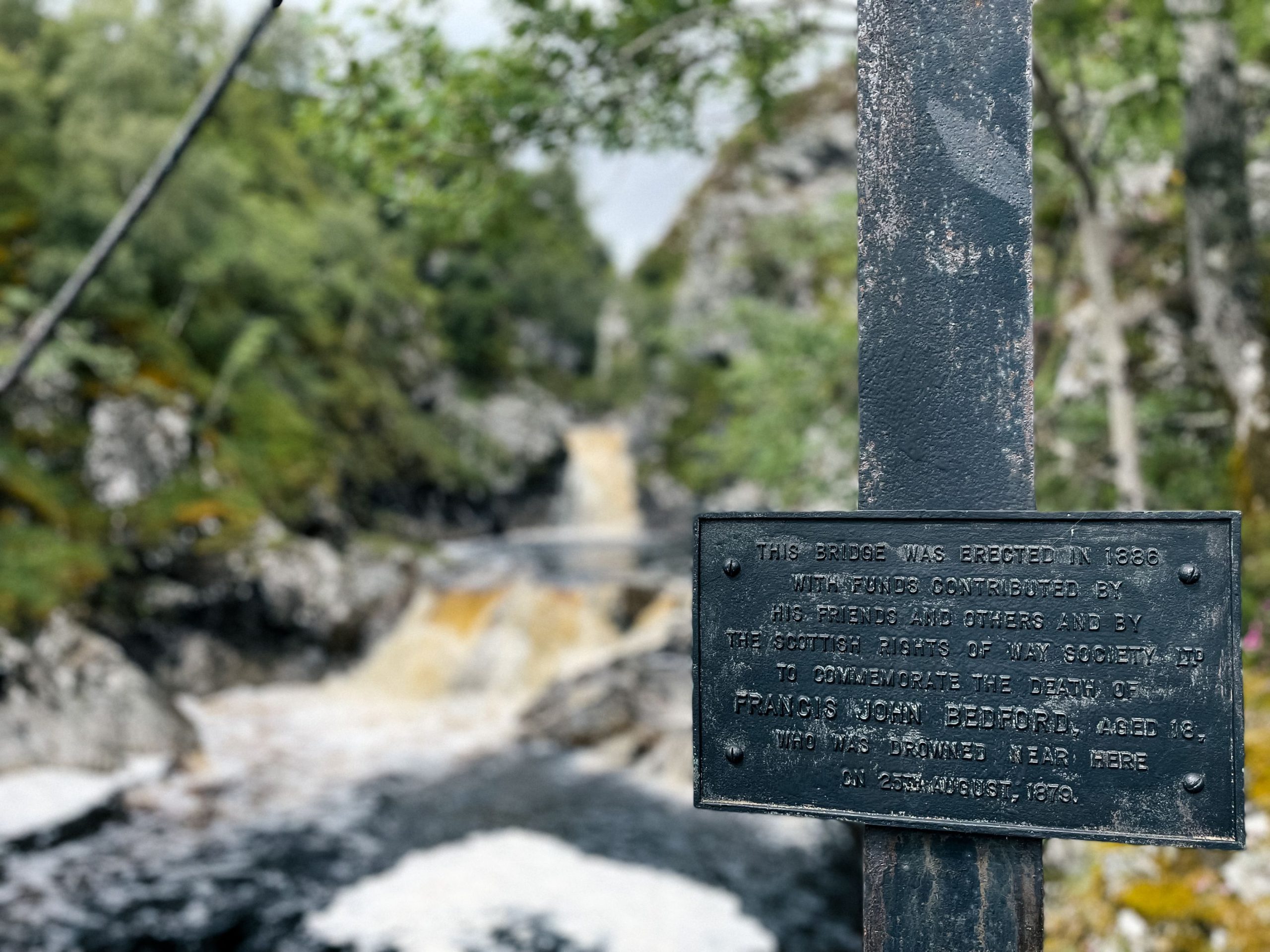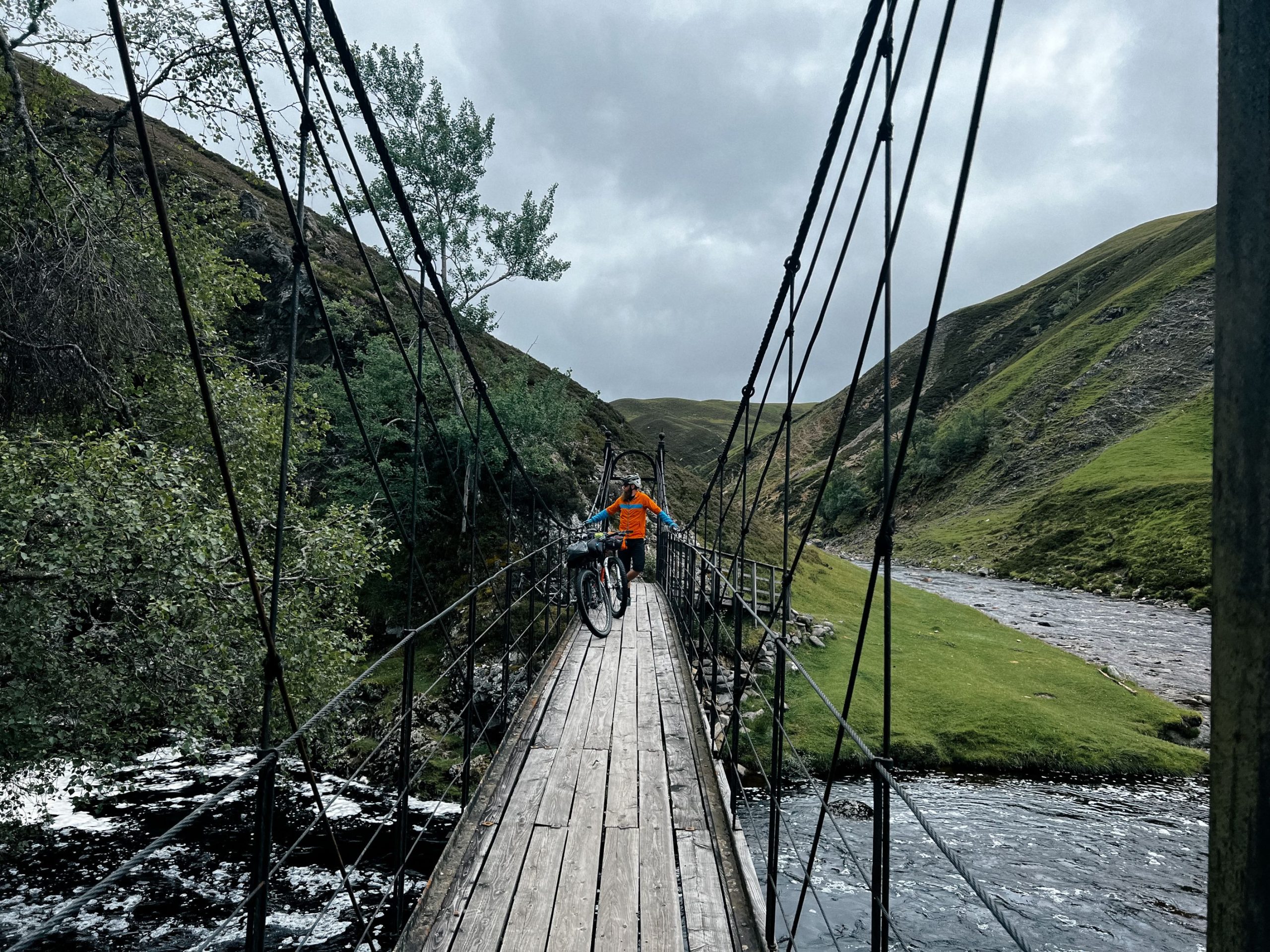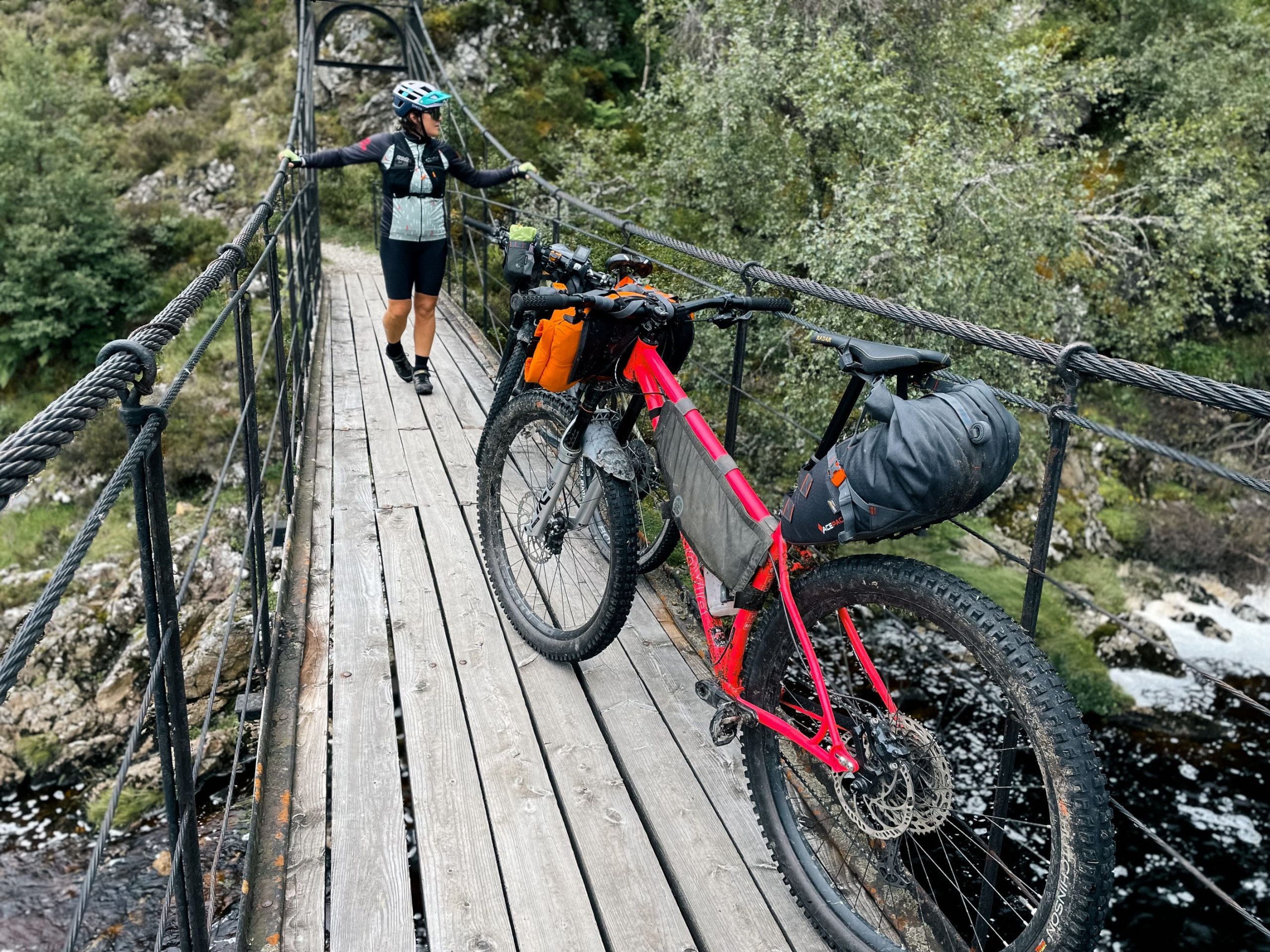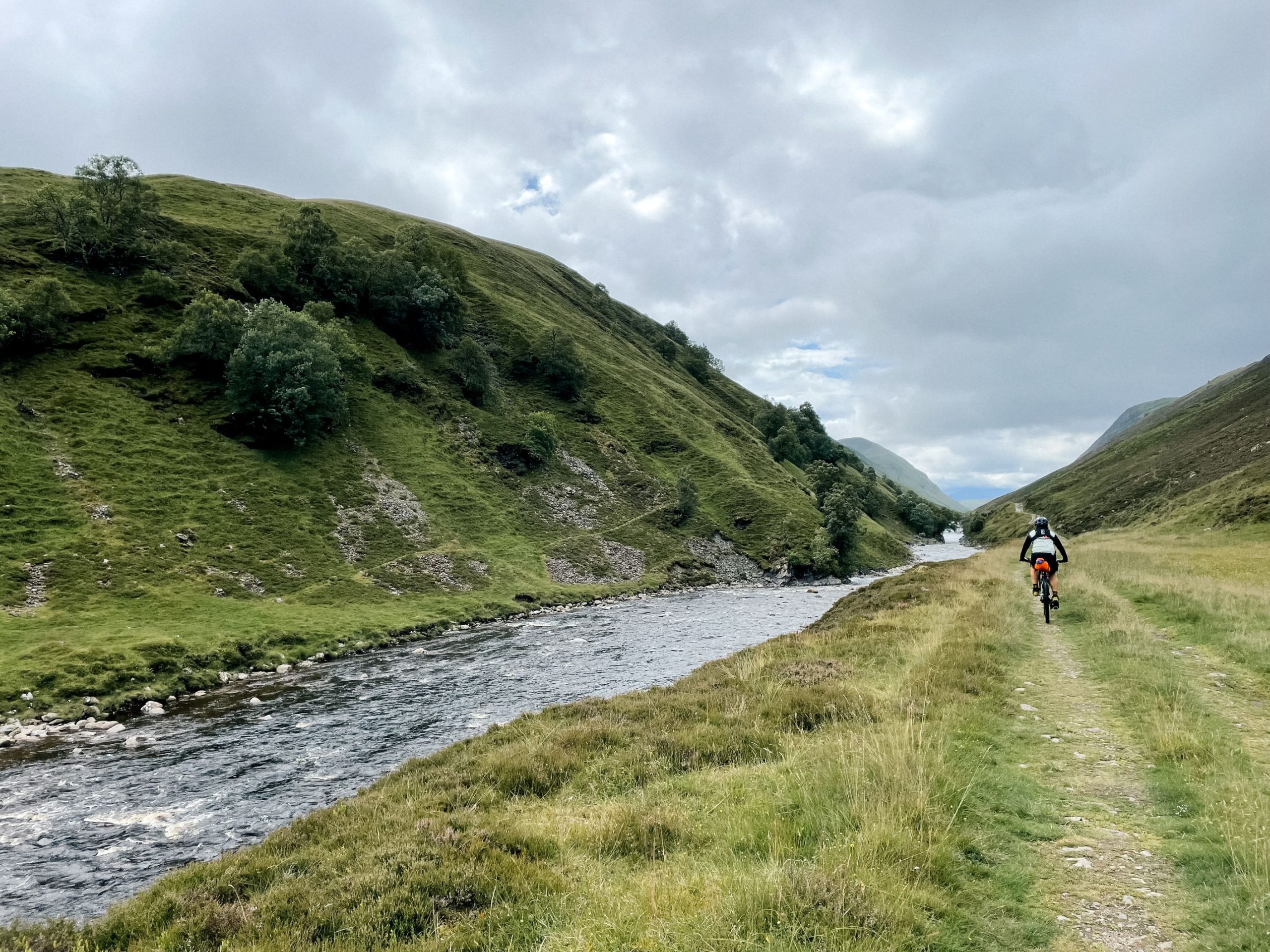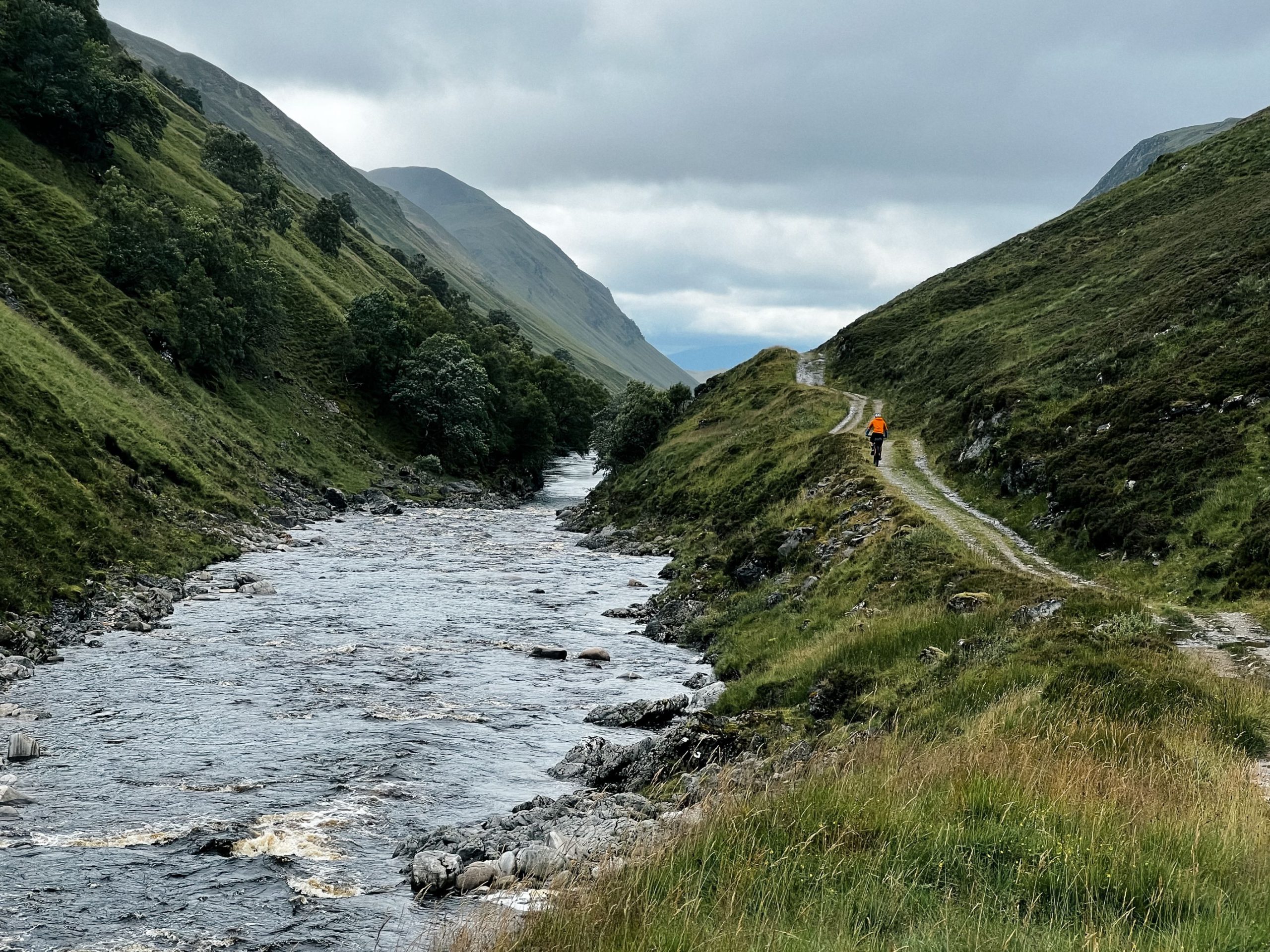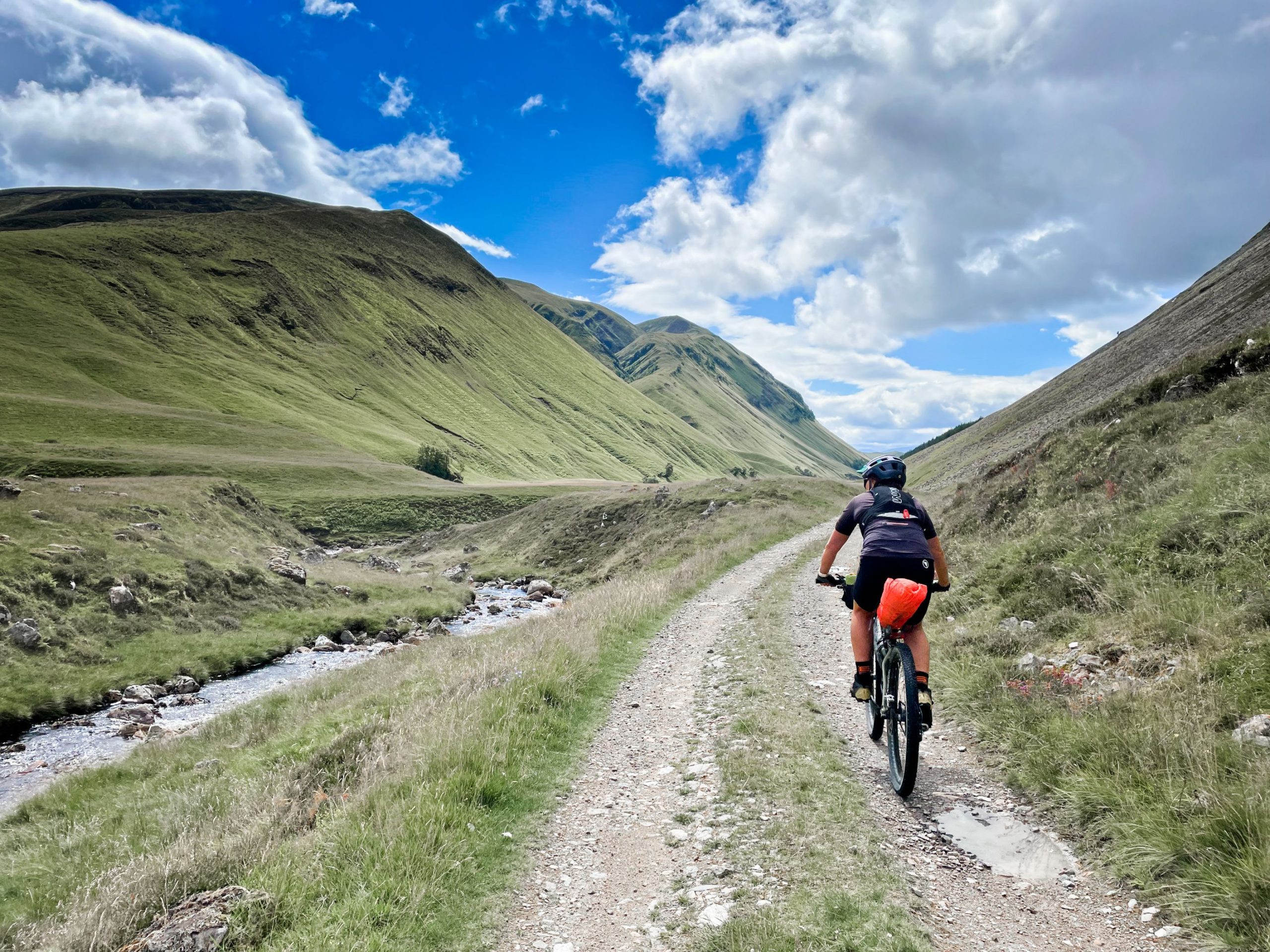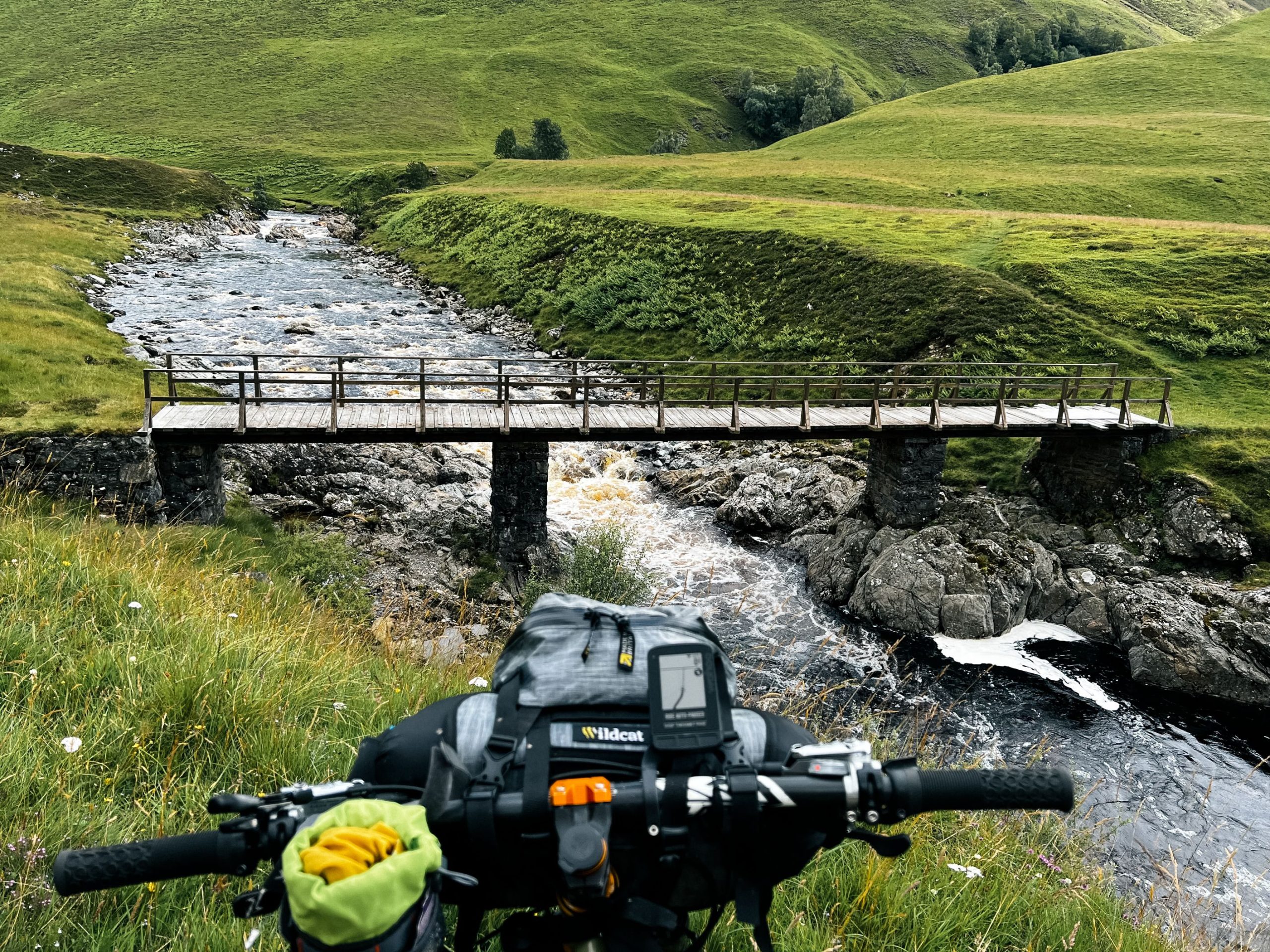 If you're looking for a good 1-day ride where it's possible to take a dip to cool off (or feel alive) this is it. There's stunning waterfalls with a beautiful old suspension bridge and this spot was reputed to have been a favourite of Queen Victoria. You can almost imagine her visiting astride her highland pony.
A skinny dip here would have made my day, however another cyclist came over the hill and decided to stop, unwrapping his sandwiches for lunch. I wondered what he would've thought of the naked swimmers if he'd arrived only 10 minutes later. Would he have still stopped to have his sandwich?
Glen Tilt was a joy to ride. It was every bit as good as I'd been promised – more so – and I think I took more photos on this part of the route than at any part of the ride. As we whooped at the views and fast-riding track down Glen Tilt, I took the time to reflect on the contrast of the day before, high on the hills.
I'd been harsh with Si when he'd said he wasn't enjoying 'type 2' camping in a hurricane and the hike-a-bike experience near the Fords of Avon. In my mind I felt he'd ruined my opportunity to complete the whole of this challenging route. I'd told him he had a "negative mindset" – and a few other choice phrases. By that was yesterday…
We rode down the latter half of Glen Tilt peacefully and I reflected on the last couple of days – both the good and the 'challenging'. While Si has tendencies to think of things negatively, I realised I can have more of a fixed mindset and can be driven by or focus on an outcome rather than the process, even when things are tough, uncomfortable or unravelling. That works for me when I take on solo challenges however, maybe that mindset needs tweaking for 'Team Davies' adventures.
For him it was easy to 'turn on a penny' and change his plans. Where I saw this as giving up, he was simply adapting to make it more enjoyable. I've always felt that if something is too easy, perhaps it's not worth the effort. Recognising this trait in me was a step towards changing. Seeing his ability to "adapt, improvise and overcome" and the benefits it brought to us both, was something I admired and wanted to do develop in myself. This is a big step forward for me: just don't tell him. However, maybe he also needs to "seize the day" or live in the moment instead of 'project managing' every outing on a bike.
We were lucky that Glen Tilt is as long as it was beautiful as it gave us both time to reflect on a weekend of epic adventure and learning more about ourselves.
Reading this you might think that Si would never bikepack again. You might be surprised to know he came home and immediately began reading reviews then bought some lighter, smaller kit. In fact, as I wrote this, he was mid-way through his second ever bikepacking adventure and tackling the Badger Divide, so I think perhaps the bug has got him too.
I did wonder why he did that trip without me thought…
And me? Well, the Cairngorms Loop will wait on me I'm sure, and everything I've learned about it will stand me in good stead for the next time…