Our Badger Divide started a full month before 8th September 2022 and even a week out, we'd already ticked off our kit lists, packed the bags and test ridden A.L.I.C.E in 'Badger mode'.
I had been speaking to Nick from Tailfin.cc the week before who was keen to support us on our upcoming trip. A few days later we were attaching two Aeropack to the rear frame mounts. Fitting them was simple and allowed us to carry additional wet weather kit as the long-range forecast was heavy rain and thunderstorms. As our departure date got closer, I'd asked Alan what the forecast was and his answer was "we'll be in the middle of Scotland on a bike so what's the use of a forecast now."
The plan was to get a lift to Inverness with Alan's wife, who was driving north to spend a few days on the west coast with her sister. I had to leave the Scottish Borders at 0500hrs to be in South Queensferry for 0600hrs so with a stomach full of porridge and two cups of fresh coffee, I trundled up the bypass subconsciously ticking off items from the kit list which by this point had become committed to memory.
With the bikes loaded onto the roof of Alan's car and a quick wobble test, we both looked at each other as the weight on the roof (that's we'd need to pedal!) had just become very real. Another quick tighten of the Thule ratchet system and off we set, north-bound. I was surprised by the noise of the vehicle on the motorway: the combination of two bikes, gusty winds and a high-revving 5-speed gearbox created a sound of a vehicle that was very much not happy. The Fuel Economy Indicator seemed to agree and at time was showing <20 mpg!
An hour into the road journey, the sky was black, the roads were struggling to drain the surface water, and weather warnings flashed up on the road traffic display screens. Alan, not known for having the cleanest bike, was trying to remain positive and in his wisdom muttered "…at least we'll have clean bikes when we set off."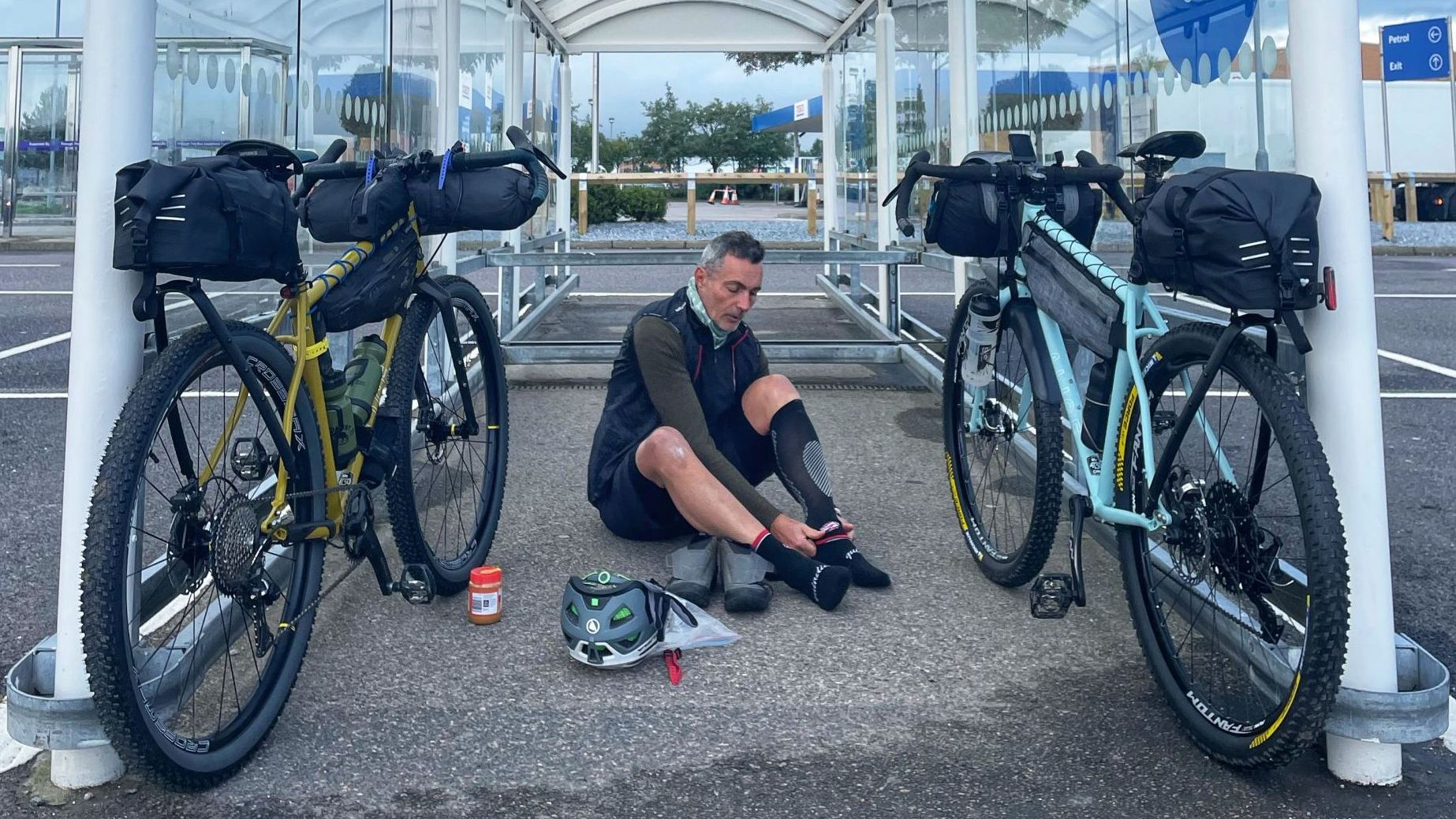 Arriving in Inverness at 0900hrs, we both bailed out at Tesco, changing in the trolly park while the drizzle set in. A quick embrace from Mrs Finlay and we were off.
With waterproofs on, navigating through central Inverness was made even harder because I'd borrowed my wife's Wahoo GPS unit and I had no previous knowledge of how to use it! It kept beeping, the red and white LED's were flashing, and it looked like it had been lifted straight out of The Hacienda. A quick call to Lynne identified the issue: it was navigating us to the start of the route rather than allowing us to find our own way to start near the River Ness.
Weaving our way through newly built housing estates, the faff was over and and we were now on the Great Glen Way, climbing up out of Inverness and towards Abriachan Forest. We hoped the clouds would disperse but the rain continued and our high hopes of stunning views down Loch Ness looked unlikely.
With the rain now battering us, we arrived in Drumnadrochit. We took shelter under a café canopy and had an early lunch. Peanut butter and jam wraps for me and Alan was stuffing in handfuls of mixed nuts and a large sandwich roll he'd made the night before. He had weighed out daily amounts and individually bagged them using labels. I was unsure if this was OCD or just a highly organised individual.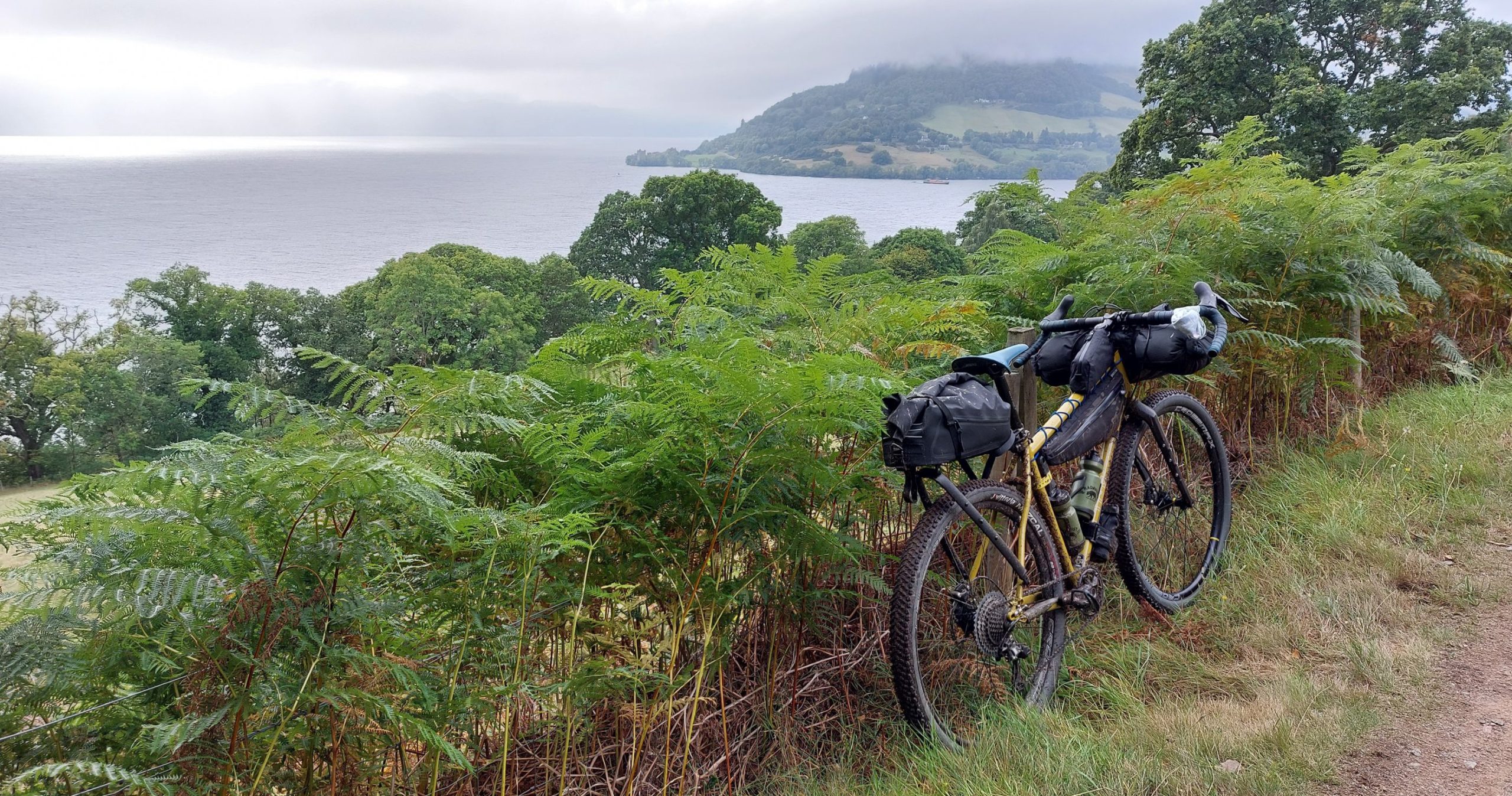 We weren't much further down Loch Ness before I had a mechanical failure. The bar roll had dropped and had pulled on the gear cable so it meant the indexing was slightly out. I had crunched the gears causing the chain to separate. On closer inspection I had mangled 4 links so had to shorten the chain to get back up and running. With the two largest cogs now unreachable, we cracked on, but as Alan highlighted we were now equal in gear ratios as he was running a short Shimano GRX setup. Perhaps it was karma.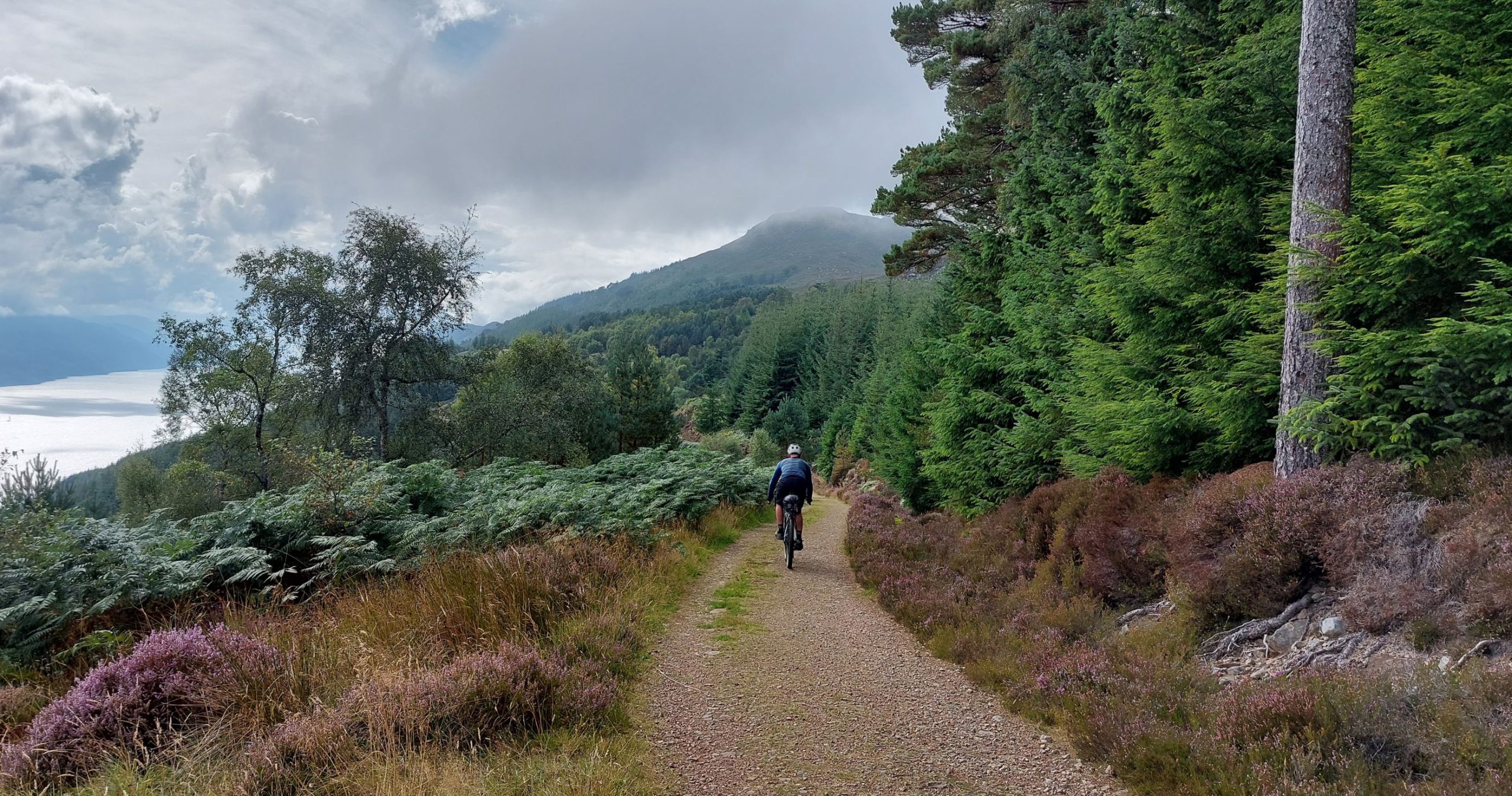 Getting into Fort Augustus was cause for celebration and we passed the sign with arms punching the air like we'd won a TdF stage. I hadn't been here since 2010 when Lynne and I had called in on the way back from the Isle of Skye. It brought back fond memories of waking our old Border Terrier Lucy, down by the locks. I treated Alan to some fish and chips – we call it a "Fish Supper" in Scotland – in return for one of the strongest ales he could find at the petrol station. The lad did good and 7.2% was certainly going to give me a kick when we'd finally stop. The Tailfin pack came in handy as I was able to stash it in the side and keep it safe from knocking against anything hard.
With my chain repair in mind, a Google search told me there was a hardware/bike shop close by. We nipped in to see if they had any 10 speed chains. Pickings were slim but the 'auld boy' behind the counter let me rifle through his mechanic's scraps bucket and halfway down I found an old rusty 10 speed chain. He handed it over for free: happy days!
We realised by this point we'd spent too much time with our fish and chips and at the 'everything you could need in the highlands' shop and were falling behind schedule. We still had the Corrieyairack Pass to deal with so we got our heads down without fitting the links. Two hours later and a quick check of the OS map revealed just how far we needed to go to get to Melgarve Bothy. We estimated we had another hour to the top of the pass: Alan was game, I was apprehensive. I had been in a similar position earlier in the year when Lynne and I tried to press on to The Falls of Avon refuge before sunset. We hadn't made it and we got caught in a storm on the top of Bynack More.
There was another option, howerer: Blackburn Bothy. By this point it was roughly 1km away and seemed like the sensible option. Al' took some convincing, but as we'd both been awake since 0500hrs we agreed it was the right call.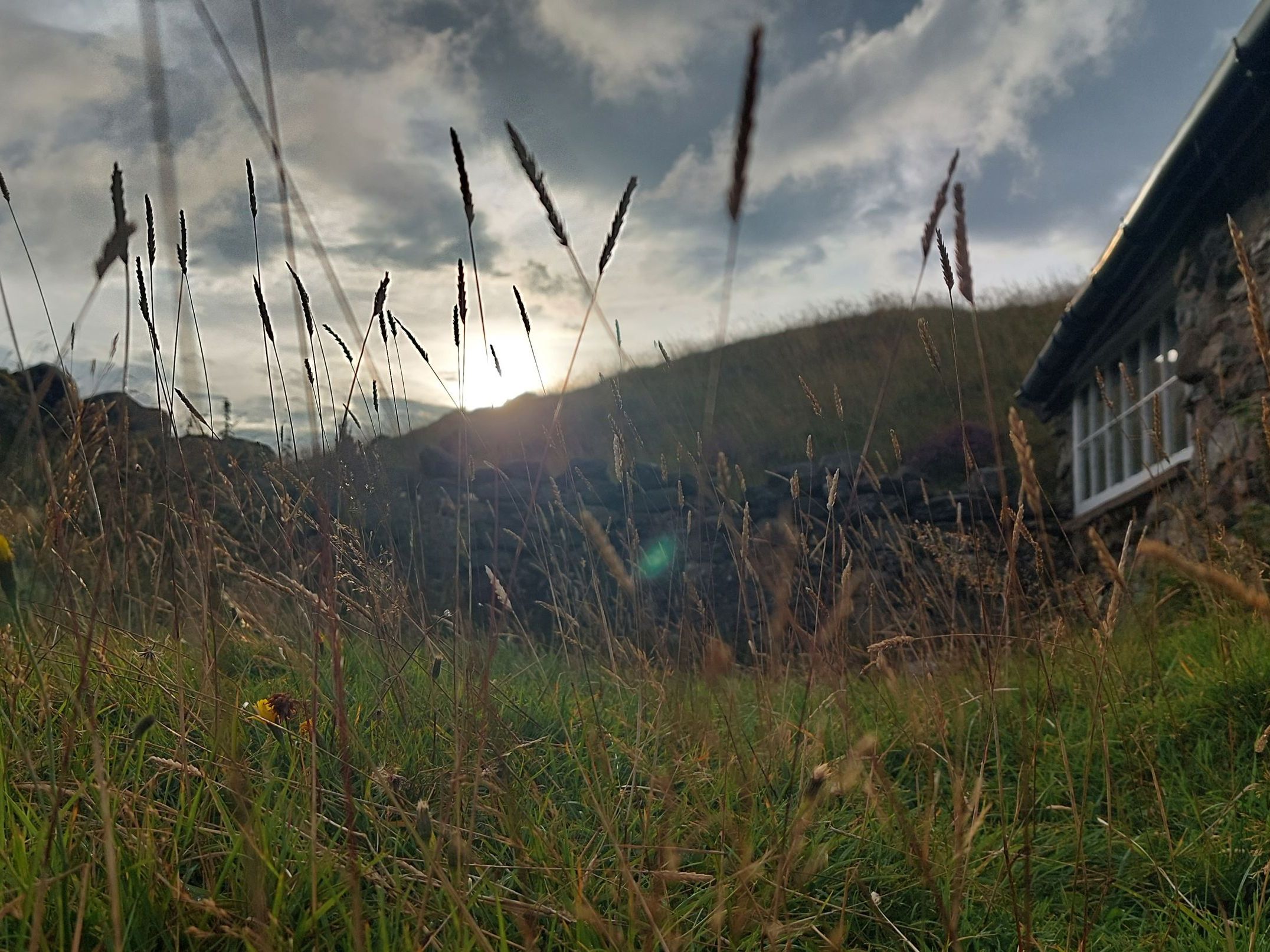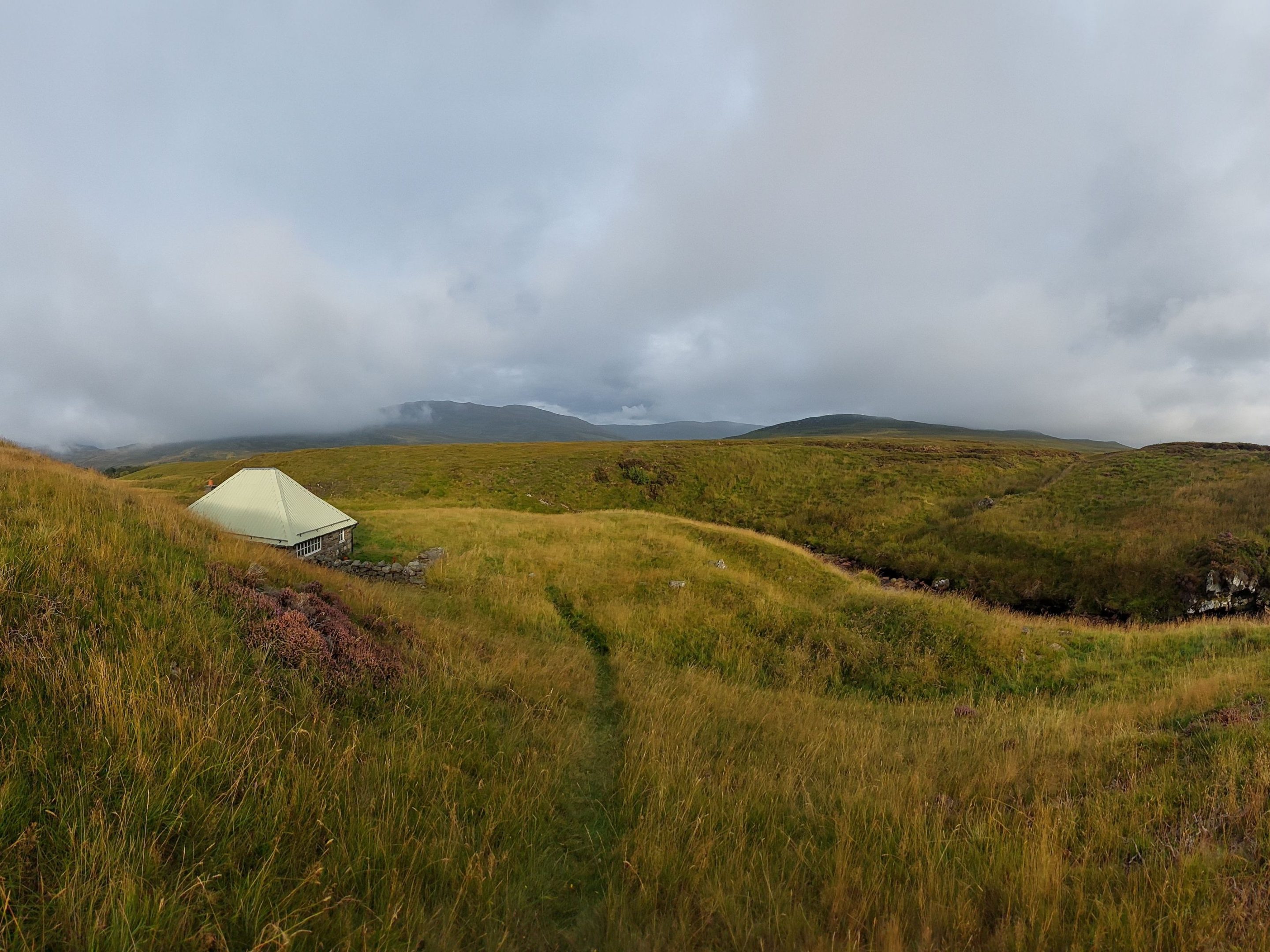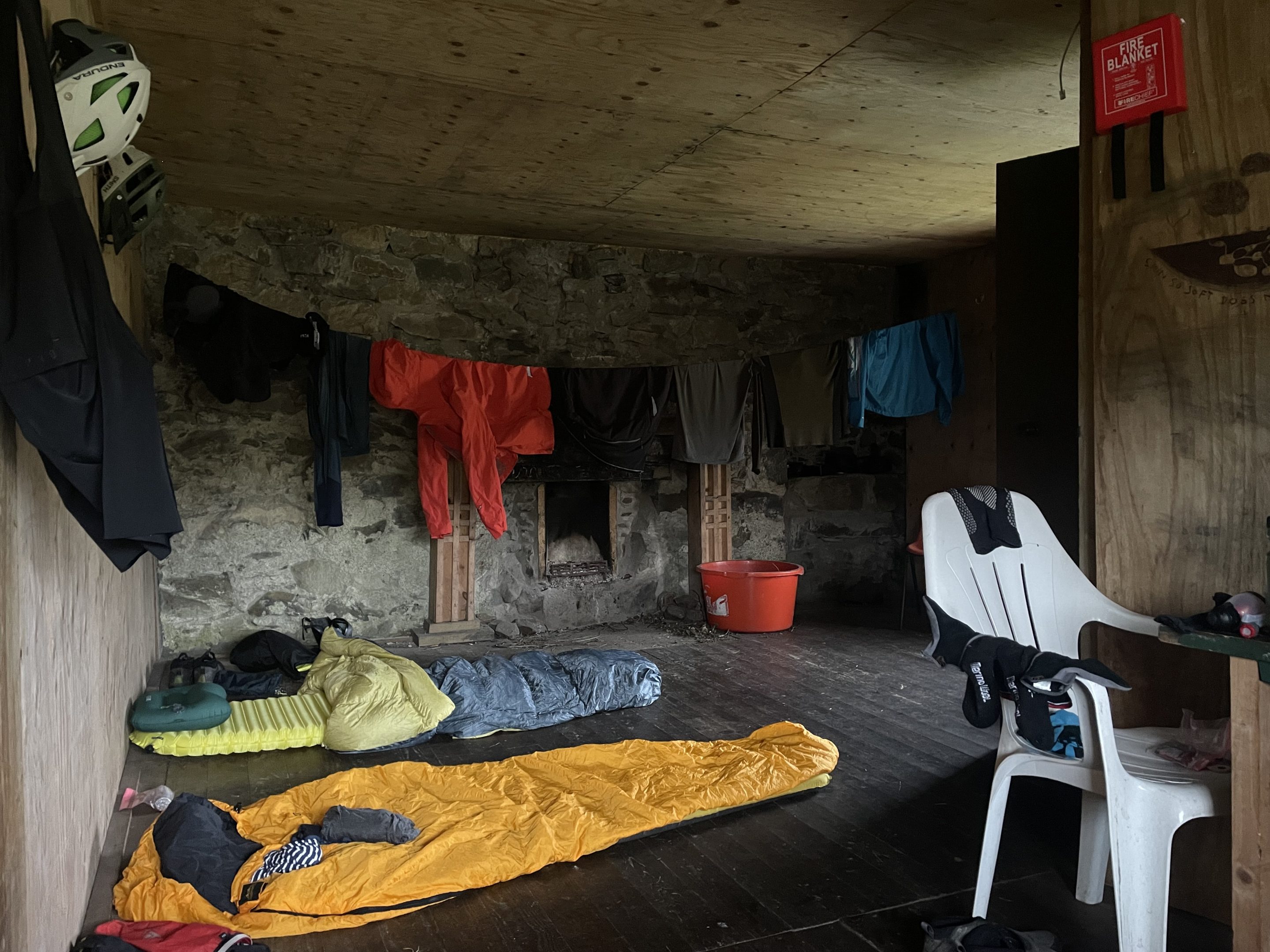 The Bothy was clean and tidy with a drying line to hang our damp clothes. We quickly made up our own sleeping area, with inflatable roll mats and sleeping bags and then heated up some water for evening meals. Summit to Eat Beef Casserole and the 7.2% IPA went down a treat. As the light outside dropped outside we both settled in for an early night.
I was woken with Alan's heavy breathing around 0200hrs. Unknown to me, I had been snoring so he moved his mat and bag to the opposite side of the Bothy, and in doing so he had punctured his Thermarest. He was actually trying to blow it up – hence the deep breathing – but after two more failed attempts through the night at reinflation, he gave up.
Bothies are typically in isolated places, providing shelter to travellers in often harsh and exposed landscapes. Stories of haunted bothies are not uncommon – probably to deter the crowds – and their stark interiors certainly add to that feeling. So, when the outside door creaked open at at around 0230hrs, we both woke up, instantly.
Alan was up and out of his bag in a shot and with his headlamp on 'red bulb' mode, the inside of the bothy was cast in a bloody red light. There was a 'shit shovel' at the open front door – thankfully still there – but no-one was visible outside. The bothy was blanketed in cloud and visibility was poor, amplifying the feeling of isolation. With the door secured once again, and another 3.5hrs till first light, I slept with 'one eye open', trying not to think of scenes from horror films.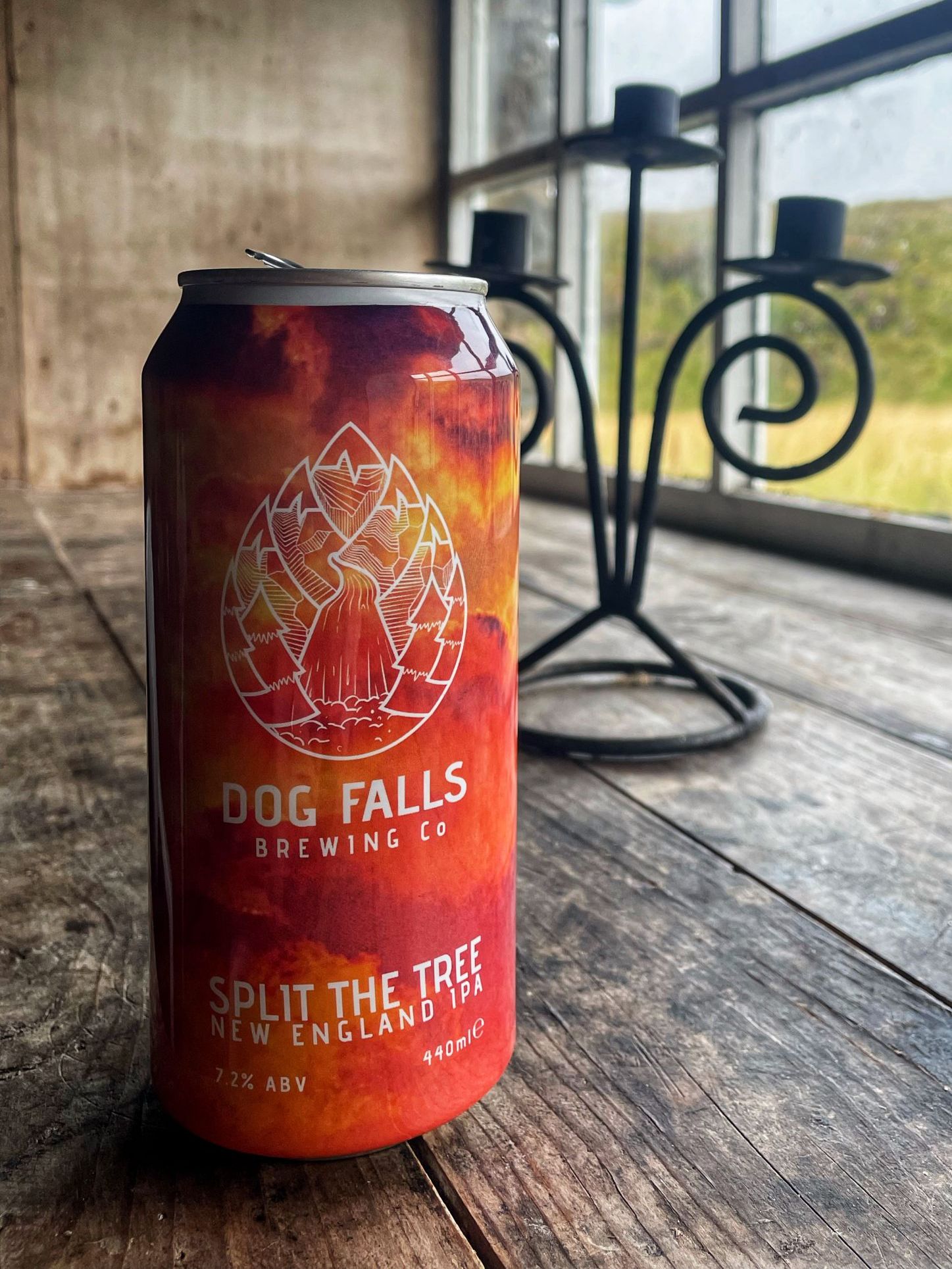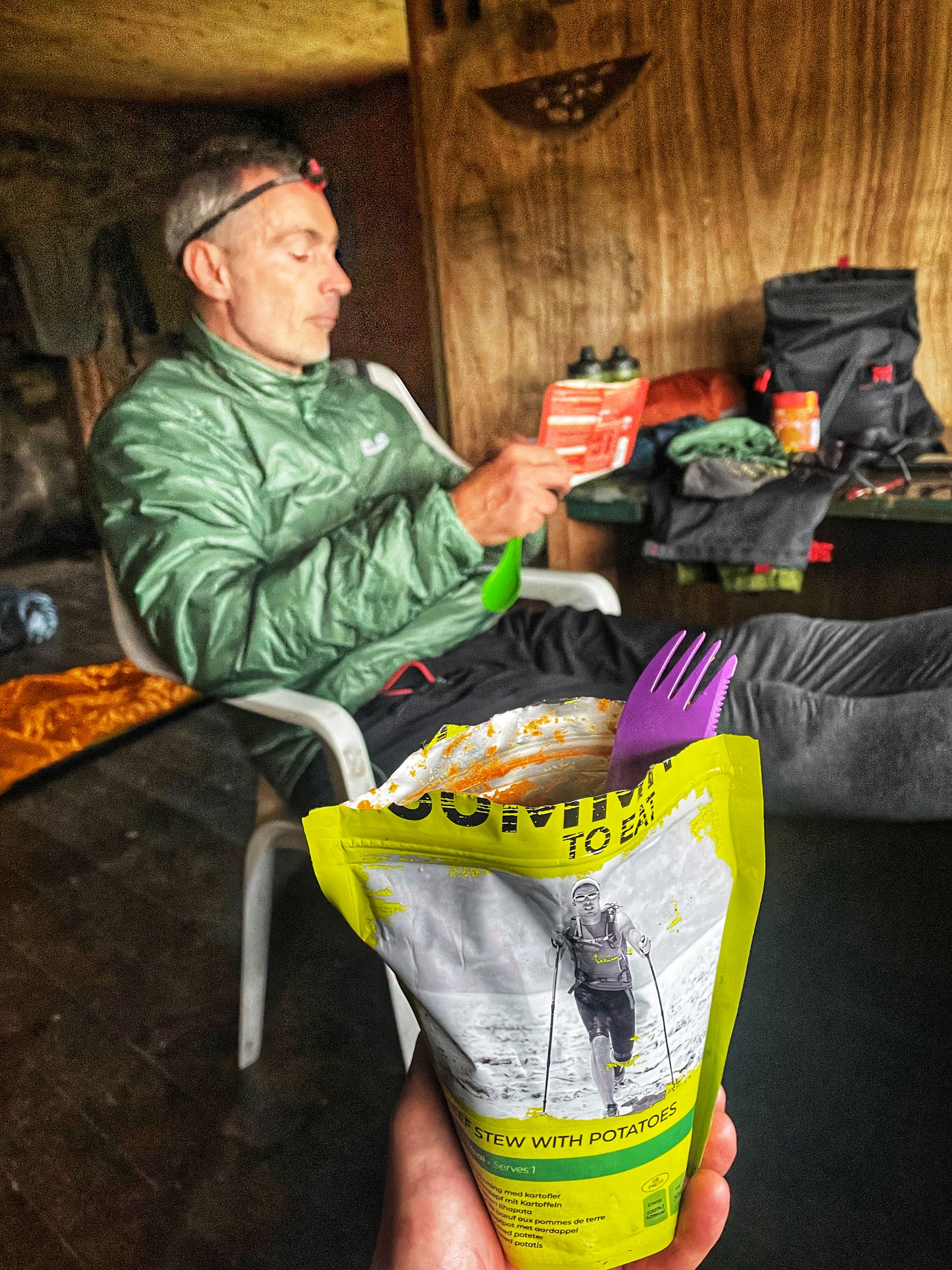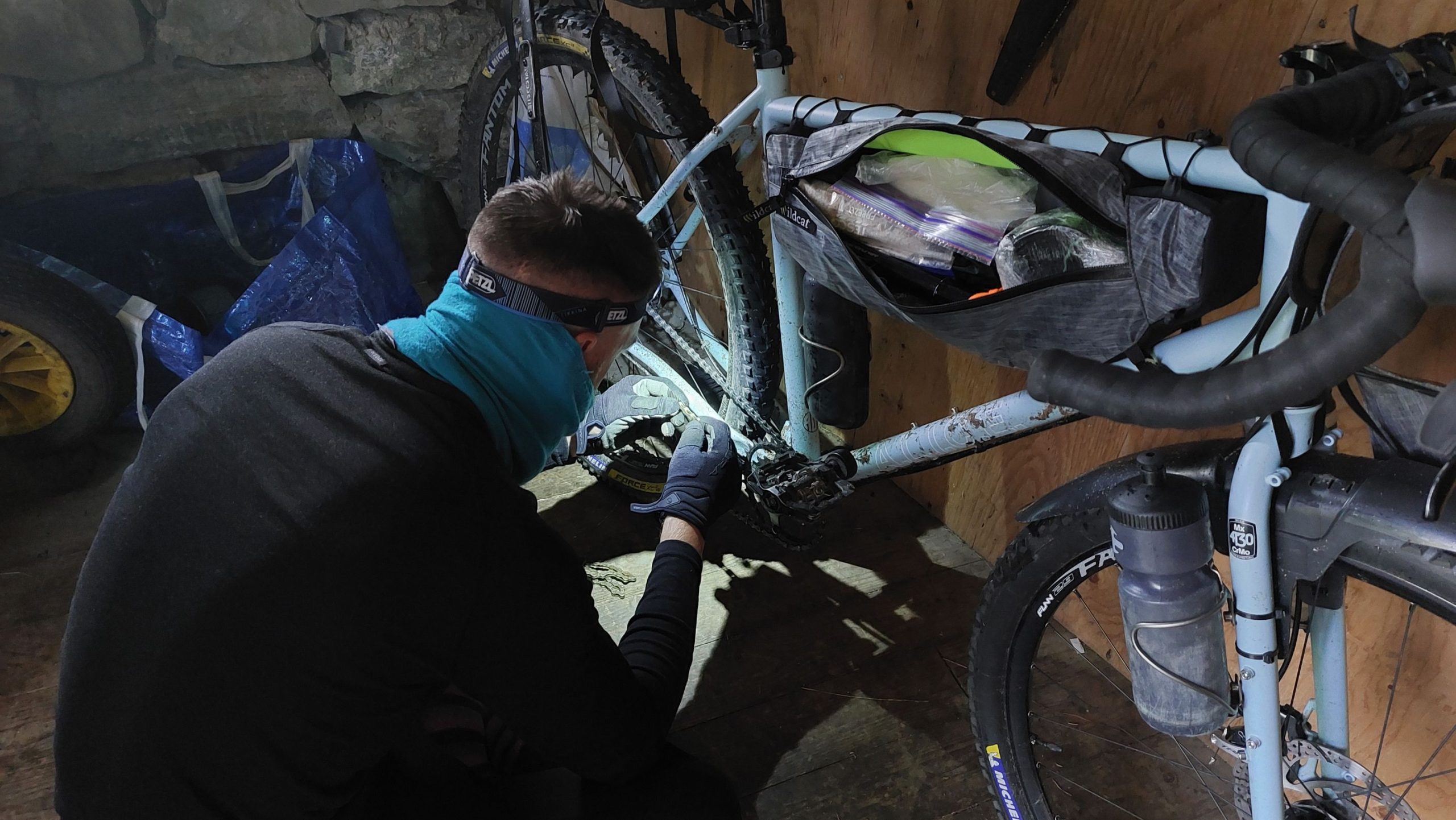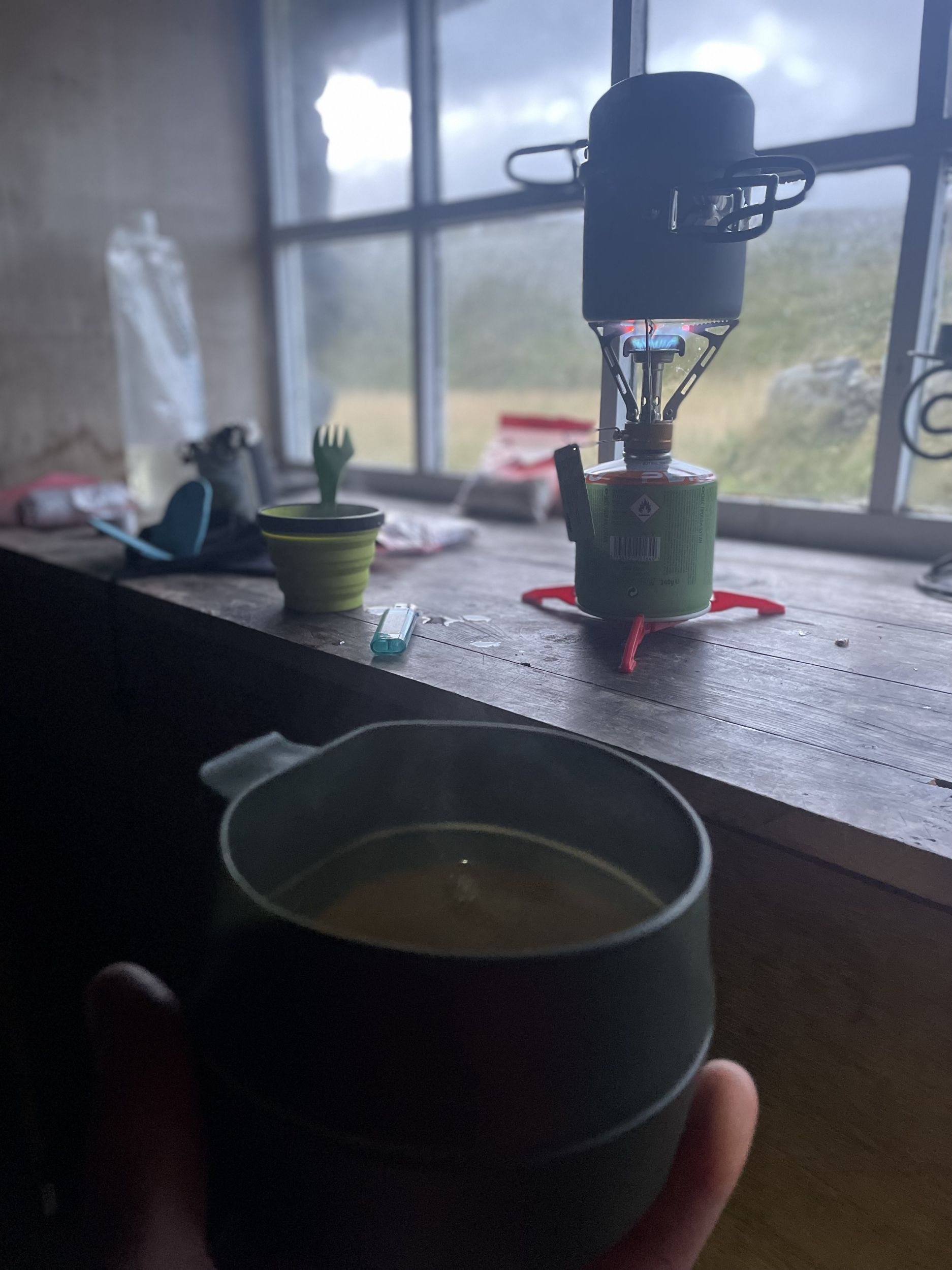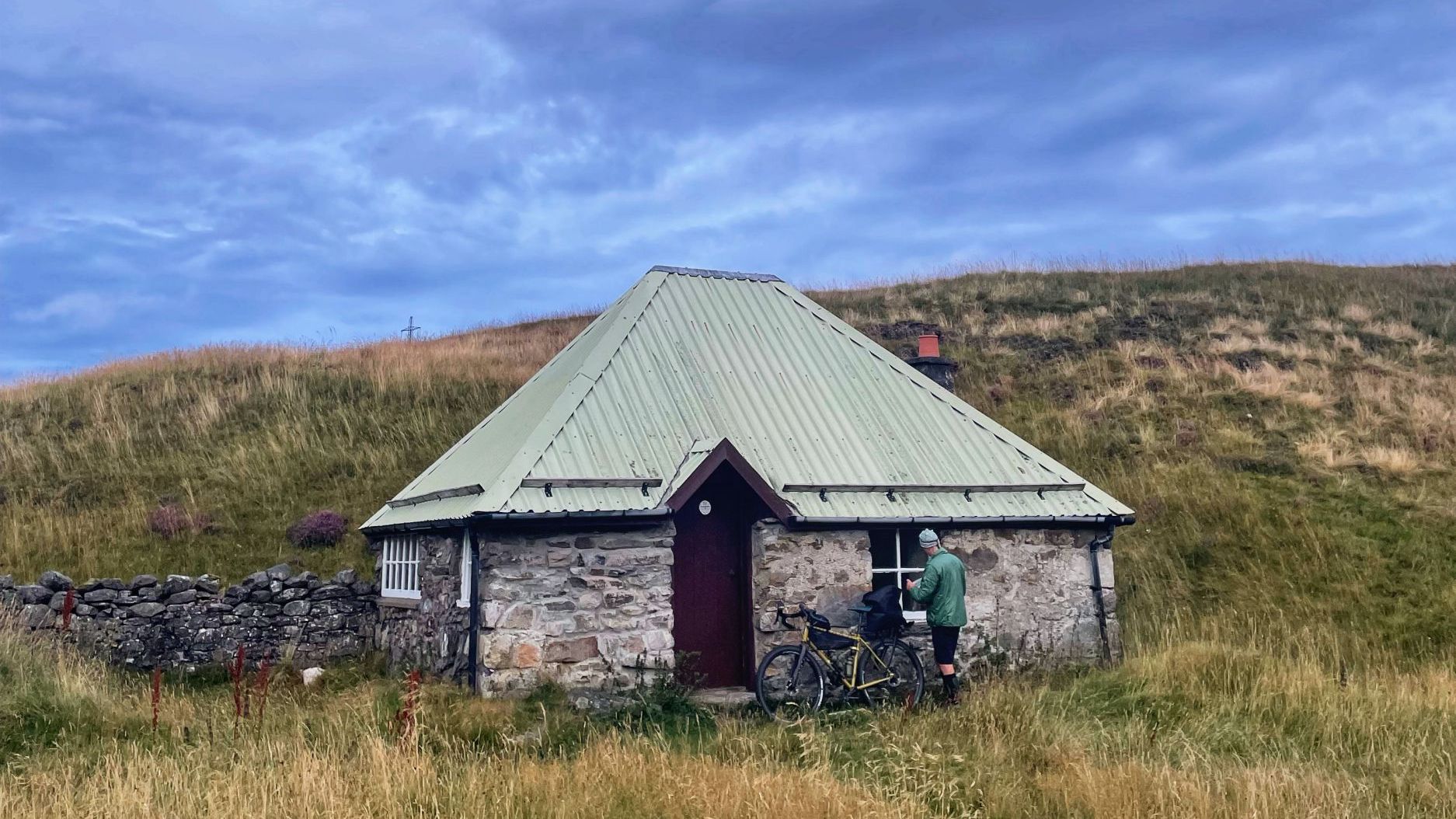 Morning of day 2, we were up at first light. We ate porridge and, fuelled-up with coffee, set off to complete the remaining climb to the top of the pass.
It was a slog, but our legs had recovered so eager to push on, we took a few pictures of the strange concrete structures on the summit then headed down the south side. Immediately we entered a series of steeps switchbacks. I'd read that there were a series of nasty water bars to contend with, however, navigating around the loose 'baby heads' on a rigid, loaded gravel bike was more than enough to contend with.
Both of us agreed that navigating the pass the way we did (north to south) was the better way. Later that day we met two different groups whose opinion was, it's more enjoyable riding the Badger south to north: each to their own!
Melgarve bothy was another 30 minutes further and would have been a challenge at the end of a long day and in fading light but we popped our heads round the door to see how it compared to our shelter of the night before, took some pictures on the bridge, refuelled with some snacks then continued on our way.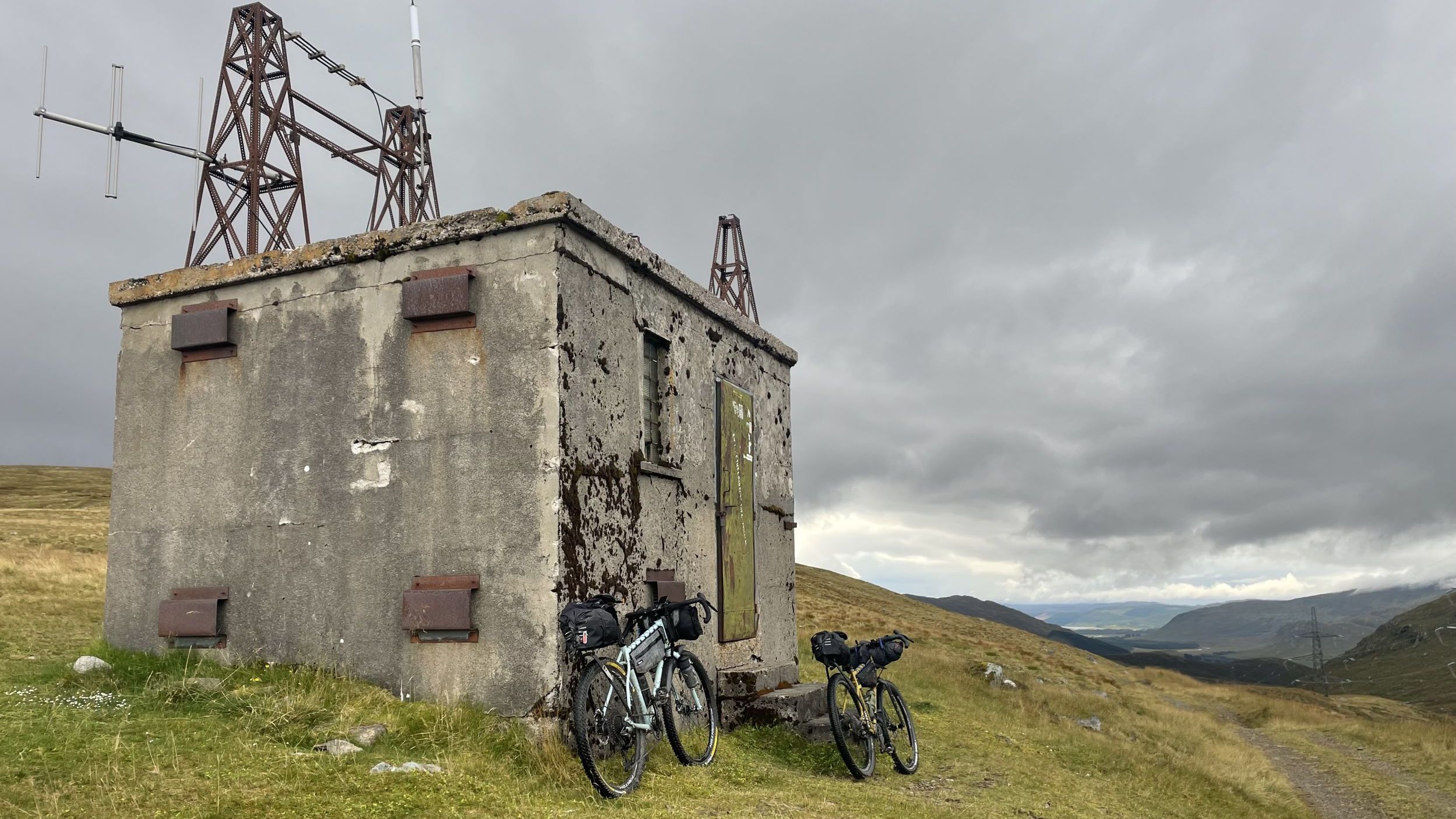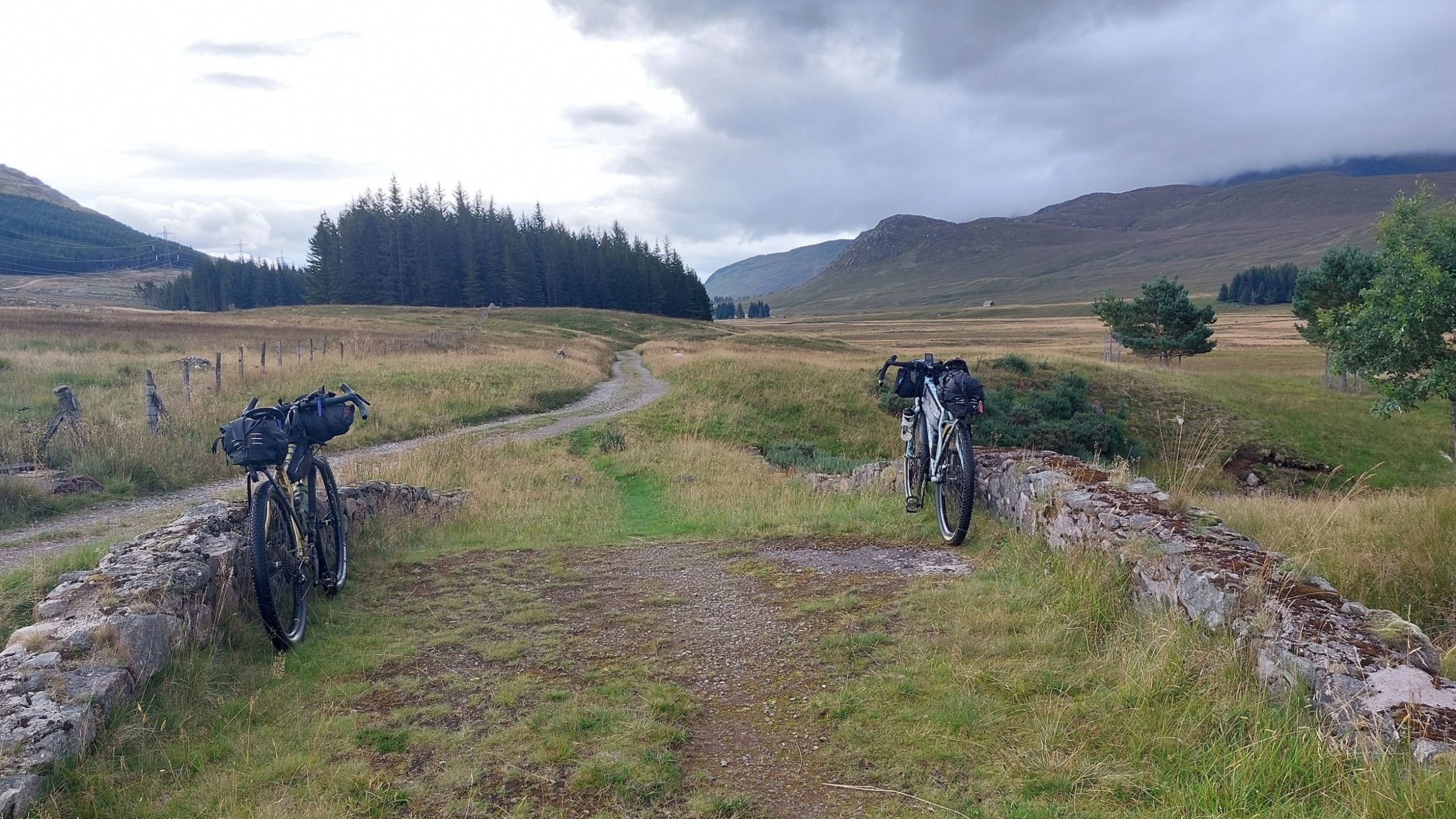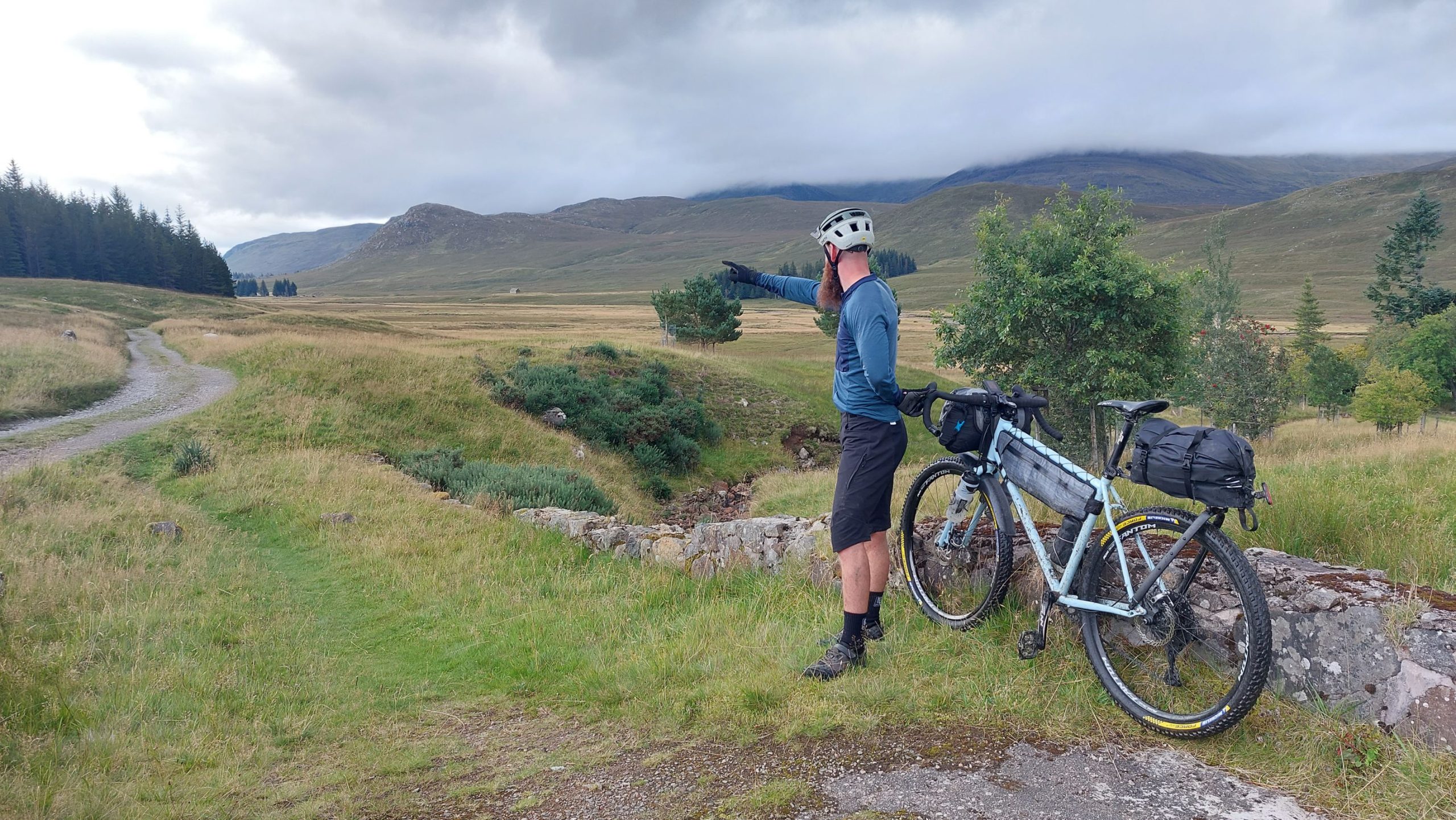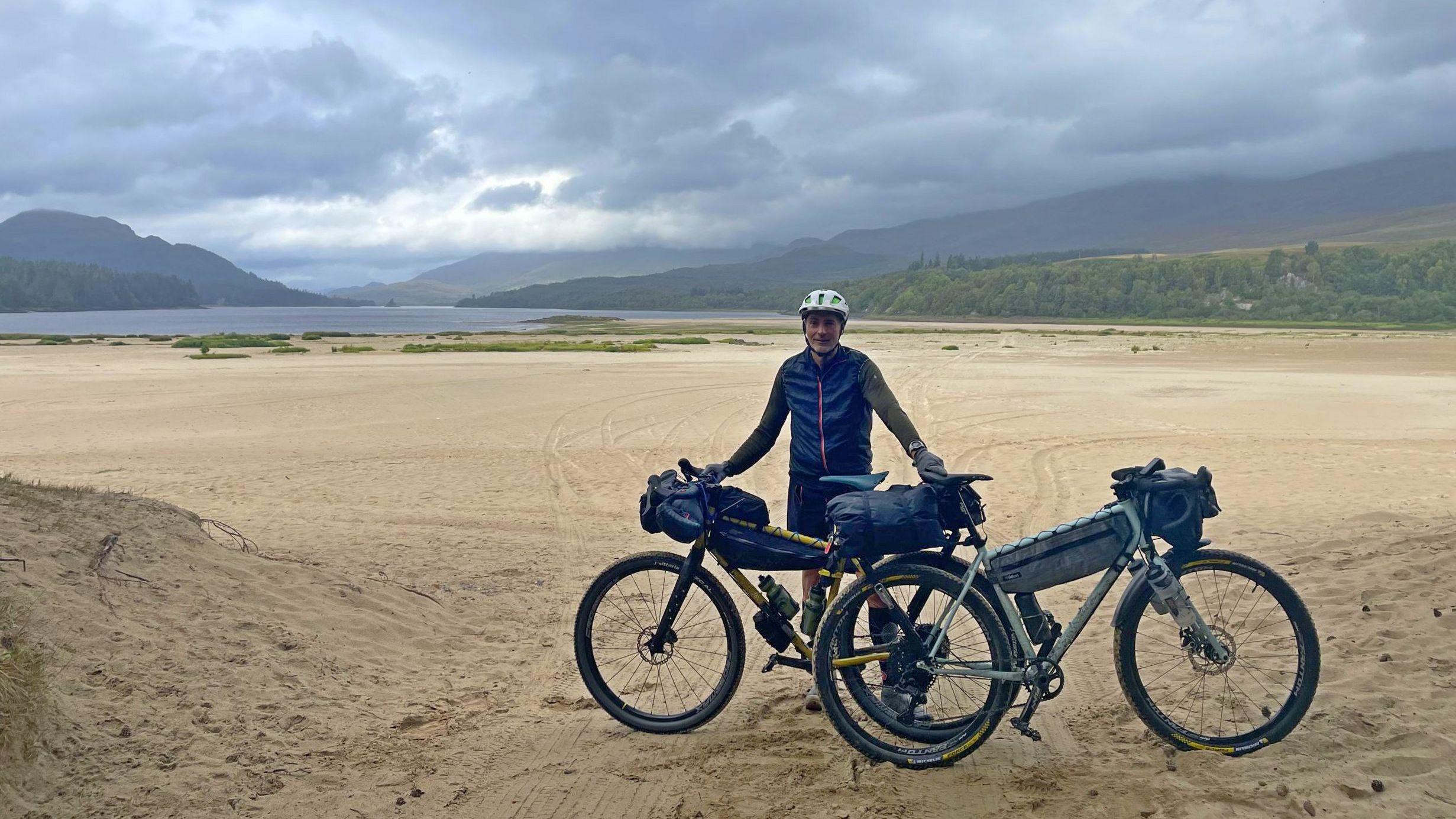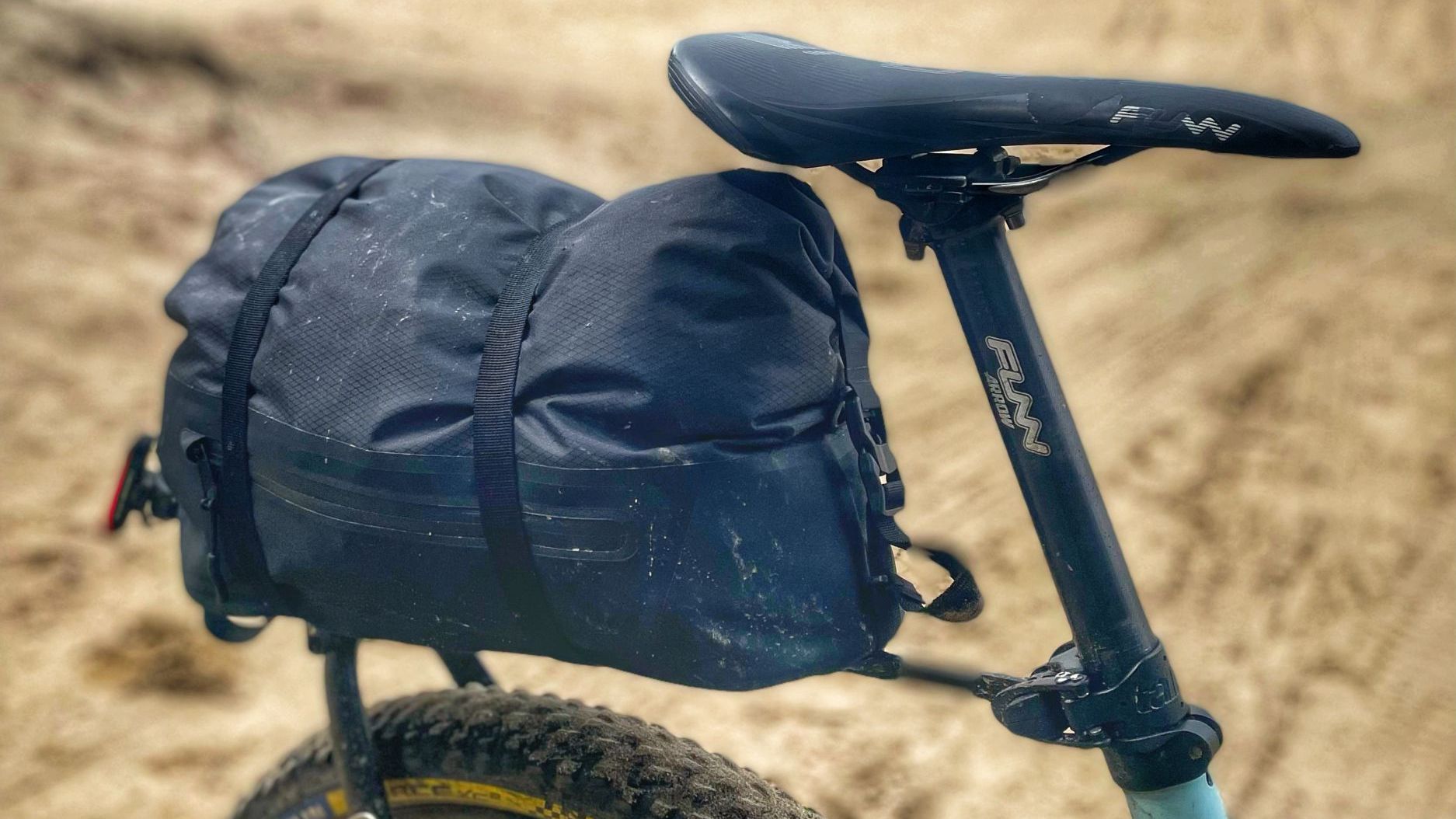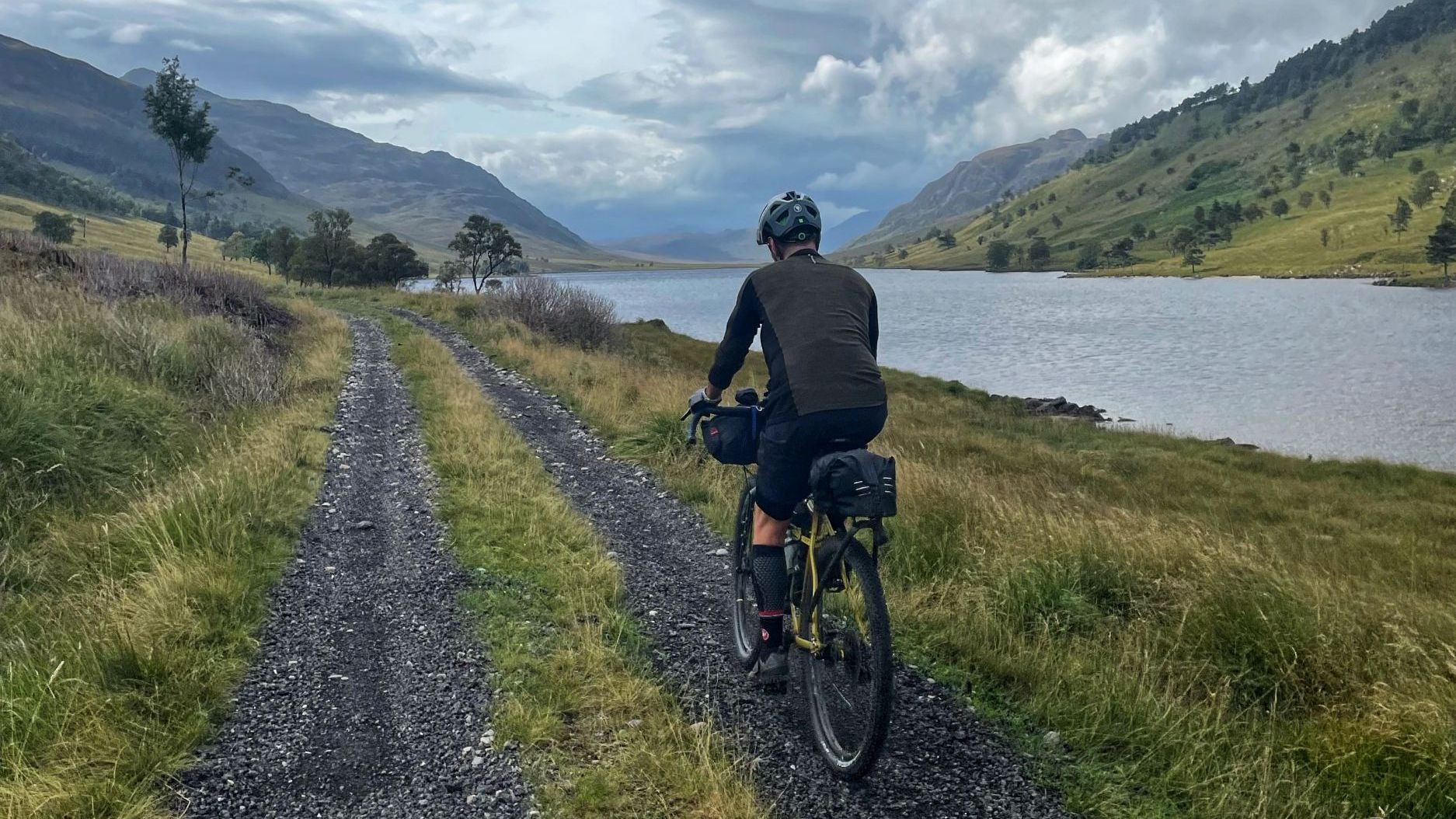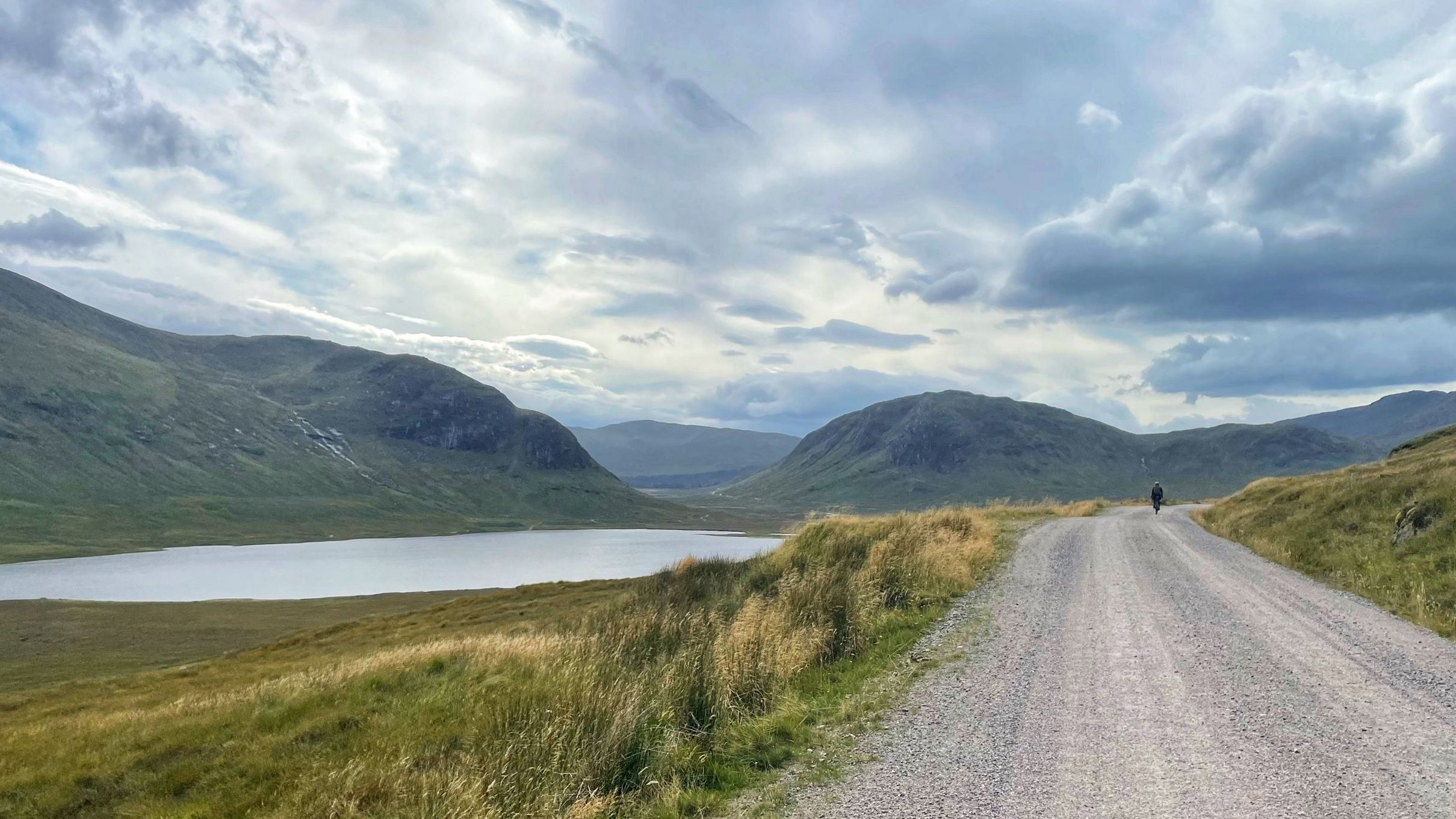 As we turned south at Glenshero Lodge I went off-trail to search for an outside tap. While filling up with water, we were approached by one of the gamekeepers. He was keen to know our route and was impressed with our bikes and luggage setup. Alan asked him if the large white unit under the barn was a freezer and right-enough, he replied, "it's where we store the beasts." He opened it up and like a scene from The Godfather, a cloud of cold damp air billowed out. Alan and I both walked in inquisitively, as he remained outside with his hand resting on the door handle. At any moment he could have closed it behind us and no one would have been any wiser. An array of hooks hung from the celling and a glass cabinet held a selection of filleting knives. We'll spare you the details of what lay on the floor…..
Within an hour or so of our descending the pass, we'd reached Kinloch Laggan. Alan reminded me that this hunting estate formed part of the wider Ardverikie, once used in the TV series Monarch of the Glen. We wandered onto the beach for some photos then continued on our way, to follow the shoreline of Lochan Na H-Earba.
The gravel track running by the side of this had been recently surfaced with what looked like old tarmac' chippings and was quite deep and draggy to pedal through. On the sandy trail at the head of the lochan, we met a couple of lads pedalling in the opposite direction: they were doing The Badger Divide from south to north and were waiting for the third member of their party to catch up. As we shared accounts of our journey so far, he crossed the burn. As the trail changed from gravel to sand, he and his bike took a tumble and he lay on the soft ground for a rest! You could almost hear him cursing his pals!
The next hour or so was long winding trails, bleak and perhaps the most remote part of the whole journey. I'd found a rhythm by this point. My cadence was efficient and as the path fell away I took the opportunity to spin my legs and press on. I kept glancing round to see Alan fall further behind: he was just coasting! I think he'd bonked and at this rate, I thought to myself, we wouldn't be back until Sunday. Clearly it was 'written on my face' as he reassured me, "if you don't break me, I can do this."
The valley leads its way along River Ossian and down to Loch Ossian where the route follows the northern shoreline. A short detour off-route eventually leads you to Corrour Station – featured in Trainspotting – a building that's 'an oasis' in a wilderness. Neither of us realised how amazing this place would be and our eyes were immediately caught by the menu, beer on tap and a proper toilet!
Other than an Elon Musk lookalike – sat on a Chesterfield sofa in the corner of the room, on his MacBook, selling what sounded like Crypto' – the place was quiet and idyllic. A few other cyclists came and went and it was obvious who wanted to keep themselves to themselves.
Venison stew was the order of the day with creamed mash and a red wine reduction: worth every penny of its £17.50 price tag. The pair of us ate like kings, which was fitting as I just logged onto the station Wi-Fi and received a text from Lynne saying "do you know the Queen has passed away". We'd not had a steady phone signal for >20 hours and the news seemed a world away.
Fuelled by Bambi, beer and butter, we were ready to go. The trail out of Corrour Forest climbs up to Peter's Rock where there's a memorial sign. Peter was an ex-warden of the Ossian Youth Hostel who over-wintered there alone. Sadly his body was recovered from the Loch once the ice melted at the end of a harsh winter and a memorial stone stands where the trail turns south.
This track undulates across a pea gravel Land Rover track and then quickly turns into one of the best gravel tracks I've ever ridden. Locked in and unable to turn around to see where Alan was, we made quick progress down and I was grinning from ear to ear. The bike felt good, my kit bags were taught and we belted down towards Rannoch Station.
There wasn't a cloud in the sky and in the middle-distance to our left, we could see Schiehallion, the Mount Fuji of Scotland.
Where the track joins the road by Loch Eigheach, and by complete chance, we bumped into Ross from Straight Cut Design. He was taking advantage of the break in the weather and had come north on a fishing trip. Alan knew Ross as he'd made him several custom bags – including the half-frame bag he was using for this trip – but I'd only every interacted with him via social media so it was great to finally put a face to a name.
That evening we camped at Carie along the southern edge of Loch Rannoch. The Forestry Commission campsite had been recommend by a mutual friend and neighbour of mine, Russell Stout, who had completed The Badger himself many moons ago. On arrival we were met by a cloud of midges (having managed to avoid them so far) so, midge net on, I unpacked the tent and set up shelter for the night. Alan only had to unpack his sleeping bag as he had come to the decision his roll mat wasn't worth patching as the hole was huge.
Twenty minutes passed and no sign of Alan: I'd assumed Alan was changing in the toilet block, but no, he had other plans. Al' was on a mission!
He'd approached a group of 'hippies' that were on an environmental field trip collecting mushrooms. Their picnic table displayed an array of colourful 'shrooms they said they'd collected within walking distance of the campsite. The leader of the pack was a bearded Hungarian dude who reassured us that besides running these 'workshops' he was also the go-to guy in the event of mushroom poisoning. If members of the public ate a poisonous mushroom and ended up in hospital, it would be him they routinely called for advice! That said, none of us had a phone signal, so we had no idea how he would have been much help! While I took a few pictures and talked magic mushrooms with the Hungarian, Alan managed to convince 'Gandalf' – who was sat by a cauldron mixing 1kg of butter with 3kg of edibles- to sell him 4 cans of beer for a fiver!
We retired to our own picnic bench to heat up food, drink the beer and as the sun was setting, we took a walk down to the shore of Loch Rannoch to catch the last of the light: the golden hour.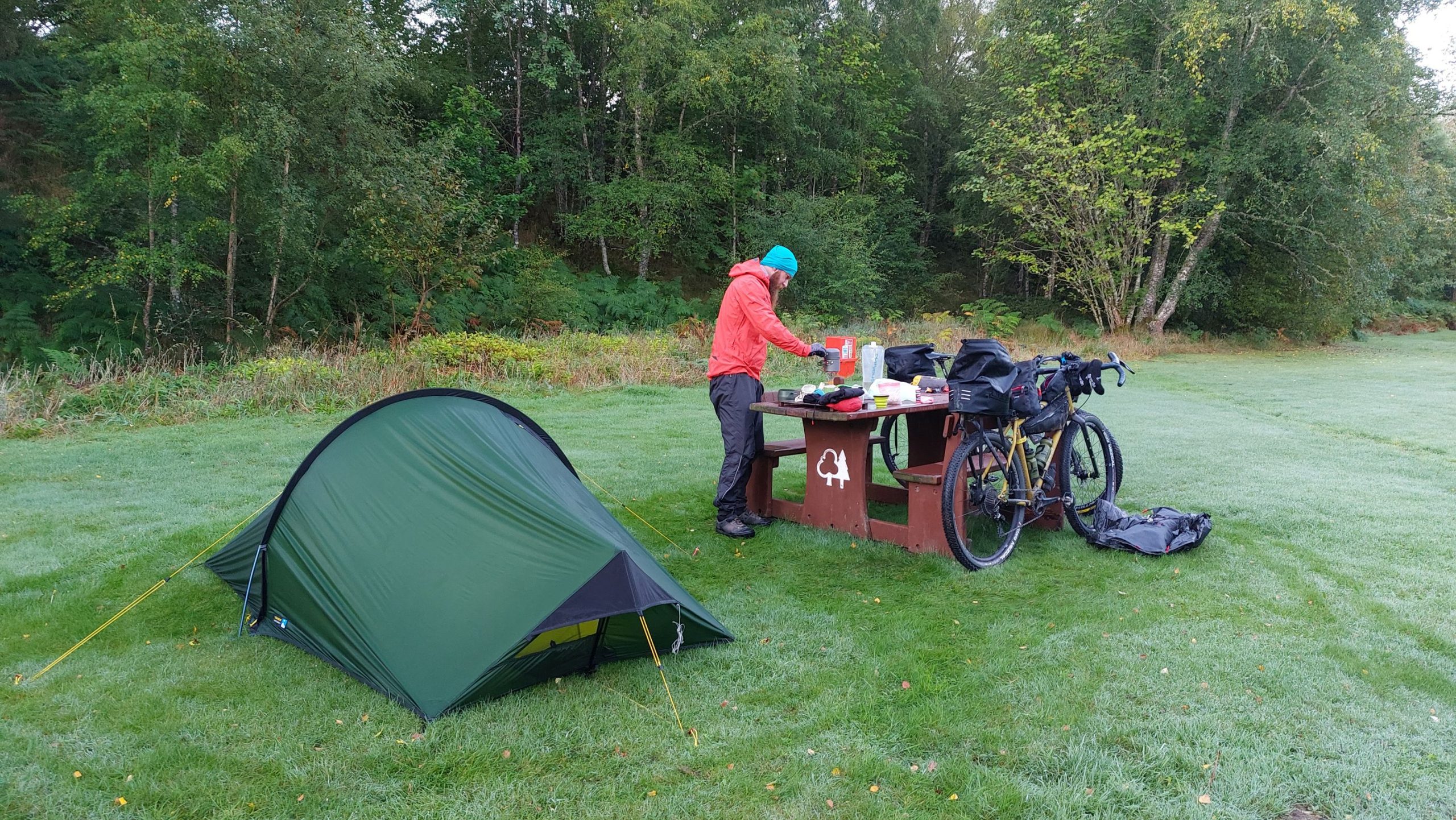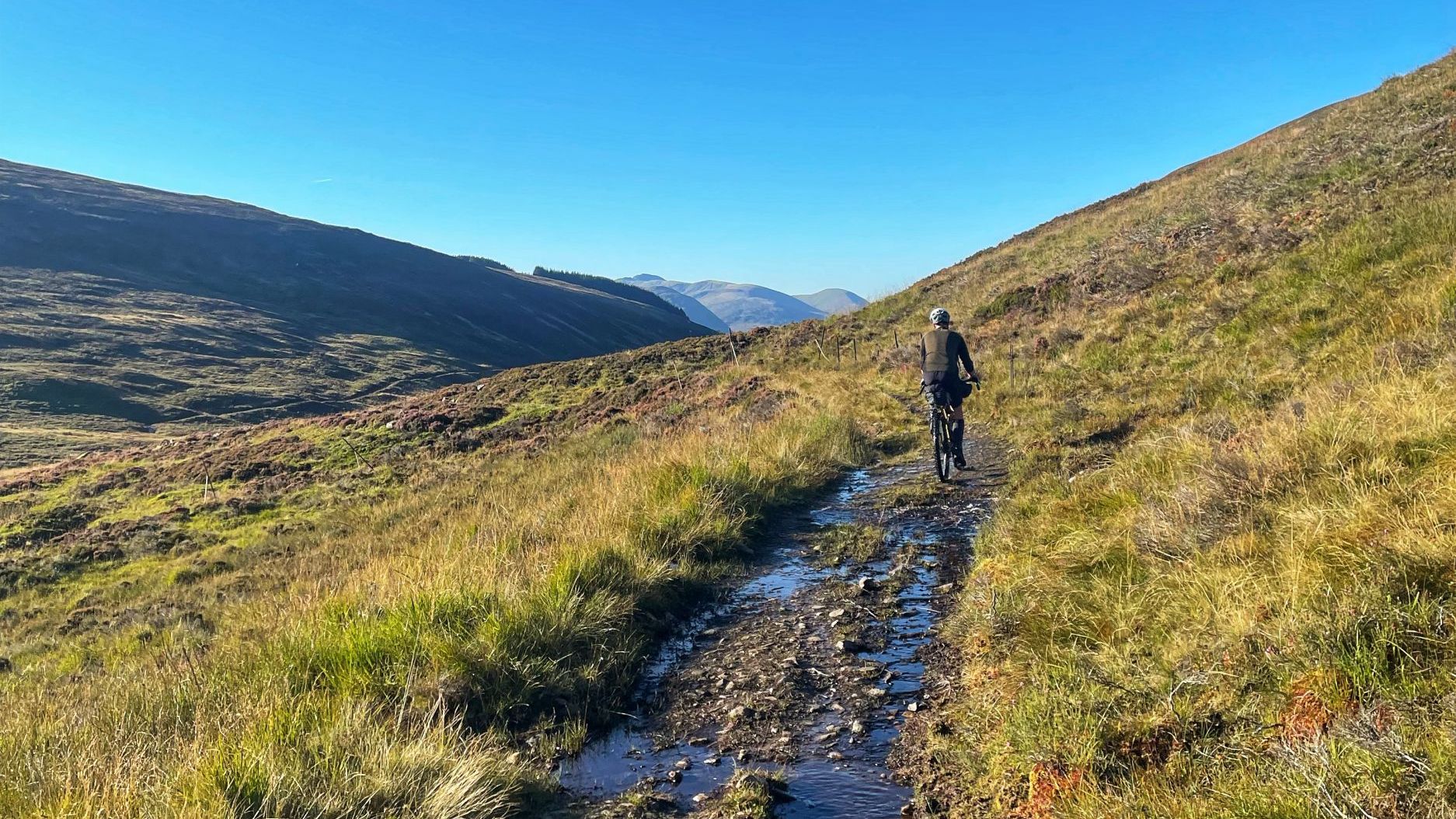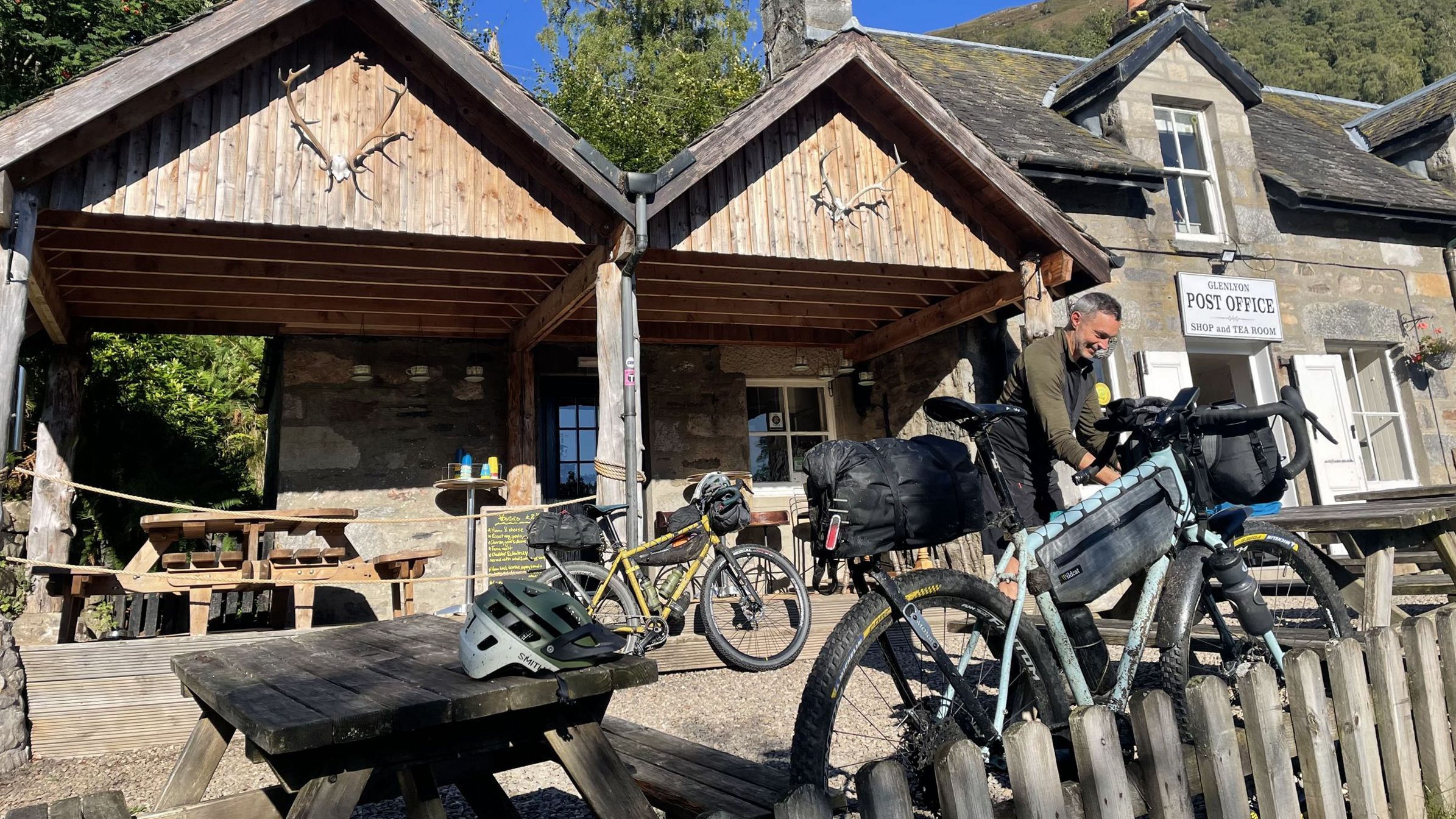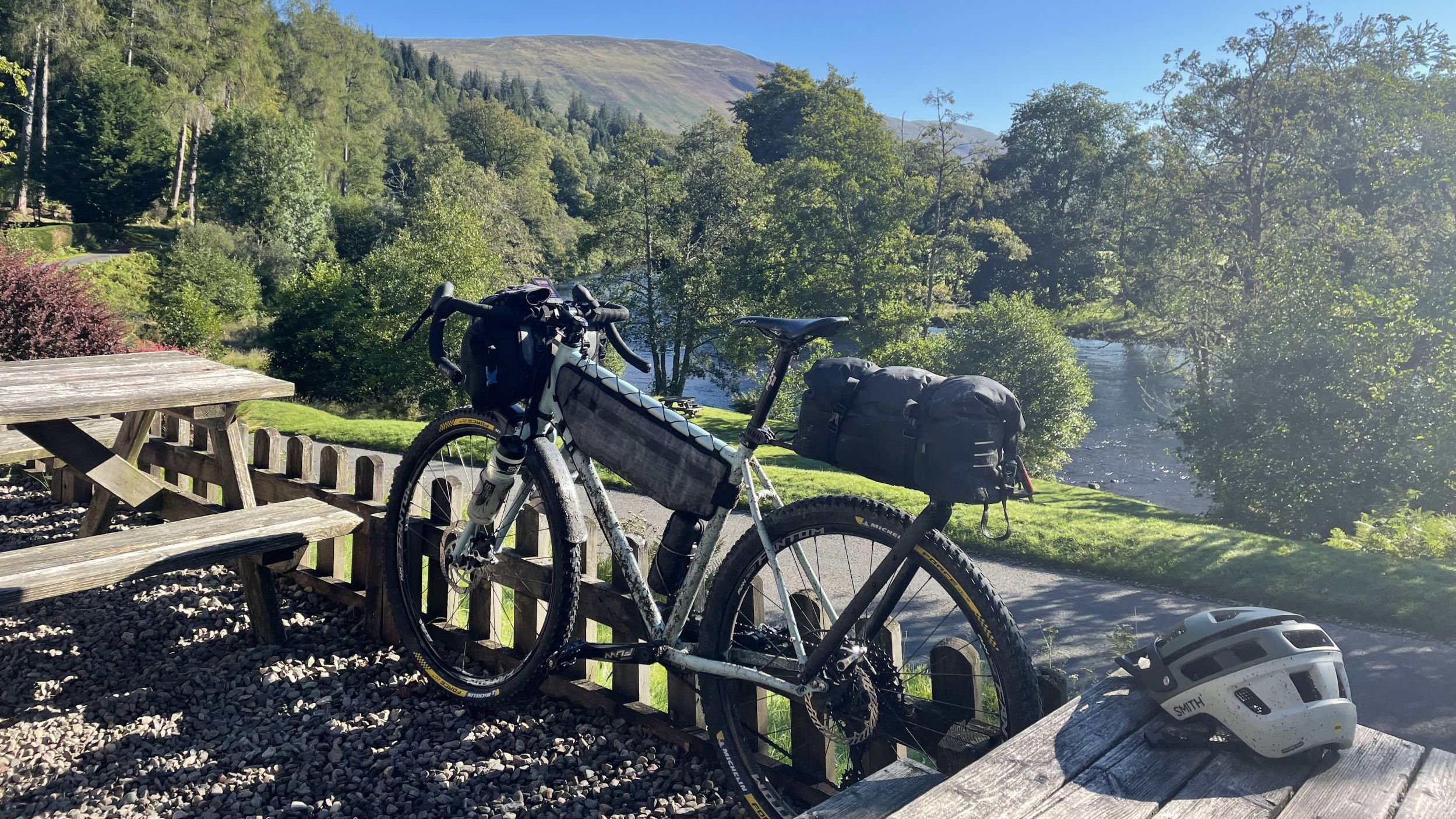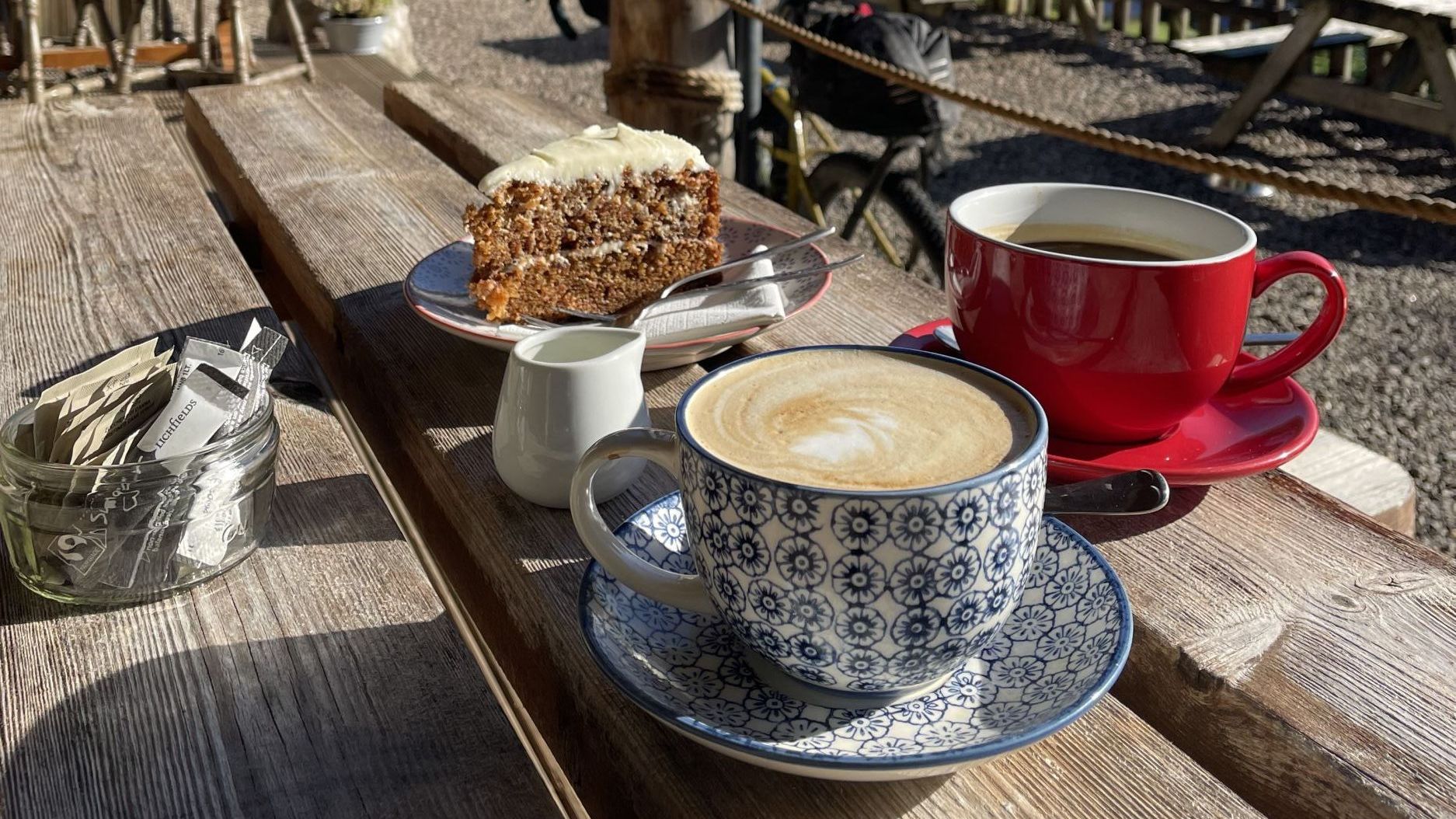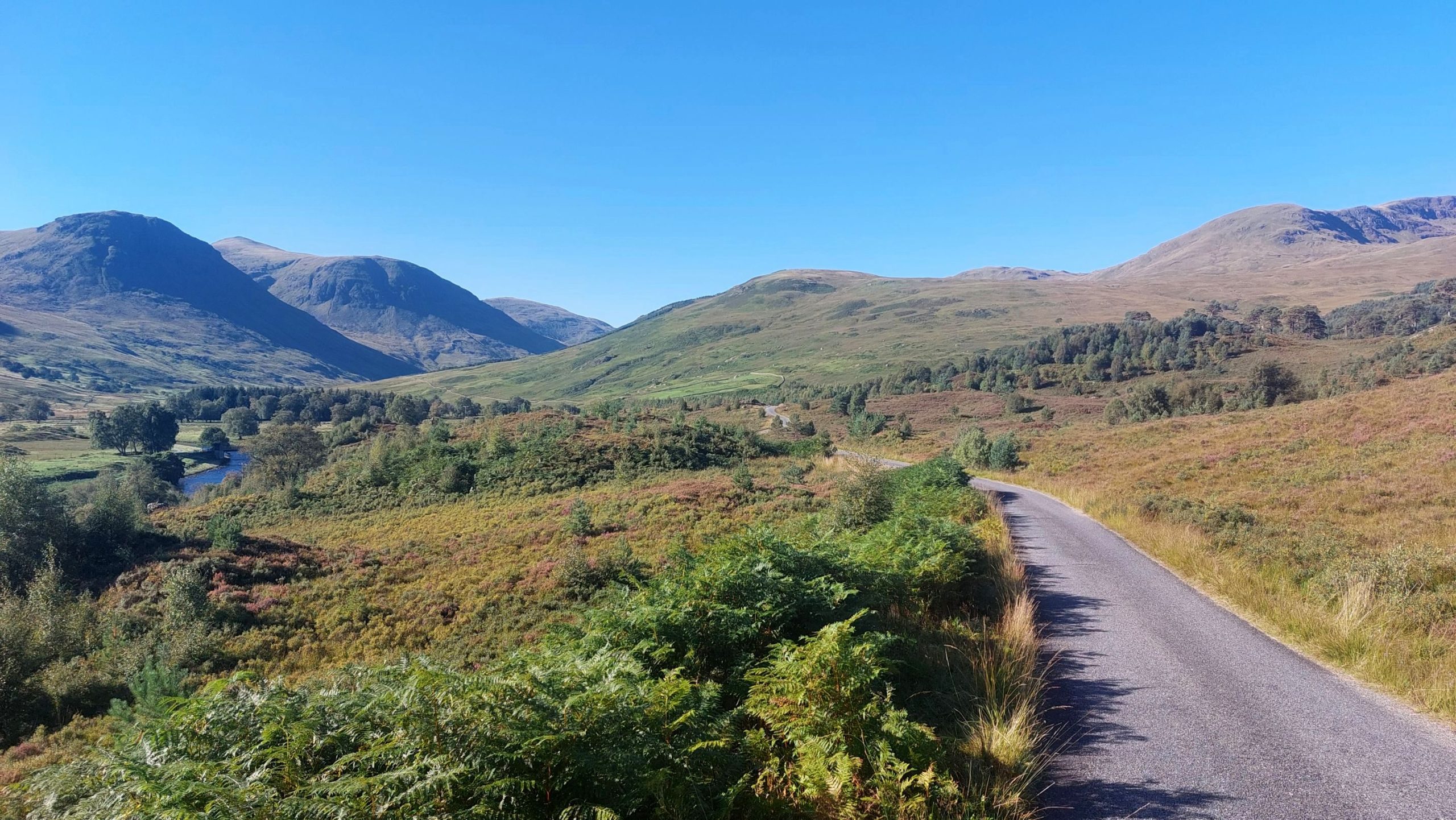 Day 3 and we were up early again: Alan's body clock seemed to be stuck on 0600hrs. A heavy dew covered everything and the air was damp and cold. We retreated to the toilet block to get washed and changed in relative warmth, collect water for breakfast then returned to our camp to get breakfast sorted. We were almost in fog so there was little chance of getting the tent dried out so we meticulously repacked. Alan disposed of his now defunct roll mat in the recycling bin, shedding some weight. The wet tent, however, felt a kilo heavier!
The climb out and over towards Bridge of Balgie allowed us to take in the views as we were soon above the cloud inversion and into the sun. The rain of the days before had filled every hollow on the trail so the ride across the tops was deep puddle followed by deep puddle…
On the other side, we stopped at Glenlyon post office to change into more weather-appropriate tops and for a 'second breakfast' of carrot cake and coffee. If you haven't been before, make sure you stop as this is a wee hidden gem!
The next part of the journey took us along fast tarmac approximately 15km towards Loch Lyon and Pubil. Every time we turned a corner the views and scenery just kept getting better and better. At one point we turned the corner to be met by a highland bull – horns 'n all – in the middle of the road. Thankfully, it was more scared of us and was off the road just in time for us to safely pass.
Both Alan and I felt a real sense of insignificance as the mountain range on the south side cast their late morning shadows upon us. As we approached the reservoir and power station, the road steered us up to the left, up and over Druim Beithe towards Kenknock. The road in parts is broken and uneven and although accessible by motor vehicle, you wouldn't want to take your car up this.
Arriving at the deer gates above the next valley, we bumped into a couple on bikes with a similar setup to ours that were cycling to Cape Wrath over 8 days: An Turas Mor. We exchanged stories and compared our kit, all smiling from ear to ear.
We continued to Killin where we stopped for lunch and to get water, the pub happily filling our bottles at the bar. The Falls of Dochart were busy due to the warm weather so we didn't hang around. From Killin, the route ascended and appeared to be taking us into a bracken 'jungle' and onto a narrow hiker's path. With no tyre tracks indicating anyone had recently used it, a quick glimpse at the OS app' indicated that a more sensible option was to join the Rob Roy Way (RRW) and Route 7 of the National Cycle Network (NCN).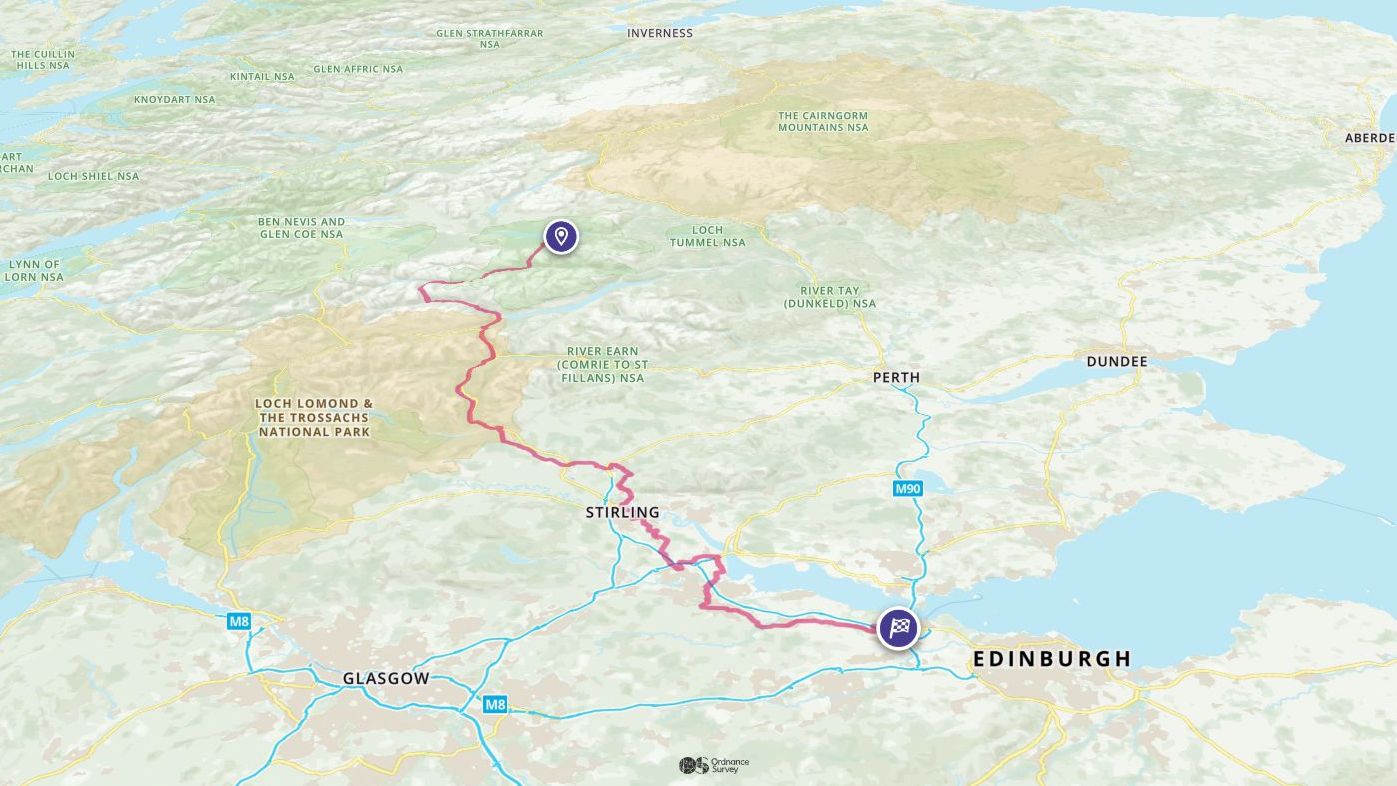 From Glen Ogle, our Badger would follow the old railway down towards Lochearnhead, over the 150 year old utilitarian railway viaduct. We were cruising now: speed was a respectable 25 kph, the sun was shining, Alan had found his second wind and he wouldn't stop talking about getting a pie from Mhor Bread & Tearoom in Callander.
We had never intended on taking the next section of The Badger Divide through Glen Ample. Perhaps if we were doing the official route to Glasgow we would have considered it, however as our final destination was Edinburgh we continued to Callander on the RRW. And besides, a number of riders we'd met on the trail had told us their Badger had finished on the train south at Dunblane or Bridge of Allan!
Callander was busy but the queue to get a steak and haggis pie was only a few minutes long. I inhaled mine but Alan stashed an uneaten half in his Tailfin for later.
At 1500 hrs, Alan's wife had given him a call to see how we were getting on. She was en-route back home with her sister and had hoped our paths may have crossed at some point. If we could make it to Doune for 1615 hrs, she would be passing through. We took a mixture of back roads and the dismantled railway and taking it easy now, still beat them to Doune by 15 minutes.
The support and encouragement was just what we needed. Alan was beaming so I gave them some space and introduced myself to Vicky's sister Sarah who was over from North Carolina. I didn't think embracing Sarah was appropriate as I'd been wearing the same clothes for 3 days now, so I shook her hand: it felt odd as I don't do formal.
Offering us a lift home from here, we polity declined: we weren't giving up and we still had the light. With 95km behind us and ~80km to go, I patted Al' on the back with a reassuring "we've got this mate".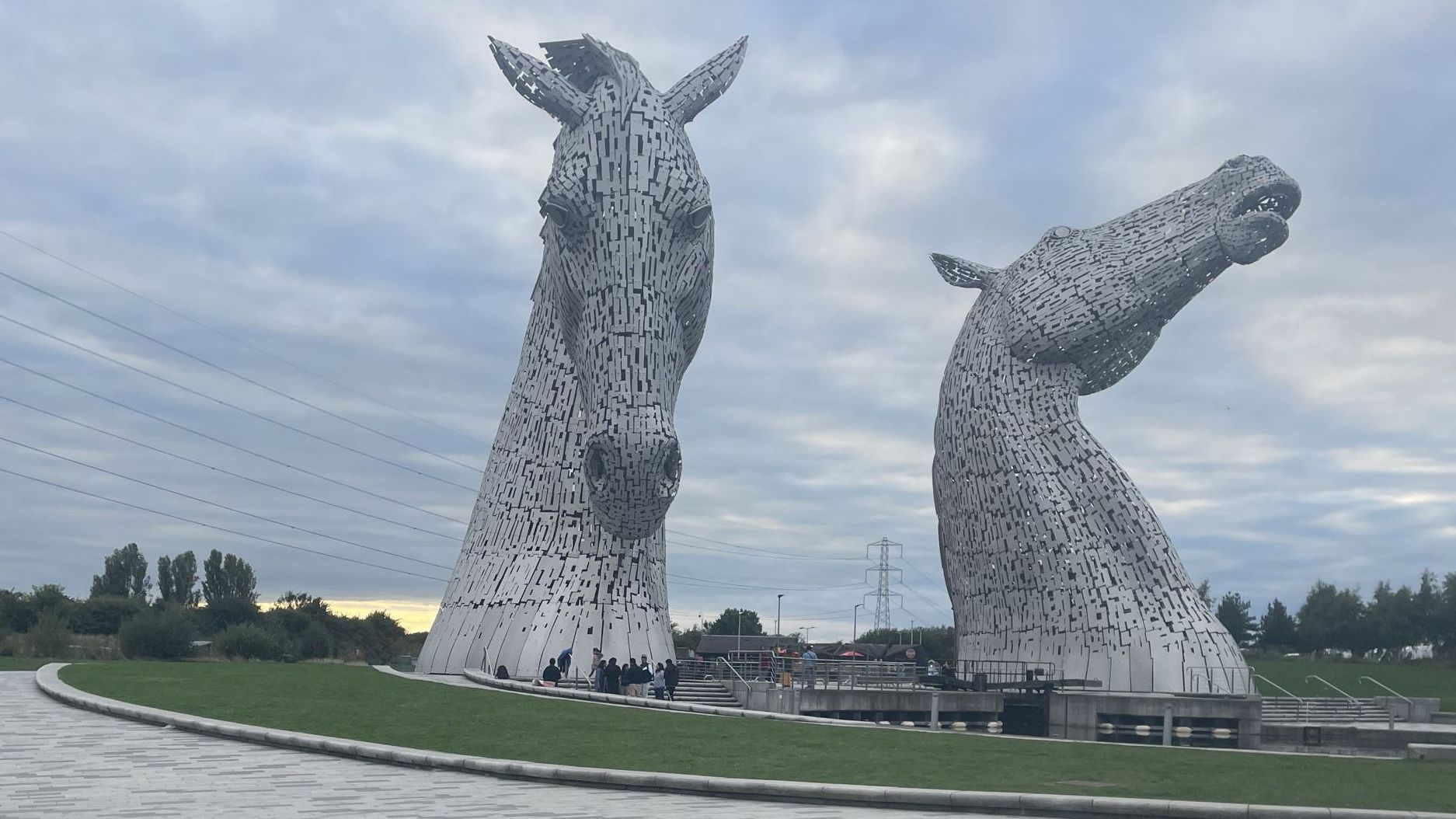 The next section to Stirling and then on to The Kelpies was very much a 'point and shoot' exercise. Taking in sections of Routes 765 and 76 of the NCN, we linked farms roads, old railway lines and back lanes until arriving at The Kelpies. By this point the light was dropping, it had clouded over and it was time to put on another layer.
We still had to get to the Union Canal (NCN Route 754) which was the only part of the route I hadn't plotted. I was getting frustrated that I couldn't follow the GPS. Being able to watch the numbers fall as we got closer to home was reassuring. As "Home" was no longer showing on the GPS device due to being off-piste, I had to put my trust in Alan. I think my face said it all and I must have been short with him as he pulled me up saying "be nice". The roles reversed for the remaining 25km, Alan was now 'the Wahoo' and I was a follower.
Lights on. I was faffing with the Exposure light and its multitude of lighting functions. There was no time to hang about as Alan had convinced Victoria we would be back before dark. We made it to the Union Canal within 15 minutes and looped up and onto the tow path.
Al', telling me he'd done this routed many times, warned me of his near death experiences with stretched dog leads and near head-on collisions with oncoming silent cyclists!
At each underpass or blind bend, Alan would shout "riderrrrrrrrrrrrrrrrr" to alert any other trail user of our imminent appearance. I was unsure where he got the energy from, as I was now halfway through my bonk bag which consisted of a bag of Tangtastics, dates and cashew nuts. He was on the home stretch in his own 'back yard'. At that moment the GPS started to flash again: it had re-routed us and was providing turn by turn directions – not that we needed them on a tow path – but with only another 21km to go, Alan told me our exit would be bridge 32 on the canal. No idea how he expected me to see the numbers on the key stone as it was practically dark and trees shut out any remaining light but, as I said, it's his 'back yard'.
At the canal bridge we made a short climb, crossed the railway and onto a gravel farm track which would be our exit point onto road. From here it was only a few km to what would be our finish line.
With darkness falling, we rounded the last couple of bends and the Forth bridges came into sight – a sight for sore eyes and tired legs! As we crunched up the gravel on his drive, the magnitude of what we'd just done hit us: we'd just ridden 172km in a day and finished our own Badger Divide.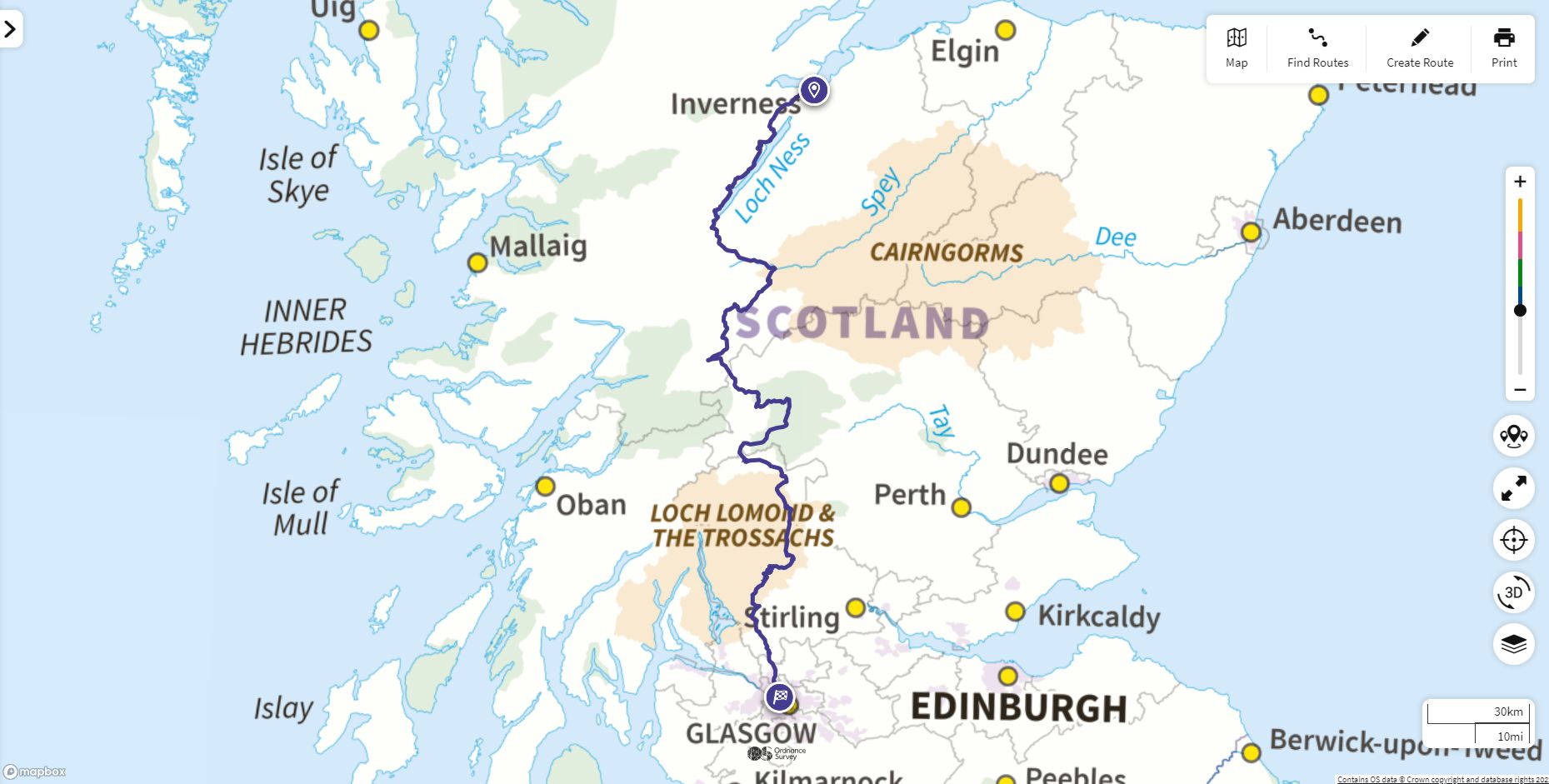 We all have our own stories to tell but Si's words accurately tell our tale.
Honestly, I doubted myself before this trip as I've been having recurring back issues this year. When my sleeping mat punctured on the first night, I was genuinely worried I'd not make it to the end of the route. But, a punctured sleeping mat is no reason to quit so I kept riding to finish what I'd started….or until I couldn't ride any more.
Having the right riding partner is one of the most important parts of any trip and, reflecting on the poor guy pedalling to catch up with his pals then falling in the sand while they chatted with us, I'm thankful for Si's patience, his banter, his support, encouragement and partnership on this journey. I'm also grateful for his silence when words wouldn't have been welcomed.
Riding a bike is a solo effort but the wrong partner could 'break' you. I'm thankful that over the past 5 years, Si has become one of my best friends and a partner I'd trust on any journey. As he says, "I'd take you the jungle."
Until the next trip, my friend……
Having previously ridden with a seat pack and found them unstable I was keen to test an alternative method of carrying kit. We saw a handful of riders using the Tailfin AeroPack at the Dales Divide so exploring this as an option seemed a sensible choice.
The AeroPack bolts directly to the seatstay or can be used in conjunction with its own nifty thru axle adaptor. If you were intent on taking the pack off at the end of the day then we would recommend using this quick release method.
We used the additional seatpost extender and the rack sat horizontal and secure. I haven't tested it with a dropper post, however the videos on their website show how it integrates nicely without getting in the way.
The claimed 20 litre capacity seems accurate as it swallowed three hydrated food packs, a spork, fold-a-mug and 3 days worth of porridge bags; full wet weather kit including a windproof and heavy duty Endura MT500 jacket, over-trousers, thermal bottoms and top; fresh padded shorts, merino top, spare set of gloves and two pairs of merino socks. If the bag's not filled, it's still easy to close and achieve a low profile.
The bag rolls from the top downwards to make it drybag'esk, with buckles fore and aft to secure the roll. A further two over-straps keep the contents stable and the bag low profile. There's a zip on the side for easy access into the bag so waterproofs or other essentials can easily be reached without undoing the straps. It's a feature that also allows air to escape as it's being rolled closed. There's another flat pocket on the other side for keys, cash and other small (flat) items. The reflective strip/toggle on the back of the bag adds to its take-anywhere design and provided a secure position to attach a rear light.
Robust, secure, stable and quick 'n easy to access: there's not much to quibble about.
We would like to thank Tailfin.cc for the use of the AeroPacks during our adventure. A quick look at their other products certainly gives further options for carrying even more kit……time to get out the holiday calendar again.