OVERVIEW
Evolution geometry applies what we've learned over the years from the previous generations of award-winning Sirius and takes it to the next level in our 4th generation, long-travel, semi-skimmed*, slack and low frame that's ready to rail and riot for "rock-shrugging fun."
Sliding dropouts give alternative gear options, facilitating the use of an internal gear hub or singlespeed set-up and a custom chainstay yoke will happily accommodate tyres up to 27.5×2.8″ or 29×2.4″, depending on your preference.
* not recommended for full-fat tyres >2.9″
IN THE WOODS WITH THE SIRIUS 4G
GEOMETRY
Sizes available: 15.5″, 17.0″,18.5″ & 20.0″
Geometry data indicates a 515mm (axle to crown) suspension fork. Each additional 10mm of fork length will slacken/reduce the head angle by approximately 0.5-1.0 degree.
Small
Medium
Large
X-Large
A: Head Angle
67
67
67
67
B: Seat Angle
73
74
74
74
C: ST C-T
394
432
470
508
D: TT Length (effective)
580
600
620
640
E: HT Length
100
105
115
130
F: BB Drop
64
64
64
64
G: Chainstays
430+
430+
430+
430+
H: Wheelbase
1102+
1133+
1154+
1176+
X: Reach
393
422
439
455
Y: Stack
622
626
636
649
Fork Length (min/max)
515-555mm
Max Tyre Size
27.5×2.8″/29×2.4″
BB Width
73 mm
Headset
44mm (internal)
Seat Post
30.9mm
Seat Clamp
34.9mm
Stem Length (min/max)
35-70mm
27.5+ Set-up
Effective Wheel Radius, 27.5×2.8″
726mm
BB Height, 515mm Fork
299mm
(726/2)-F
i.e. effective wheel radius/2, minus BB Drop
BB Height, 552 mm Fork*
311mm
*DVO Diamond, 140mm Travel
29er Set-up
Effective Wheel Radius, 29er
744mm
BB Height, 515mm Fork
308mm
(744/2)-F
i.e. effective wheel radius/2, minus BB Drop
GEOMETRY SCHEMATIC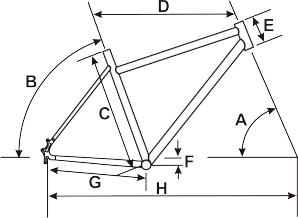 For information on Reach & Stack, click here.


ABOUT OUR BUILD
Featured builds using a DVO Diamond fork set at 140mm have a head angle of between 64.5-65.5 degrees and a BB height of 311mm (using Maxxis Rekon 2.8″ tyres).
FEATURES
CrMo 4130 heat treated tubing throughout – read about it

here

DT custom butted and bent for added strength and to eliminate gussets
DT horizontally ovalised at BB for greater stiffness
Custom CS/BB yoke for strength and huge tyre clearance
44mm (internal) head tube

Sliding/replaceable dropouts: supplied with 142mm bolt-through axle.

Cable routing for externally or internally activated dropper post
1 set of bottle bosses

Matte paint and decals

Metal headbadge
Specification of frame is subject to change without prior notice.