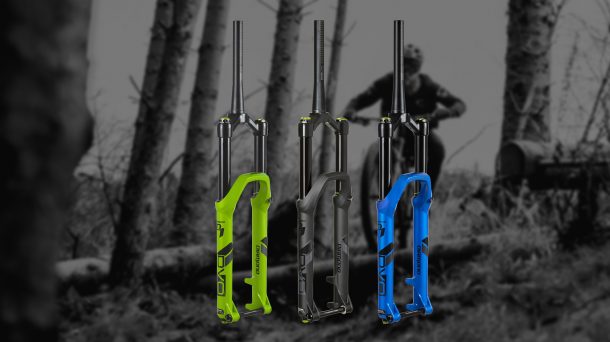 DVO Diamond Boost Fork
Pre-order special.
Forks are only available when purchased with a frame.
Forks are on back-order for pre-order period only.
For more information see the sizing tab below.

29er forks are recommended if you're planning on using tyres >2.5″ wide on 27.5″ rims.
Standard offset and short offset forks are now available from DVO. Offset affects the steering characteristics of the bike: a reduced offset fork increases the trail measurement. You can use the tool below to compare offset, trail, head angle and wheel/tyre sizes.
Bicycle Trail Calculator
What's wrong with having increased trail? – MBR

Not a lot in our opinion but the theory is that larger trail figures result in slower steering. Our instinct is – and marketing often yells at us – that slow steering is A Bad Thing. A lot of the bike industry is obsessed with "quick steering" just like they're obsessed with things being "stiff".

Now this is arguably an area where what words you choose have an effect on the debate. One person's "slow" is another person's "stable" is another person's "lazy".

It's a bit – but not exactly – like having a steep or a slack head angle. Lots of trail results in more stable steering but it also results in the front axle being a bit closer to you. So for all-out straightish speed sections the bike will feel shorter. But on twisty hairpins in steep terrain the bike will carve calmer and hold its line better.

Overall there's no substitute for a slack head angle and a proper amount of reach/front centre. But if your 29er bike feels a bit tucking-in and fold-y on tight, steep terrain, you may wish to check what your fork's offset is and think about swapping to a shorter offset fork.

You'll lose a bit of wheelbase but it may be a price worth paying if you're all about the steep and twisty stuff. You'll also need to think about how long your bike's reach is. If your bike is on the short side, it's arguably better to stick with the 51mm offset.
| | |
| --- | --- |
| Wheel Size | 27.5 & 29er (29er recommended for 27.5+ tyres) |
| Travel | 27.5=150-170mm, 29er=140-160mm |
| Axle to Crown | 27.5=565mm, 29er=572mm (at max travels) |
| Standard Offset | 27.5=44mm, 29er=51mm |
| Short Offset | 27.5=37mm, 29er=44mm |
| Adjustments | High/Low Speed Compression, Rebound. OTT |
| Axle | 110x15mm Boost |
| Disc | Direct/Post Mount: 160mm (adapter required if using 180mm or 200mm rotors). |
| Colour | DVO Black, DVO Blue, DVO Green |
Fork will not be sold separately unless you have previously bought a Pipedream frame and can verify you still have ownership.
Related products