Description
Overview
A.L.I.C.E. is possibly the ultimate adventure bike: designed for world travel, bike-packing, gravel-grinding and grand days out.
Discover your wonderland.
Features
CrMo 4130 heat treated tubing throughout

Down tube internally reinforced for added strength

Oval top tube for greater vertical compliance and comfortable shouldering of frame

44mm (internal) head tube

Sliding/replaceable dropouts

Supplied with front and rear axles (100×15 & 142×12)
3 set of bottle bosses

Cable stop behind BB for running a front derailleur

Metal headbadge

Custom CrMo fork with rack mounts, mudguard eyed and extra bosses for bottle cages/accessories
---
Specification of frame is subject to change without prior notice.
Geometry
Geometry is calculated using a 432mm rigid fork (axle to crown). See geometry schematic below for more information.
If a 395mm CX-style fork is used, head angle and seat angle will steepen by approximately +2 degrees, BB drop will be 70mm and trail will be 58mm.
Small
Medium
Large
A: Head Angle
70
70
70
B: Seat Angle
72
71.6
71
C: ST C-T
470
495
520
D: TT Length (effective)
535
561
586
E: HT Length
130
155
180
F: BB Drop
55
55
55
G: Chainstays
450+
450+
450+
H: Wheelbase
1035+
1057+
1077+
Fork Length
432mm
Fork Offset
49mm
Trail
77mm
BB Width
68 mm
Headset
44mm (internal dim's)
Seat Clamp
34.9mm
Seat Post
30.9mm
Rim ISO
622
Max tire
29×2.1″
Geometry Schematic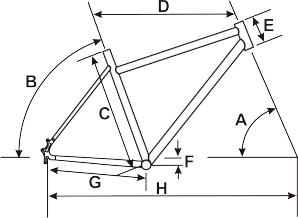 Additional information
Size

S (47cm), M (49.5cm), L (52cm), XL (54cm)

Colour

British Racing Green (BRG), Wonderland Blue

Custom Tubing

The A.L.I.C.E. frame uses custom, triple butted, heat treated, CrMo 4130. This super-alloy is drawn and butted in the same factory that our frames are fabricated in which allows us to not only keep everything in-house, but to also draw on their technical expertise as leaders in this field.

Fork

A.L.I.C.E. uses a custom 432mm fork so you can use of 29×2.1" tyres. It also gives the bike a more relaxed geometry for stability when loaded (e.g. carrying bags or racks and panniers) and long-distance comfort.
Switch it out for a 'conventional' 395mm fork though and the geometry will be more aggressive and typical of a CX mud-plugger.

Wheel Axles

142mm x M12 rear axle (M12 x P1.75) & 100mm front axle (M15 x P1.5) supplied with the frame & fork.

Origin

British design, made in Taiwan.

Headset

Top assembly is ZS44/28.6. The bottom assembly can be either a ZS44/30 or EC44/40 with a crown converter/reducer.
Related products