Applying what we've learned over the years from the previous generations of award-winning Sirius, our 4th generation, long-travel, semi-skimmed, slack and low frame is ready to rail and riot for "rock-shrugging fun".
Sliding dropouts give alternative gear options, facilitating the use of an internal gear hub or singlespeed set-up and a custom chainstay yoke will happily accommodate tyres up to 27.5×2.8″ or 29×2.4″.
IN THE WOODS WITH THE SIRIUS 4G
ABOUT OUR BUILD
Featured builds using a 140mm travel DVO Diamond fork have a 65 degree head angle (+/-0.5). BB height using Maxxis Ikon 2.8″ tyres is 311mm.
GEOMETRY
Sizes available: 15.5″, 17.0″,18.5″ & 20.0″
Geometry data indicates a 515mm (axle to crown) suspension fork which is the minimum length we'd recommend for optimal performance. Every additional 10mm of fork length will slacken the head angle by approximately 0.5 degree.
Small
Medium
Large
X-Large
A: Head Angle
67
67
67
67
B: Seat Angle
73
74
74
74
C: ST C-T
394
432
470
508
D: TT Length (effective)
580
600
620
640
E: HT Length
100
105
115
130
F: BB Drop
64
64
64
64
G: Chainstays
430+
430+
430+
430+
H: Wheelbase
1102+
1133+
1154+
1176+
X: Reach
393
422
439
455
Y: Stack
622
626
636
649
Fork Length (min/max)
515-555mm
Max Tyre Size
27.5×2.8″/29×2.4″
BB Width
73 mm
Headset
ZS44/28.6 and EC44/40
Seat Post
30.9mm
Seat Clamp
34.9mm
Stem Length
35-50mm
Sliding Dropout
+16.0mm
27.5 Set-up
Effective Wheel Diametre, 27.5×2.45″
708mm
Mitas Kratos 2.45″
BB Height, 515mm Fork
290mm
BB Height, 552 mm Fork*
293mm
*DVO Diamond, 140mm Travel
27.5+ Set-up
Effective Wheel Diametre, 27.5×2.8″
726mm
Maxxis Ikon 2.8″
BB Height, 515mm Fork
299mm
BB Height, 552 mm Fork*
311mm
*DVO Diamond, 140mm Travel
29er Set-up
Effective Wheel Diametre, 29×2.4″
744mm
Maxxis Ardent 2.4″
BB Height, 515mm Fork
308mm
GEOMETRY SCHEMATIC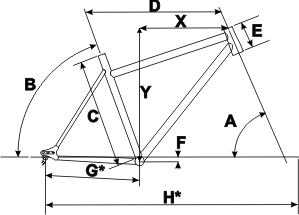 FEATURES
CrMo 4130 heat treated tubing throughout – read about it

here

DT custom butted and bent for added strength and to eliminate gussets
DT horizontally ovalised at BB for greater stiffness
Custom CS/BB yoke for strength and huge tyre clearance
Oversized head tube for tapered steerer fork.

Sliding/replaceable dropouts: supplied with 142mm bolt-through axle.

Cable routing for externally or internally activated dropper post
1 set of bottle bosses

Matte paint and decals

Metal headbadge
Frame is ED treated before painting
---
Specification of frame is subject to change without prior notice.
Rider photos, Jacob Gibbons photography and Wideopenmountainbike.com